BMW 528i M Sport – N20 4-cylinder 5 Series tested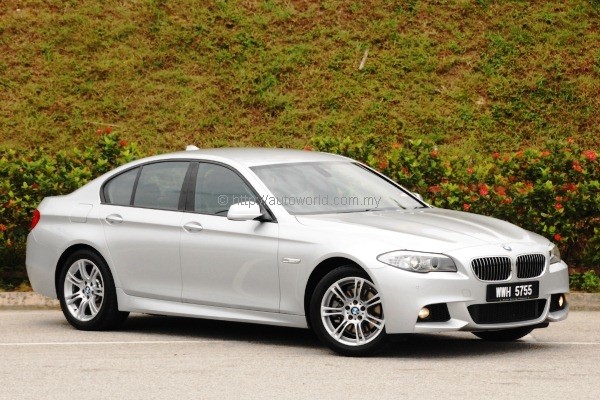 Traditions are meant to be broken. At BMW, such efforts are not done half-heartedly. The company is fiercely proud of all the little qualities that add up to deliver the quintessential BMW experience, and such qualities don't get abandoned recklessly.
They are not stubborn fools, however. When Munich senses that the time is ripe for a change, they do it with maximum conviction and little hesitation. For example, the company consciously stayed away from forced induction for nearly three decades, but when that policy was reversed, they rolled out the award-winning N54 twin turbo engine in 2006.


Today, every new model that rolls out of Munich is turbocharged. Compared to the subtle and gradual approach which Mercedes and Audi took in embracing forced induction, the speed and ferocity which BMW worked – six years from an all-NA to all-turbocharged line-up – was astonishing.
For years, the high-revving naturally aspirated straight-six engine represented a key facet in the BMW driving experience. The natural mechanical balance inherent to the arrangement of having six cylinders in a straight line meant that BMW engines always produced the best noises and handed out the smoothest power deliveries – six pistons dancing in perfect harmony to reach 7,000 revs per minute.


Of course, as they say, all good things must come to an end. To comply with increasingly stringent emission regulations, the natural-breathing six-pot will have to make way for a newer, cleaner and more powerful turbocharged four-cylinder engine – the N20B20 tested here in the new 528i M Sport.
Yes, this is a new 528i M Sport you see in this pages, and if you think it looks exactly like the outgoing one, you are right. Despite swapping in an all-new engine, BMW has decided to offer the new version with the exact same specs feature-wise as the preceding model. So, even the best trained eyes will not be able to tell the difference without popping the bonnet.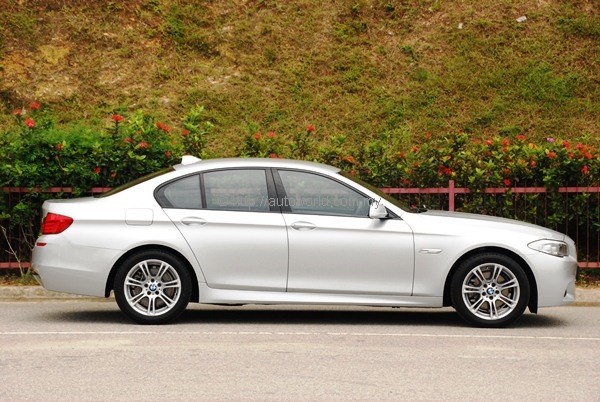 Improvements to the new 528i start with fuel consumption, but it goes way beyond that.

As mentioned in earlier coverages, the new N20 engine – which comes jam-packed with tech such as Valvetronic, Double VANOS, and Auto Start/Stop – is available in two states of tune. Our 528i test car here gets the more powerful version, churning out 245hp @ 5,000 – 6,000rpm and 350Nm @ 1,250 – 4,800rpm. These figures are comfortably on par with the old six-cylinder model and ensures that the new variant is properly deserving of its badge as far as the numbers are concerned.. The ZF 8-speed automatic transmission from the six-pot model is retained.
Overseas reviews of the 528i that we've found online have mostly praised BMW's new four-pot for its impressive muscle and then proceeded to temper praise with nostalgic recollection of the lost six-cylinder smoothness that the new engine notably misses. There is also the odd murmur about BMW's less than refined auto start/stop system, which makes quite a racket each time it cranks up the engine. These conclusions are accurate and consistent with our observations in this test car and from our international media drive in Spain last year, but they do not paint a complete picture.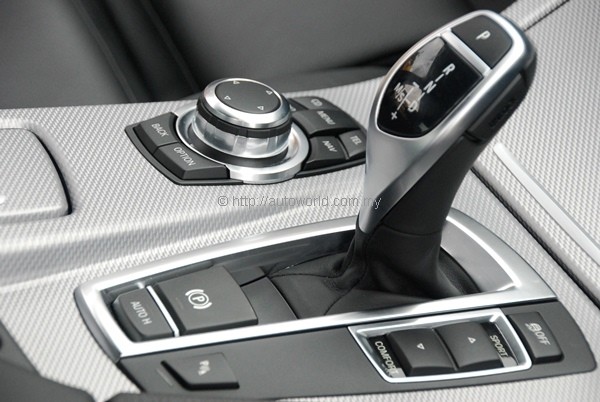 8-speed automatic transmission. Driving Experience Control features Eco Pro mode.

In my brief motoring journalism career, I have lavished plenty of good words on BMW test vehicles in these pages, but rarely does my praise for them extend to the subject of ride quality. BMW's insistence on fitting run-flat tyres and setting up stiff suspensions has in effect ruined the ride quality of many of its recent vehicles. They handle superbly, but when the road gets rough, you'll feel it. This new 528i changes that disposition, and with good reason – it rides beautifully.
Compared to the previous six-cylinder models, the new 528i absorbs bumps and potholes with great authority, pleasantly isolating the cabin from unwanted shocks. There was no longer the need to 'brace for impact' at every pothole like I used to with previous BMW test cars. That sweet dynamic balance between responsive handling and pliant ride quality has been nailed spot on by BMW this time, and it gives the 5 an extremely well-rounded dynamic character that is simply beyond reproach. Those of you who previously picked the Mercedes E-Class over the 5 Series on the grounds of comfort will now have perfect grounds to reconsider that decision.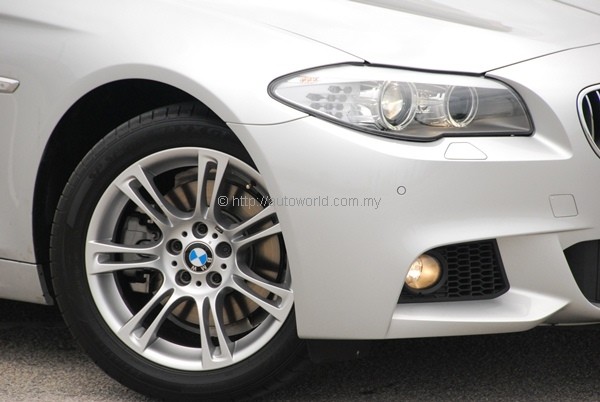 18-in rims may appear smallish on the F10, but good news is that ride does not feel compromised.

Speaking about character, BMW has programmed five distinct driving profiles into its new Driving Experience Control system. The system defaults to Comfort every time you start the engine, but each mode gives the car distinct and unique characteristics to suit various driving conditions. Eco Pro is best used when traffic is slow moving, as this mode dulls throttle response in the name of fuel economy. When the Sport modes are activated, there's a noticeable sharpening of throttle response and stiffening of the suspension setup.
At RM409,800 before insurance, the new 528i is a full RM40,000 cheaper than the discontinued six-cylinder model. Levels of equipment are identical to the predecessor, which makes this new model extremely good value. The M Sport trim level, standard offering for the 528i, looks the part inside and out, giving it a sports sedan appearance that befits its performance. There are, however, two very glaring absentees in the kit count, namely keyless entry and reverse camera – both items which I would have taken for granted in anything priced above RM200,000.
BMW's decision to swap its trademark six-pot smoothness for turbocharged four-cylinder muscle has inevitably led to all the spotlights being shined at the engine bay. While the six-cylinder engines will always have a special place in our hearts, the new four-cylinder model is a much improved car in many aspects. The car felt like it was designed for this engine. It felt right. Its dynamic repertoire is impressively well-rounded. No doubt that the big news of the new 5 Series starts with the new engine, but truth of the matter is that actual improvements went way beyond that.


Further Details:
– BMW car prices and specifications in Malaysia.
– BMW 528i M Sport price and specifications.
– List of BMW Group Malaysia official dealers and branches.