Mitsubishi Triton VGT Test Driven in Kuching, Sarawak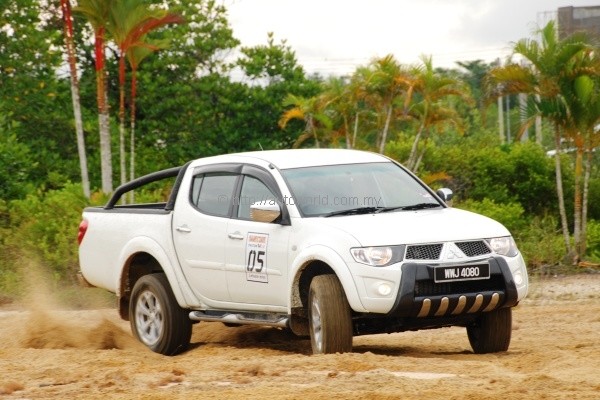 Last week, we brought you news of the Mitsubishi Triton VGT's launch. This new model replaces the now-discontinued 3.2-litre variant, and all the relevant numbers suggest it to be a worthy successor. In line with prevailing trends of downsizing, Mitsubishi's engineering trickery has created a convincing replacement for displacement.
Despite a deficit of 723cc in engine capacity, the new Triton VGT produces greater amounts of power and torque than its predecessor – 158hp of the 3.2 goes up to 176hp in the VGT, and torque is similarly raised from 343 to 350Nm spread over a plateau spanning from 1,800 to 3,500rpm.
Even more pleasing to note is how the improved levels of performance come hand-in-hand with a three-pronged reduction in cost. A price reduction of RM1.35 is not likely to make headlines, but reduced fuel consumption and annual savings of over RM1,000 in road tax (Peninsula Malaysia, private individual registration) will please even the most generous owners over the long run.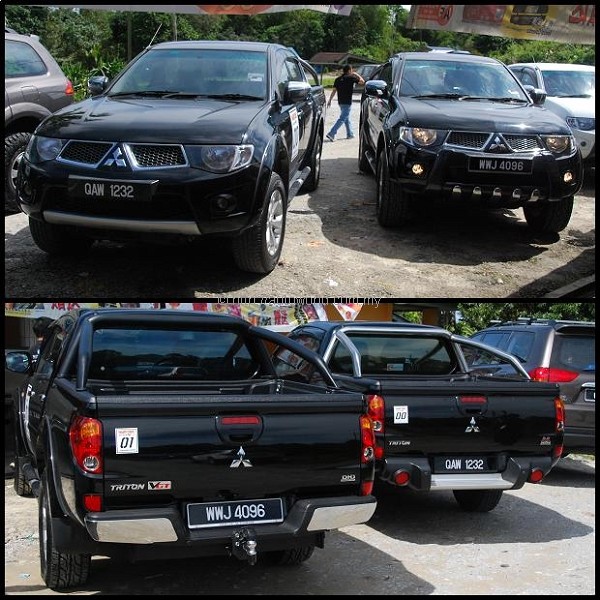 The VGT (WWJ 4096) replaces the 3.2 (QAW 1232) in the Triton's line-up. Spot the differences.

Rivals?
Including insurance, the new Triton VGT can be yours for RM105,997.10. This puts the VGT right at the top end of the pick-up market competing against full-spec versions of the Toyota Hilux 3.0 and Nissan Navara 4×4. Later this year, we will see Ford and Chevrolet joining the party with the new Ranger and Colorado respectively.
The upcoming Ford and Chevy trucks will complicate life for everyone except Toyota, and Mitsubishi dealers can be forgiven if they worry about having to stave off two fresh challengers with a product that is nearing the end of its product life cycle. Fortunately for them, the Triton has a very favourable blend of strengths that is now boosted by a newer more powerful engine.
MMM's marketing tagline is not ashamed to proclaim the Triton VGT as being the 'most powerful pick-up truck in its class'. While Mitsubishi's claim is undoubtedly valid, it does not paint a complete picture. The company is cheekily silent about how the VGT's 350Nm peak torque output is actually lower than the Nissan Navara's 403Nm and the upcoming Ford Ranger 2.2 TDCI's 375Nm. Nevertheless, it should also be noted that Nissan and Ford's highly-tuned engines also squeezes peak torque delivery to narrow windows compared to Mitsubishi's wider-spanning plateau.

Driving Impressions
We can throw numbers all we want, but at the end of the day, the question is how everything falls together behind the wheel. Our media test drive session organized by MMM stretched 221km, but with journalists having to take turns behind the wheel, effective drive time available to this writer added up to about 70-80km at most.
Fortunately, the route selected included a commendable mix of tarmac and mud, allowing us to comprehensively evaluate the Triton VGT's behaviour on and off the road. Mitsubishi shods the VGT with highway terrain tyres as standard, but our test cars wore all-terrain tyres as a pre-caution to face the muddy plantation roads that we were due to traverse.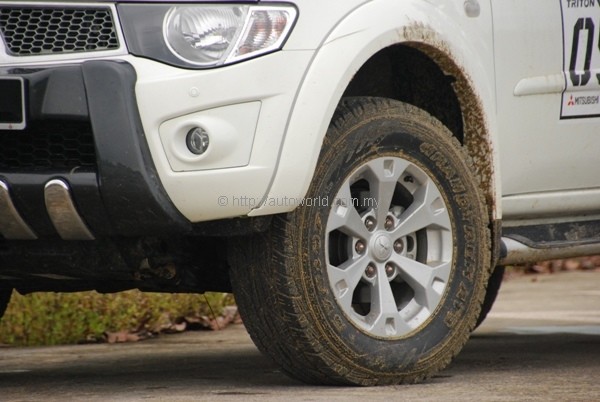 For this event, MMM swapped in all-terrain tyres to better deal with off-road conditions.

At this point, I should note that this outing represents my first time driving the Triton, and that the Nissan Navara is a big personal favourite of mine amongst pick-ups. Whilst I remain largely partial to the Navara's macho looks and hilariously brutal power delivery, the Triton's ability to feel equally comfortable both on and off the road is by far the best balanced amongst pick-ups that I've tested.
Cliched as it may sound, refinement levels are almost car-like, and although the rear leaf springs still feel harsh over undulations, the overall ride far surpasses every pick-up except the Navara, which it closely matches. That on its own is impressive, but where Mitsubishi's engineers earned their money was how they were also able to infuse the Triton with a reassuring feel of solidity when we took it off-road. That feel of mechanical ruggedness that a pick-up should have was clearly not sacrificed.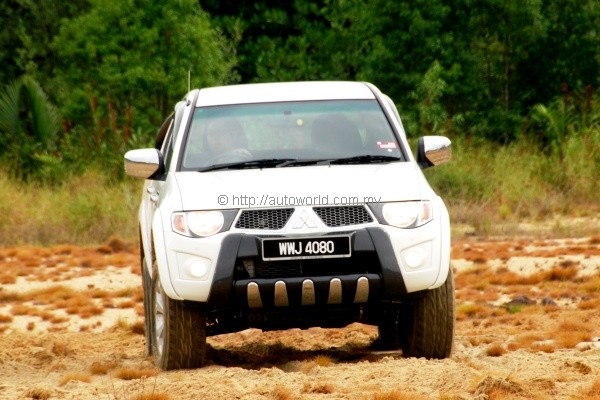 Triton marries commendable road manners with brutal toughness.

The Triton comes with Mitsubishi's Easy Select 4WD system, which is a rung down the technological food chain compared to the Pajero Sport's Super Select 4WD. The key difference between these two systems is a viscous coupling in the Pajero Sport's centre diff, that allows it to use 4WD mode on tarmac which the Triton cannot.
The plantation section of our media drive was lengthy, but not what we would call tough – I negotiated my stint almost entirely on 2WD mode, and despite my best efforts, the Triton's tail simply refused to get unsettled. It took quite a bit of hard work before we managed to get the Triton sufficiently sideways for the pictures you see with this article.


Verdict
Amongst the current crop of pick-up trucks, the Triton is well-noted for its impressive levels of refinement and stylish design. Its appearance suggests otherwise, but the Triton is also more than able to hold its own out in the wilderness, although workhorse buyers will continue to choose between the Toyota Hilux and Isuzu D-Max.
The VGT engine gives the Triton added appeal for the lifestyle buyers, and it is impressive to note that the Triton remains a competitive product despite not being the freshest around. Considering the Triton's age, the VGT engine represents a decent attempt by Mitsubishi to fortify the base against upcoming rivals.
Further Details:
– Mitsubishi Triton VGT price & specifications
– Mitsubishi vehicle prices & specifications in Malaysia
See also: MMM unveils facelifted Mitsubishi Triton