New challenges in store for Perodua Eco-Challenge 2012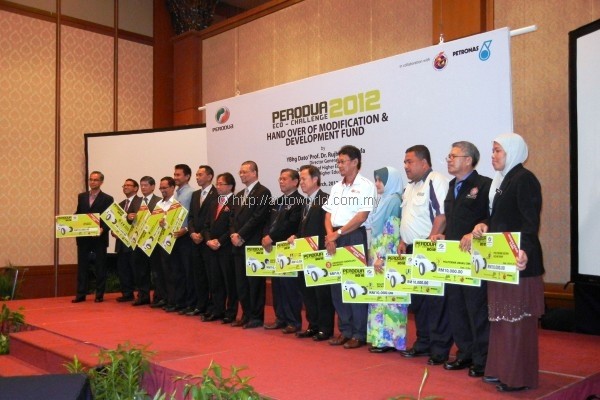 The highly-successful Perodua Eco-Challenge is back for its fourth installment, and once again the bar is raised for the participating institutions as they prepare for the final race to be held at the Melaka International Motorsport Circuit on 15 July 2012.
Teams this year are no longer required to build their cars, but the task remains no less challenging. Given a research grant of RM10,000 each, the teams are asked to improve on the vehicle which they built last year to be competitive for the tougher challenges in store this year.
"We promised to make this year's edition of the Perodua Eco-Challenge more challenging and exciting for the teams. After 3 years, I believe that most of the teams have gained a lot of experience and skills from the competition," said Perodua Managing Director Datuk Aminar Rashid Salleh.
More is at stake for this year's challenge, which is no longer a drive-till-it's-dried affair. There will be an overall champion this year, who will take home a cash prize of RM25,000. There will also be the Design and Engineering categories like last year, where the top three teams of each category takes home RM10,000, RM8,000 and RM5,000 respectively.
Mere fuel economy is no longer sufficient to guarantee victory this year, as there is a new Time Attack category, which awards RM7,000 to its winner, RM5,000 to second place, and RM3,000 to third place. Fourth and fifth-placed teams get RM1,000 each. Teams who built their cars last year with greater foresight are likely to reap huge benefits this year.
In addition to engineering activities, the scope of this year's challenge has been widened to include the Business, Commerce and Management faculties of the participating institutions. Perodua is providing each team with an additional grant of RM5,000 from which teams can fund marketing and promotional activities of their team. The teams are required to present their business plan to a panel of judges comprised of well-known industry personalities. Winner of the marketing, promotional and business plan category will receive RM7,000, whilst 1st and 2nd runners up take home RM5,000 and RM3,000 respectively.
Participants of this year's challenge are defending champions Politeknik Ungku Omar (longest distance), Universiti Teknologi Malaysia (engineering), and Universiti Malaysia Pahang (design and participation). Also participating are Universiti Sains Malaysia, Universiti Kuala Lumpur – Malaysia Spanish Institute, Politeknik Sultan Azlan Shah, Universiti Teknologi Mara, Universiti Teknologi Petronas, Universiti Tenaga Nasional, Universiti Industri Selangor, Politeknik Port Dickson, Universiti Kebangsaan Malaysia, and Universiti Teknikal Malaysia Melaka.
See also:
– Perodua Eco-Challenge 2010 race report
– Perodua Eco-Challenge 2011 race report