Land Rover opens new flagship showroom alongside Federal Highway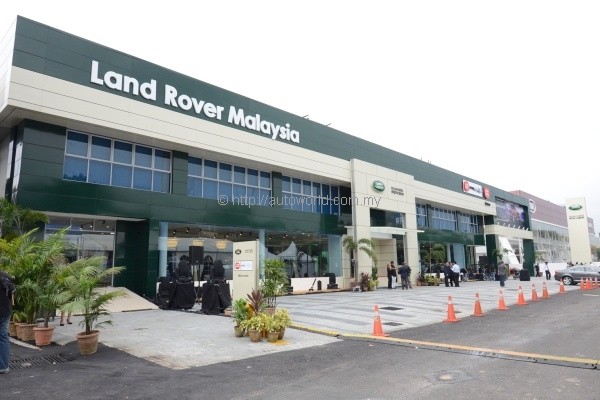 After 19 years of operating from Section 13, Petaling Jaya, Land Rover (Malaysia) Sdn Bhd has moved its flagship 3S centre to a new 44,000 sq ft facility located at Jalan 219 along the Federal Highway. Built at a cost of RM2.5 million, the new facility features improved sales and servicing facilities to better serve customers.
For a start, there's more showroom floor, with enough space to park six models on permanent display. There will be clear demarcation of the floor area to separate between Land Rover and Range Rover-branded vehicles. Customers collect their cars from a new purpose-built delivery bay.
"The Delivery Bay has been specially designed to offer the customer a unique experience when collecting their vehicle, a clean uncluttered environment where the customer and the Sales Consultant completes the vehicle handover. It will always be a special moment for all of us," enthused En Mohd Hairon, the Branch Manager.
Servicing demands are handled by 15 work bays with hoists, and Land Rover owners can now enjoy a new concept in servicing that is, to our knowledge, unique in the country. Dubbed 'Service While You Sleep', the service allows owners to leave their vehicles at the service centre overnight and pick them up the next morning. This is a useful service that many companies would do well to emulate.
"We are making it extremely convenient for our customers as their vehicles can be serviced during the evening down-time and ready for use the next day," said Land Rover Malaysia Managing Director, En Mohd Hazem Abd Rahman.
Hazem further noted that the company has received approximately 1,000 orders for the Range Rover Evoque since the model's pre-launch campaign kicked off in May 2011. This, according to Hazem, makes Land Rover Malaysia's campaign the most successful in Asia as it was the first market to hit the Principal's pre-launch booking target and growth has been consistent from there onwards. The Range Rover Evoque is now Land Rover Malaysia's best-selling model in the country.
"The Range Rover Evoque has certainly lived up to its promise as a game-changer for Land Rover. As evident in the record-breaking orders that we have received to date, it is a breakthrough product that appeals to those who have never considered a Land Rover, Range Rover or SUV before. The Evoque is single-handedly changing perceptions and propelling the Range Rover brand to new heights. In the process, it is also generating unprecedented awareness for the entire range of products from Land Rover," he added.
Meanwhile, Jaguar Land Rover's General Manager of Operations and Business Development (Asia Pacific and China Markets), Mr Andy Griffiths said that the past year had been an exciting one for the iconic 4X4 marque.
He added, "I would like to take this opportunity to congratulate the team at Land Rover Malaysia for an outstanding job in attracting new customers to the Land Rover brand. For the past 25 years, they have proven to be capable custodians of the brand here in Malaysia. Their willingness to invest in this hugely impressive new facility reflects their commitment and augurs well for the future."
Pictures: Official Land Rover (Malaysia) release.