Two win RM20,000 each from Shell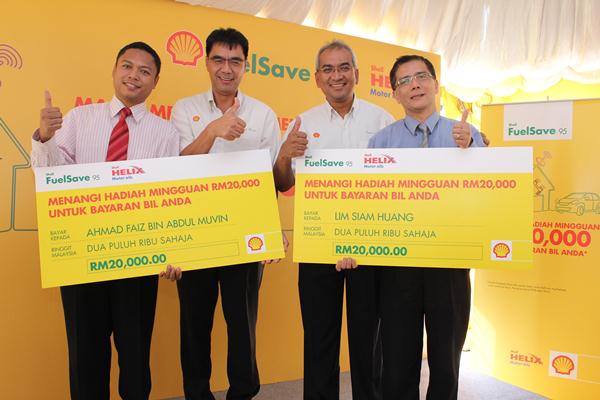 The 'Shell Pays Your Utility Bills' contest has found its first two winners. Lim Siam Huang of Kuala Lumpur and Ahmad Faiz Abd Muvin from Kajang have just found themselves RM20,000 richer having been named grand prize winners of the contest's first week. In addition to the cash prize, Lim and Faiz also walk away with a year's supply of Shell Helix Ultra engine oil for their cars.
The contest runs for ten weeks, and the two winners will be competing in the Grand Finale for a shot at the final grand prize of RM100,000 at the contest's conclusion. In addition to the two grand prize winners, there are a further 500 consolation prize winners rewarded with RM150 each. Each of the contest's ten weeks will see 502 winners rewarded by Shell.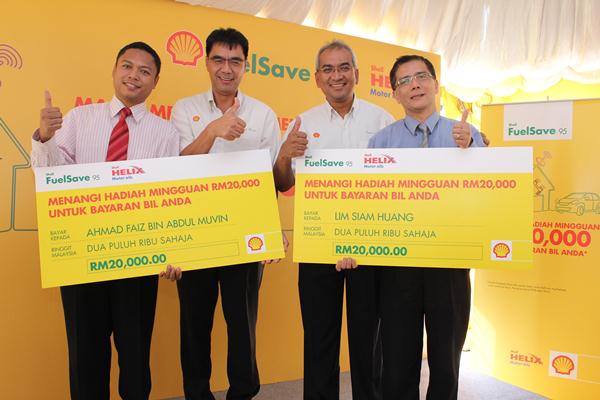 To participate in the Contest:-
1. Pump a minimum of RM30 of any Shell fuels or purchase any Shell Lubricants or items from the Shell Select Store;
2. Fill up a contest form and answer a simple question at the back of the form;
3. Drop the contest form in the contest box at any of the Shell stations nationwide, with the original purchase receipt attached.
Prizes:
i. Weekly grand prize winners: 2 x RM20,000 cash + 1 year supply of Shell Helix Ultra
ii. Weekly consolation prize winners: 500 x RM150 cash
iii. FINAL Grand prize winner: 1 x RM100,000 cash + 5 year supply of Shell Helix Ultra
Total number of customers rewarded: 502 x 10 weeks = 5020 Malaysians
Picture: Official Shell release.
See also: "Shell Pays Your Utility Bills" contest offers RM20k grand prize