Toyota Avanza 1.5S – New 2012 model tested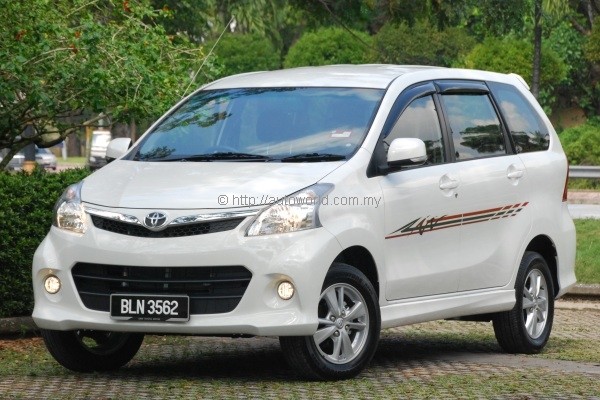 When it was first launched, the original Toyota Avanza was a game-changer. Though its underpinnings are unremarkable and dynamics uninspiring, it offered Malaysians the option of a Toyota badge at the price of a Proton Waja. Eight years on, the venerable Avanza is finally replaced with an all-new model, which we are reviewing here.
Unlike its predecessor, the new Avanza arrives in a more crowded market that is offering a wider array of options in its price range. In particular, the Perodua Alza and Nissan Grand Livina are similarly compelling offers for the family man looking for MPVs of compact dimensions and not too hard up on driving dynamics.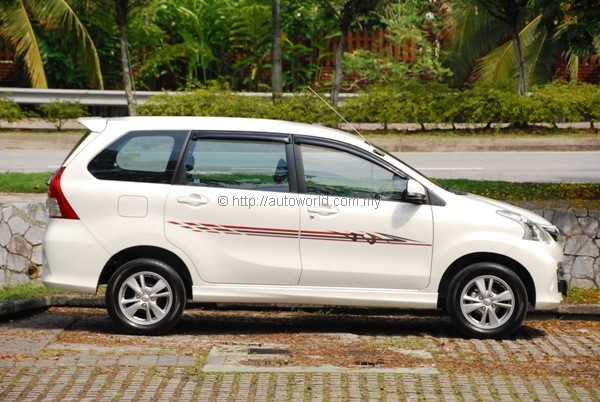 The Avanza is now fully imported from Indonesia. No longer made in Rawang by Perodua.

It is clear then, that the new Avanza will not sell at the kind of volumes that the original enjoyed. The previous Avanza was produced locally at Perodua's factory in Rawang, and it certainly can be argued that our second national manufacturer made the most out of that deal. Implementation of Toyota's famed production system at the plant helped improve quality of Perodua vehicles as well, and the company has not looked back since.
Perodua's volume has grown leaps and bounds since with strong market demand for all three of its models. That coupled with the anticipation of lower sales volumes has led to UMW Toyota Motor making the decision of sourcing the new Avanza from Toyota's plant in Indonesia.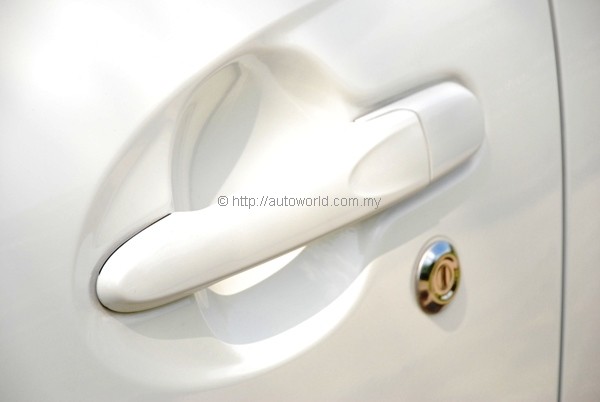 Grab type door handles, but key hole is really old-fashioned.

Despite Toyota's insistence that this new Avanza is a full model change, it is no secret that the predecessor's platform is retained, albeit suitably updated and completely restyled. Every external panel is new, and the dashboard was subject to a complete rework. Overall, however, the basic formula is retained, and as such, the Avanza continues to be a compact seven-seater with rear-wheel drive.
Model mix mirrors the predecessor, and options start with the 1.3E manual at RM63,864 with insurance. Topping the range is the 1.5S as tested here at RM78,864 with the optioned solar film adding a further RM1,400 to the final price. Our recommended pick is the second-from-top 1.5G which already comes with all of the 1.5S' useful stuff such as the 15″ alloy rims, steering audio buttons, dual airbags, ABS, and EBD. You will have to forego the sports bodykit, but your reward is savings of RM2,274.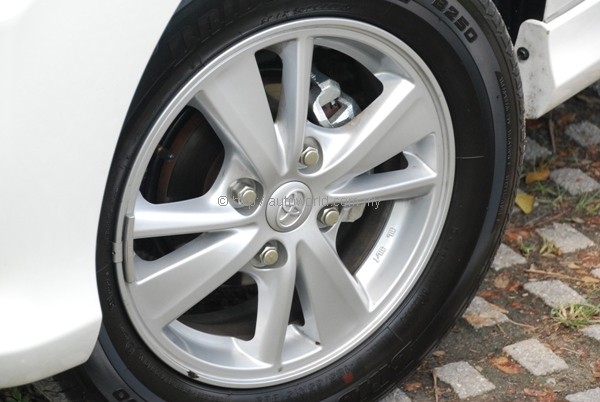 15-in four-spoke alloys for the 1.5G and 1.5S.

With a carryover platform as its starting point, Toyota logically opted for an evolutionary approach in developing the Avanza. From the outside, the current model's relation to the old is instantly recognizable yet looking just about different enough that there is no confusion. Nothing revolutionary inside either, despite a comprehensive rework. This being a budget-priced Toyota, materials and build quality was always going to be more Liteace than Lexus, but the good news is that everything feels reasonably well screwed together. Measures of cost cutting are visible, but at levels that most owners are likely to forgive.
Toyota has never been noted for being generous with equipment, and with a five-figure price tag, the Avanza was never going to be overflowing with kit. Stuff that Toyota did bundle into the package are thankfully useful, and standard equipment across the range includes rear blowers, one-touch tumble-folding second and third row seats, reverse sensors and all-round power windows.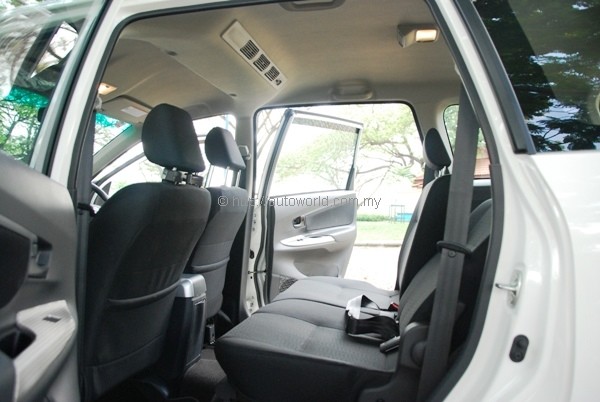 Second row seats get roof-mounted blowers.

Higher end models get USB and iPod connectivity with the audio and a multi-info display on the instrument panel, but that's as advanced as things get. Don't hold your breath for Bluetooth connectivity, cruise control or push-start buttons. This simplicity of the Avanza is not a total disadvantage, as there remains a profile of highly practical buyers that still want their vehicles equipped with little more than the bare necessities.
Well, if it is indeed simplicity that you want, the Avanza is as mechanically simple as it gets. The 1.3 and 1.5-litre engines with 16 valves, twin camshafts and VVT-i are carried over with only minor changes from the predecessor, and transmission choices are the old school 5-speed manual and 4-speed auto variety. Testing the Avanza downhill, we sensed shift patterns indicative of a grade logic control system. The execution feels rudimentary if we are to be honest, but it is effective in giving us a sense of control going down slopes.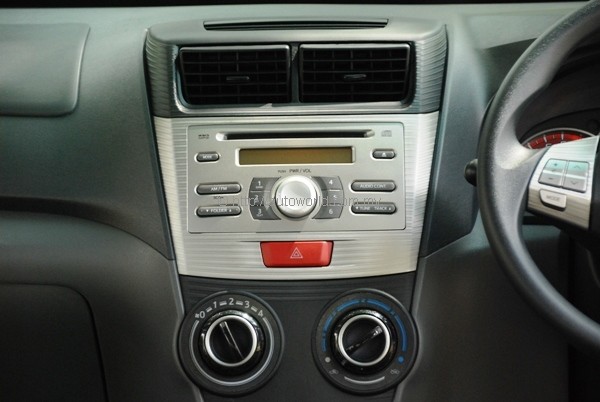 Centre stack is one of the simplest to have come our way in a long time. Not necessarily a bad thing

Being a good old-fashioned NA engine paired to a conventional slush box, our 1.5S automatic test car is not blessed with an abundance of pace. Its outputs of 102hp and 136Nm feels just about enough to move the Avanza's 1,105kg kerb weight along without feeling too sluggish. It was certainly game enough to push our test car to a steady speed of 130kph ticking 4,000 revs.
While the Avanza boasts the novelty of having rear-wheel drive, it is best remembered that this is at the end of the day an MPV, and dynamic it certainly isn't. Drive goes to the rear via a live axle, and such architectures are better noted for durability rather than agility if you get what we mean. The setup is clearly geared for comfort, and spirited driving is not exactly encouraged by sensations that don't convey the message of stability.
Quite simply, Toyota built the Avanza as a low-cost no-nonsense MPV. Those of you who want better driving dynamics bundled into the package will have better luck with the Proton Exora; or better still, save up money for the Ford S-Max. The Avanza will appeal to those seeking for no-frills put-petrol-and-go type of motoring with the sense of security that buyers of many generations associate with the Toyota badge.