Ecologic labels to advertise green credentials of Chevrolet cars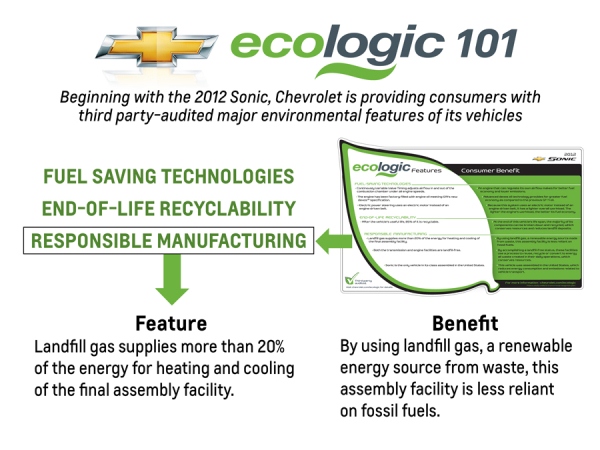 Things like EfficientDynamics, BlueMotion, BlueDrive and the lot are very commonplace taglines affixed to modern cars. Essentially a label to boast of eco-friendliness, Chevrolet has taken green branding to the next level with the introduction of Ecologic labels to make their debut in the 2012 Chevrolet Sonic.
More than just stamping a stylized 'Ecologic' font on the bootlid, the labels will be located on the rear driver-side window where certain environmental features of the vehicle relating to manufacturing, driving and recycling are displayed for all to see.
Each claim on the Chevrolet-created labels is audited by Two Tomorrows, an independent third-party sustainability agency that provides auditing and assurance services to companies for environmental initiatives.
The label communicates vehicle-specific features in environmental aspects related to vehicle manufacturing and assembly, fuel-saving features such as advanced engine technologies, aerodynamics, lighter weight components or low-rolling resistance tires, and how 85% by weight of the vehicle can be recycled at the end of its lifespan.
"Chevrolet's goal to invest millions in energy efficiency, renewable energy, and other lower- carbon projects to reduce U.S. emissions by up to 8 million metric tons demonstrates innovative
corporate leadership," said Eileen Claussen, president of the Center for Climate and Energy Solutions (C2ES).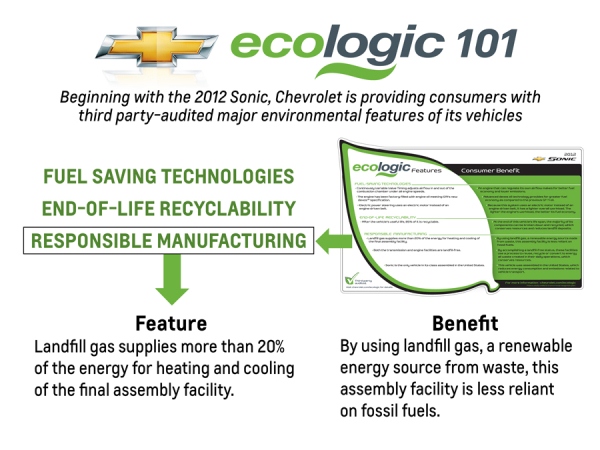 KON
Graphic: Official Chevrolet release.