Audi A1 1.4 TFSI S-line Test Drive Report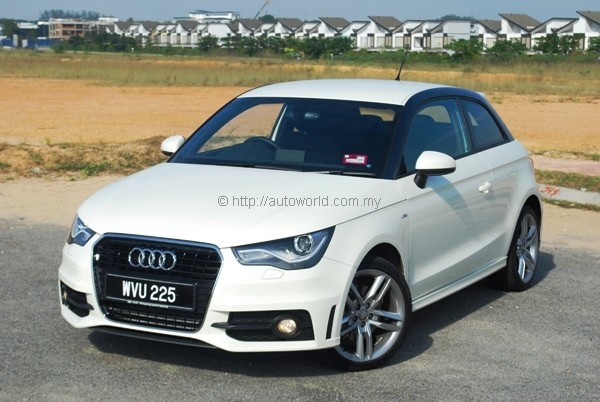 The A1 was launched as Audi's entrant in the luxury compact segment to rival the MINI, and to a certain extent, the Alfa Romeo MiTo. It is available worldwide with a raft of small petrol and diesel engines from the Volkswagen Group. Euromobil launched it in Malaysia last year first with the 122hp turbocharged version followed by the 185hp twincharged variant as tested in this review.
Confusingly, both model variants are badged 1.4 TFSI, but our more expensive test car is separated from its smaller-engined brother by virtue of its S line trim to justify a price difference of almost RM30k. The 122hp turbocharged model goes for RM179,900 before insurance whilst the 185hp twincharged S line model costs RM209,000 under the same terms. Both variants of the A1 here undercut the equivalent Cooper by significant margins as illustrated below:


Specifications
The A1 is built on the Volkswagen PQ25 platform, which also underpins the Polo. Technical comparisons are therefore inevitable, especially against the 178hp Polo GTI that operates the same engine and sells for a fraction of the price, although it is unlikely that the Polo GTI and the A1 will be considered by the same set of customers.
Buyers ready to spend on the A1 are looking for the prestige of the four rings, and that's exactly what they will be getting – both in terms of styling and quality. We all know about the VW Group's legendary build quality, and in Ingolstadt, that quality is further upped a few notches. Step into an A1, touch the surfaces, and it feels no inferior to an A4 or A6.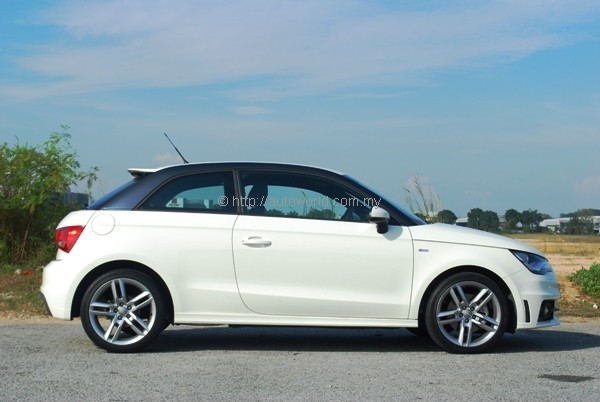 Ingolstadt's alternative to the MINI

Where the Polo GTI excels in delivering an impressive bang for your buck, the A1 takes that same package and glosses it with class. Your extra money spent here gets you goodies such as a Bose surround sound system, and Audi's MMI interface complete with a pop-up 6.5″ TFT colour display. Not to mention the fact that you are also cocooned in an environment with more expensive choice of materials.
In our tested 1.4 twincharged guise, the A1 is good for a full 185hp at 6,200rpm and its peak torque of 250Nm is spread over 2,500 to 4,000rpm. Power goes to the front via the VW Group's dry clutch 7-speed DSG transmission, or S-tronic in Audi-speak. Like the Polo, it's not independently sprung all-round, so it makes do with a torsion beam at the rear. In comparison, BMW was somehow able to cram a multi-link setup into the MINI's compact dimensions.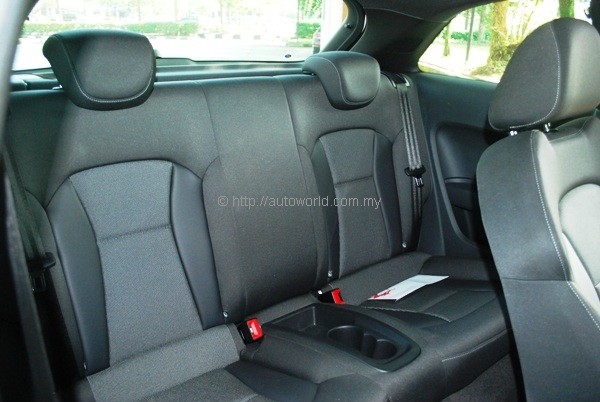 Back seat just about accomodates two.

Driving Impressions
For those of you familiar with the Polo GTI's driving characteristics, think of the A1 as a slightly more refined version of the same and you won't be far off. Rough edges that were present in the Polo GTI are nicely polished off, but there is still a hint of playfulness in its makeup that is notably absent in bigger and more refined Audi sedans.
Case in point is its ridiculously savage acceleration. It feels more rapid than even the 3.0-litre supercharged A6 sedan even though it probably isn't. If you cane it, you will be greeted with some pretty brutal power delivery that gets hilariously addictive once you've gotten used to it. Remember what they say about how power corrupts?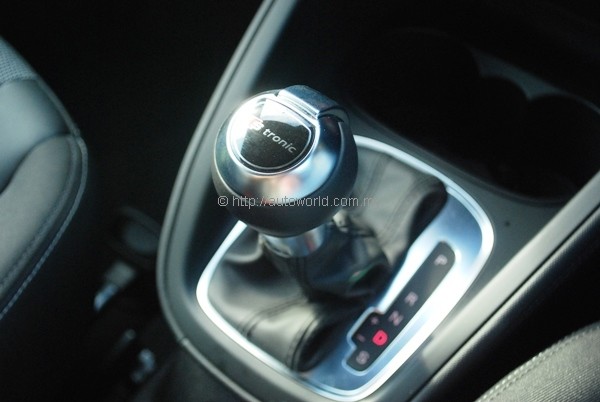 7-speed S-tronic transmission.

One thing that really tickled us about the Polo GTI was how its engine growled almost like a V8 in its mid-range. The A1 sounds more muted, but seemed happier to rev compared to its VW cousin. Its ride has a hint of stiffness but it is not as jittery compared to the Polo GTI, and or even its intended rival, the MINI Cooper S.
One little caveat to watch out for in the A1's dynamics is torque steer. Despite boasting electronic diff lock and traction control, the A1's front axle noticeably struggles to contend with 185hp and 250Nm flowing through it at full pelt when powering out of corners. Quite a giggle for moments when we're feeling naughty, but sedate drivers may want to have a second look at the less frantic 122hp version instead.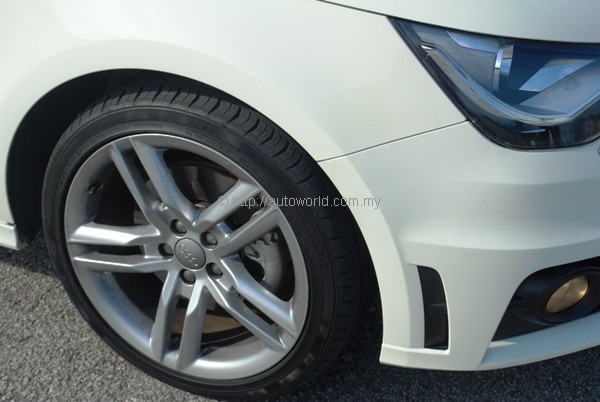 The bumper air vent is functional.

Verdict
The Audi A1 makes for an interesting package. It doesn't quite make sense if you stack it up against the Polo GTI and compare them purely on a technical basis. But where the A1 earns its money is in how it retains the Polo GTI's qualities and polishes them into become a more refined package – a suited up Polo GTI if you like.
The other aspect of its appeal is most certainly the four rings it wears on its grille. Audi ranks very highly in terms of brand prestige these days, and buyers in this segment now have a more matured alternative compared to the MINI. The MINI is ultimately more fun to drive, but if driving dynamics are not the be all end all of your requirements, the A1 is worth a look.