BMW F10 5 Series – New Engines for a New Era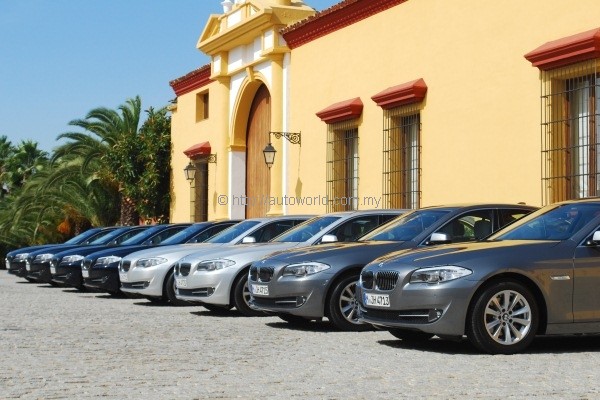 As we reported in July last year, the F10 5 Series range was refreshed with a set of new and revised powerplants. Instead of naturally aspirated six-cylinder engines, the lower end petrol models are now powered by the all-new N20 twin-scroll turbo four-pots in the 520i and 528i, and both these models have also been introduced in the Malaysian model line-up with immediate effect.
The diesel line-up is revamped too, with a twin-turbocharged version BMW's 2.0-litre N47 motor taking over from the 3.0-litre N57 six-pot in the 525d. Also added to the line-up is a new 520d EfficientDynamics Edition, which uses the N47 in its single turbo format, but vastly tricked out with various eco-friendly enhancements for improved consumption and emission.
These new variants of the 5 Series were also made available for the automotive press to test when we were in Seville last October to attend the BMW M5's international media launch. I was able to sample the petrol-powered 520i and 528i, and squeeze a quick drive in the 520d EfficientDynamics Edition, even though this particular variant is not likely to reach our shores anytime soon.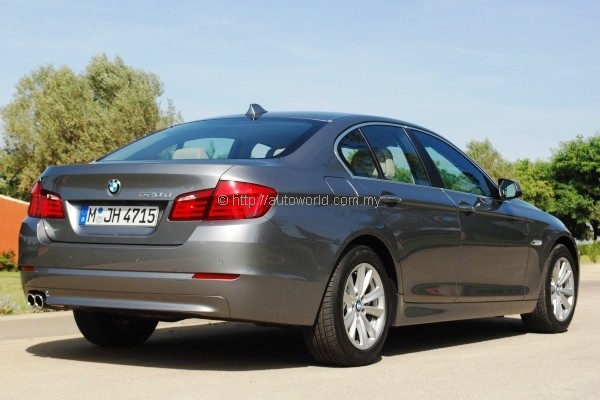 BMW 520d EfficientDynamics Edition

The new N20 engine
Based on the bigger 3.0-litre N55 engine powering the 535i, BMW's new 1,995cc N20B20 engine similarly features twin-scroll turbocharging, direct injection, variable valve timing (Valvetronic) and dual variable cam timing (Double VANOS). This engine was first released in the X1 last year, and has also found its way to the Z4 and the newly-launched F30 3 Series.
Not since the E34 has BMW offered a 5 Series with the option of four-cylinder engines. Here in the F10, the new mill is offered two states of tune, replacing the naturally aspirated six-cylinder motors that has been the staple of BMW models since time immemorial. Customers can choose between the 184hp version in the 520i or the more powerful 245hp version in the 528i.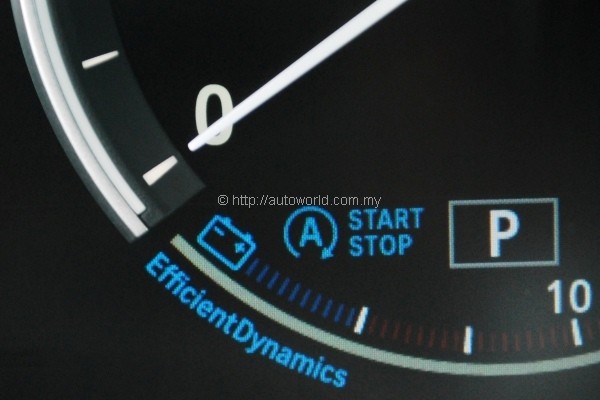 The new 4-cylinder models come with Auto Start-Stop as standard.

Typical of turbocharged direct injection engines, both motors excel in mid-range torque, spread over a wide rev spectrum. Equipped with Auto Start-Stop as standard, the new engines are also promised to be highly frugal – all rated comfortably below 7.5 l/100km in the combined EU test cycle.
Another new item worth mentioning in the updated 5 Series is the Driving Experience Control switch, which replaces the previous Dynamic Driving Control switch found in the existing F10s. Parameters controlled by the switch are throttle mapping, steering response, DSC thresholds, and transmission mapping. The driver can select between 'Eco Pro', 'Comfort+', 'Comfort', 'Sport', and 'Sport+'.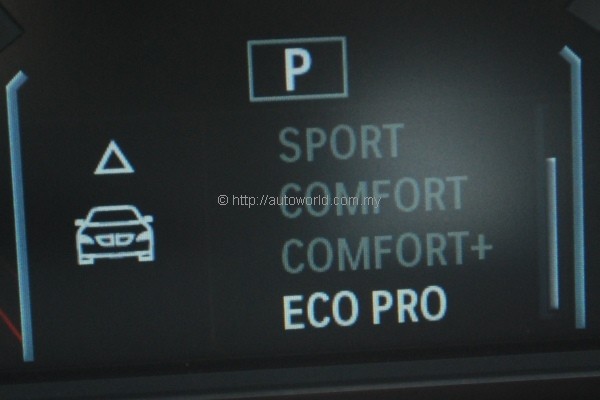 'Eco Pro' mode encourages the most eco-friendly driving style possible.

520i – 184hp, 270Nm
Despite sitting at the bottom of 5 Series hierarchy, the 520i is not what you would call weak. With 184hp @ 5,000rpm and 270Nm @ 1,250 – 4,500rpm, Munich is officially throwing the gauntlet at Merc's well-received E 200 CGI, which produces almost identical figures (181hp, 270Nm) from its 1.8-litre M271 lump.
Although the new 5s are being offered to Malaysia in sedan format, the test cars given to us in Spain were the Touring versions. This means extra weight for the engine to deal with, as the 520i Touring tips the scales at 1,705kg compared to 1,595kg by its sedan equivalent.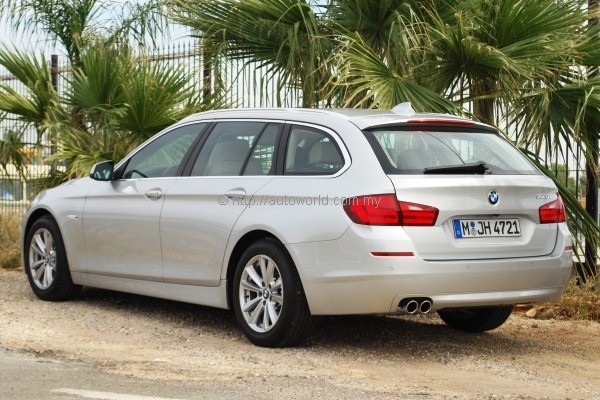 BMW 520i Touring

Printed specs show respectable performance. Based on BMW's claims, our 520i Touring test car, equipped with the ZF 8-speed auto, is supposed to be able to do the century sprint in 8.4 seconds and hit a top speed of 220kph. Not a slouch then, but as experienced on the mix of narrow streets and open highways in Seville, the 520i is best used as a cruiser. It is brisk, but not overtly rapid – there was a need to be conservative when it came to trunk road overtaking.
One aspect of the new 520i particularly deserving of praise, and we discovered this to be true of the other variants tested as well, was its markedly improved ride quality over the existing F10 5 Series. These new four-potter 5s absorb surface harshness way better compared to the existing 523i, 528i, and 535i reviewed back home. Quite simply, the 5 now has a 'Comfort' mode that actually works.


528i – 245hp, 350Nm
If the 520i is aimed squarely at the E 200 CGI, the new 528i here is out to obliterate the bigger E 250 CGI. Once again, Munich pits a 2.0-litre four-pot against Stuttgart's 1.8. But while the E 200 and 520i are neck-and-neck, the 528i here is endowed with a substantial horsepower advantage against the E 250, which Mercedes recently updated with its 7-speed automatic transmission.
The 528i's outputs of 245hp @ 5,000 – 6,000rpm and 350Nm @ 1,250 – 4,800rpm comfortably shades the E 250's now less than flattering 204hp and 310Nm. In 8-speed auto Touring guise as tested, the 528i is claimed to be good for a 6.6-second century sprint and 244kph top speed. Fuel consumption is rated at an impressive 6.8 l/100km in the combined European cycle.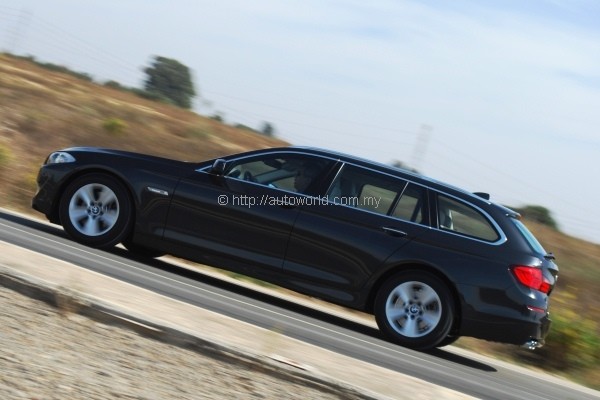 BMW 528i Touring

It is a strong statement by BMW to give this engine a badge that used to belong to a six-cylinder motor. There is a reduction in maximum power compared to the previous natural-breathing 3.0-litre six-pots, but that loss is counteracted by a vastly beefier torque curve and substantial reduction in weight. In sedan bodystyle, the new 528i weighs in at 1,620kg compared to 1,655kg for the six-cylinder model.
On the road, the new 528i has good bags of pace at its disposal. Its additional pace over the 520i was obvious, with far less effort required for overtaking. The engine was more than up to the task of hauling our 1,725kg Touring test car, but as you hit the upper reaches of the tachometer, the sweet melody that was the hallmark of BMW's inline-six engines is now amiss. Technology can indeed replace displacement, but numbers alone cannot hope to replicate character.


520d EfficientDynamics Edition – 184hp, 380Nm, 4.5 l/100km
Lastly, we have the 520d EfficientDynamics Edition here, which I tested more for the reason of curiousity than anything else. This model will not make it to Malaysia, and there are two reasons for that – one, it is strictly a Euro V model; and two, it is only available with a six-speed manual transmission.
What differentiates the EfficientDynamics Edition from the standard 520d are a number of efficiency-enhancing measures such as Auto Start-Stop, gear shift indicator, Brake Energy Regeneration, active cooling flap control and a longer final drive. There is also supposedly a set of special 'Streamline' aero rims, but our test car wore standard rollers.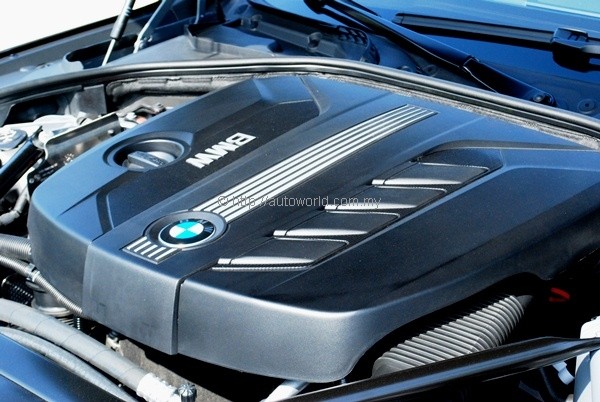 Retuned N47 engine has identical outputs to standard 520d, but even more economical.

The combined efforts of these features allowed BMW to maintain the standard 520d's impressive outputs of 184hp and 380Nm, and at the same time improve fuel consumption to a hybrid-beating 4.5 l/100km in the combined cycle. If our authorities are serious about promoting the use of green vehicles, improvements of fuel should indeed be at the top of their agenda. As a side note, the Malaysian-spec 520d's quoted fuel consumption is 5.2 l/100km.
It may be an eco-friendly model, but the 520d EfficientDynamics Edition here was not found wanting as far as the dynamic half of its brief is concerned. The 6-speed manual shifter slots precisely and was a joy to use. Clutch action was well-weighted – not overtly light, and yet not too heavy to raise your risk of hernia. Winding trunk roads were best negotiated in a combination of third and fourth gears, with second needed only to pull out of the tightest corners.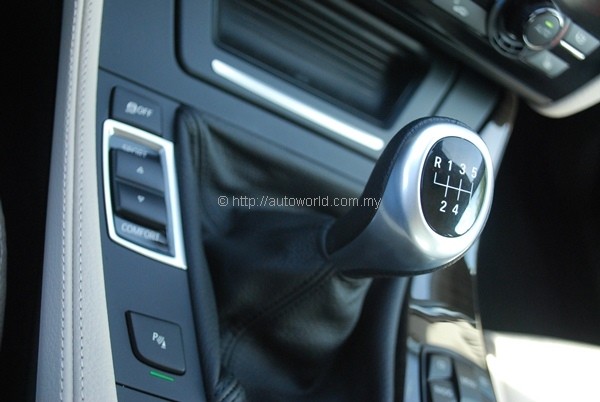 6-speed manual transmission with longer final drive.

For the Malaysian market
The new petrol-powered four-cylinder 5 Series models are officially available for sale in Malaysia starting today (in sedan bodystyles, of course), and the good news is that there is a price reduction from the six-cylinder variants that they replace. The 520i is priced at RM358,800, compared to RM383,800 for the now-discontinued 523i. Meanwhile, the new 4-cylinder 528i M Sport is being sold for RM409,800, down from RM449,800 for the six-cylinder model.
As illustrated by the newly-introduced F30 3 Series, natural aspiration is set to go the way of the dinosaur, especially where European car makers are concerned. BMW's decision to downsize from the natural-breathing six to the turbocharged four is symbolic of the current era of engine downsizing. Munich is just going with the times.
Writer's Note (5 Jan 2012): The new BMW 520i and 528i M Sport will be on display in BMW showrooms nationwide starting this weekend.