BMW M5 (F10) – Fast and Steady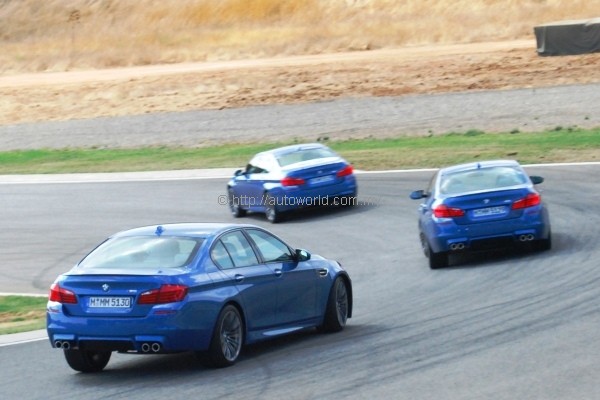 In 1984, BMW used a simple formula to concoct what was at the time, the world's fastest production sedan. It was accomplished by shoehorning the engine of the M1 sports car into a 535i chassis, and a star was born – the first generation BMW M5. Only small numbers were built, less than 2,200, but the M5 achieved such legendary status that every successive generation of the BMW 5 Series is inevitably accompanied by a fire-breathing monster from the M division.
Each iteration the M5 that followed grew increasingly larger and more powerful. From the original E28's 3.5-litre straight-six, we went to a bigger straight-six in the E34, then a V8 in the E39, and finally the famous F1-inspired V10 of the E60 launched in 2005. In 21 years, the M5's power output swelled from 282hp to 500hp.
Today comes another new M5, which is once again bigger and more powerful – nearly double the horsepower and exactly double the torque compared to the original. In conjunction with the F10 M5's international launch, BMW let the world's motoring press loose on the streets of Seville and the Ascari race resort to put its latest offering through its paces, and here's what we think…


Engine
Though the M5 may reside in supercar territory for some, it is not spared from the grip of EU emission regulations. The mandatory need for reduced CO2 and the customer's own need for more power have seen BMW M take the now favoured combination of downsizing in conjunction with turbocharging to simultaneously meet both goals.
In place of the E60's high-revving 5.0-litre V10 comes a 4.4-litre V8 based on the 550i's N63 engine. A point to note about the M5's motor is that despite sharing the same engine code, S63, with the X5 M and X6 M, it is vastly different. Simply put, two separate engineering teams in the M division used the N63 as a starting point and went about their own separate ways to develop their engines, neither side referring to each other.
This is the first M5 in BMW's history to feature turbocharging, and the job of blowing that German bent eight is shared by a pair of twin-scroll turbochargers shoving in air at 1.5 bar pressure. As a result, this M5 has its maximum torque of 680Nm spread on a wide range from 1,500 to 5,750rpm. Those who lament the passing of natural breathing singers from the M division should be comforted by the fact that this thing's redline is still a high 7,200rpm, with full power of 560hp being delivered between 6,000 and 7,000rpm.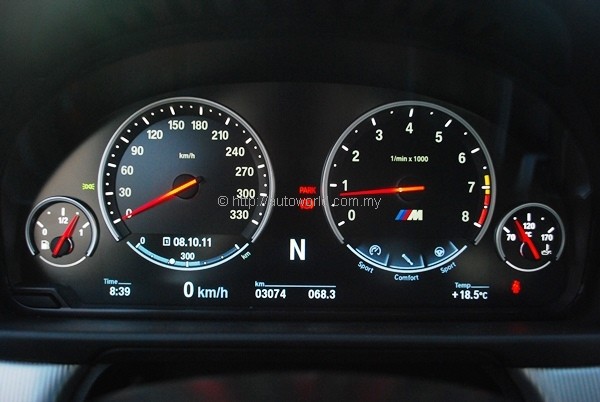 Instrument cluster carries similar cues as those used in previous M5s.

Tech Talk
There was a time when it took a highly trained eye to tell an M5 from a regular 5 Series. It is a lot more difficult for today's M5 to be mistaken for your neighbour's 528i M Sport, but then again, one must bear in mind that despite similar appearances, the M5 shares only 20% of its components with the garden variety 5ers.
Basic architecture of the suspension continues to be double-wishbone front and multi-link rear, but the geometry is vastly revised, and the steering gear is completely different. For now, the M boys are continuing to stick with a hydraulic-assisted rack, and have eschewed the rear-wheel steering system that is offered with the regular 5 Series.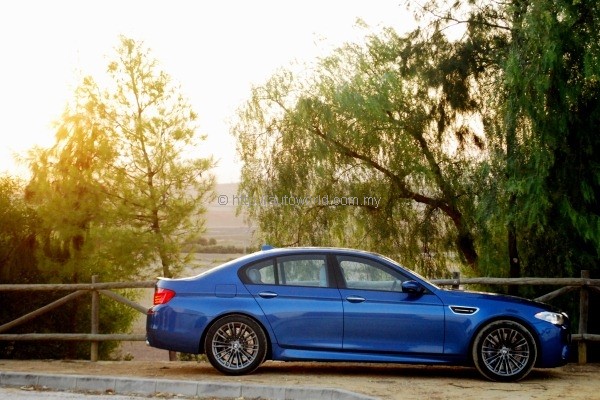 It only shares 20% of its components with the standard 5 Series.

The on-board electronics will take a whole thesis to explain; the 7-speed dual clutch transmission alone has six settings – three manual and three auto. Suspension, steering, and engine responses can each be individually adjusted at the touch of a button located adjacent to the M-DCT gear selector. Each of these systems have three adjustable modes – Comfort (or Efficient for engine), Sport and Sport+.
In a political climate where the figures measured in km/l are at least as important as those measured in km/h, the folks at BMW M have ensured that the latest M5 is not spared from the full gamut of BMW EfficientDynamics treatment to keep consumption and emissions down. Features such as Brake Energy Regeneration, Auto Start-Stop, on-demand ancillaries, and flow rate-controlled power steering pump all help deliver combined fuel consumption of 9.9 l/100km and 232g of CO2 per kilometre.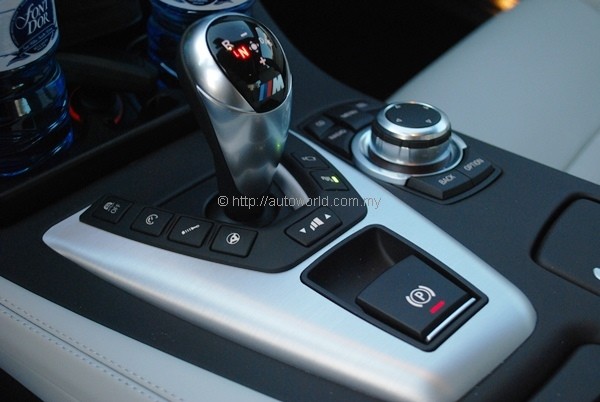 New 7-speed DCT replaces the E60's SMG.

Driving Experience
As we drove out of the brick-paved compound of our hotel in Seville, one immediately noticed quality was how smooth riding the M5 was. Indeed, it felt even more comfy than the six-cylinder 5 Series models that we have tested over the past one year. It was remarkably refined on the road too. Tyre noise was all but non-existent, the engine barely made any fuss, but wind noise at cruising was rather prominent past 150kph. Nothing a growling V8 at full throttle can't drown out, of course. So, while this may be the fiercest-looking member of the M5 lineage, it is at heart, remarkably civilized, and ridiculously easy to live with. Indeed, the word you're looking for is 'accessibility'.
Make no mistake, the M5 is mind-blowingly fast, but its colossal pace is not anyway difficult to access. Even at very illegal speeds, the M5 feels completely at ease, and what's better, it puts you at ease as well. At full pelt, the V8 up front makes a pleasing growl and propels you forward at an amazing rate of acceleration. From double-digit speeds, you reach the double ton in no time and almost zero effort. Quite simply, speeds in excess of 200kph feel like another day in the office – and this is coming from a relatively young ciku of a motoring journalist.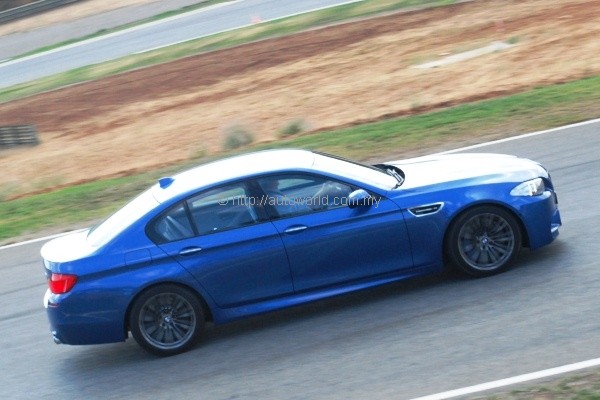 The new M5 is ridiculously easy to drive fast.

So, the M5 is quick, but true to its lineage of being an M division product, its virtues go way beyond sheer straight line pace. For a start, its brakes are more than up to the task of shaving the speeds that its engine can deliver. They are powerful, and yet pedal response is so beautifully judged, you don't get the feeling it is over-servoed. You can stop the M5 gently as easily as you can stop it abruptly.
With a kerb weight of 1,870kg, an M5 with two on board would already have weighed in excess of two tonnes. Yet, that was not the impression we got when we negotiated Seville's network of trunk roads. While the inches around its waist can be felt at tight corners, its excess kilograms were expertly masked. The M5 changes direction with very little hint of inertia. Only after serious abuse of its tyres around the Ascari track did understeer rear its ugly head at the corners.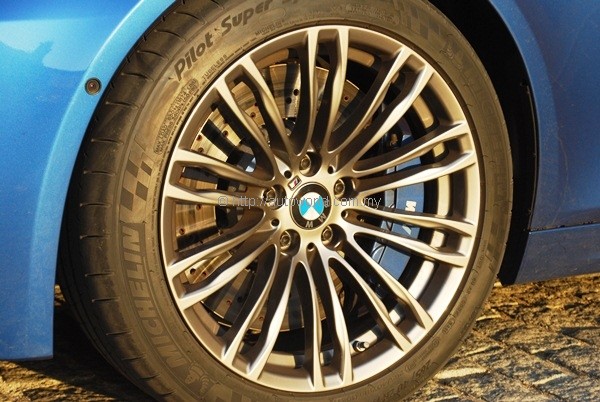 Blue brake callipers are standard issue regardless of car's body colour.

Verdict
It was said to us during the press briefing that the quintessential M car always exceeds the sum of its parts. The new M5 delivers on that promise, and then some. Once again, BMW has put together a devastatingly capable vehicle that excels in every measurable way. Compared to its predecessor, the new M5 is bigger, faster, more advanced and yet more economical.
This is an M5 of a very different era than its predecessors. It is no longer a simple formula of shoehorning a very powerful engine into a family sedan. Although traditional BMW values such as rear-wheel drive and 50:50 weight distribution remains, this is an M5 of unprecedented sophistication. There were times when it felt a little uninvolved and too easy, but for the most part, it was a brilliantly engineered vehicle.