Perodua acquires land for new 3S centre in Malacca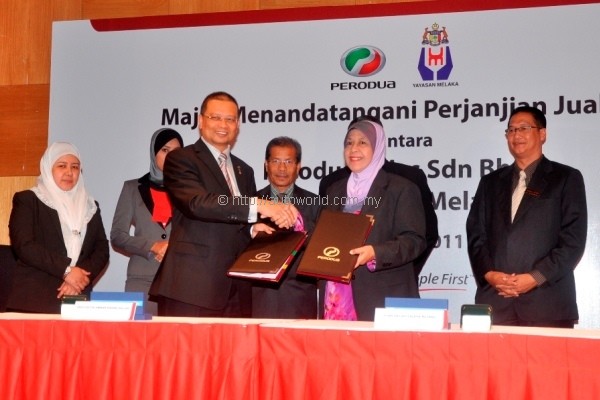 Perodua today announced the purchase of a 1.77-hectare land from Yayasan Melaka in a deal worth RM7.7 million. Situated in Kota Hang Tuah Jaya, Ayer Keroh, the new land will house a new 3S centre that will also include a regional office and training centre for southern region staff, body & paint facilities, and a stockyard.
The deal was signed by Perodua Managing Director Datuk Aminar Rashid Salleh and YB Datuk Tahir Bin Haji Hassan who is the Vice President of Yayasan Melaka. Perodua pledges to design the new facility to incorporate the culture, tradition and history of Malacca.
Perodua has a strong presence in Malacca, with monthly sales averaging 550 units, and total sales of 6,400 units achieved in the historical state last year. Perodua service workshops in Malacca took in 42,700 car in 2010, up 4% from the 41,200 intake achieved in 2009. Perodua currently operates 2 branches and also have 5 dealers in Melaka employing some 220 staff.
According to Aminar, the proposed 3s centre is strategically located to cope with the growing demand for Perodua's products and services in the state. He said the state government has also targeted the surrounding areas for further development. It was highlighted that the total investment will further provide and avenue for Perodua to delight its customers.
The new outlet is expected to commence construction in the third quarter of 2012, and should be ready for business before the end of 2013. When completed, the new centre will have 25 service bays which will cater about 2,500 service intake per month. In addition the B&P centre will have 30 bays.
Picture: Official Perodua release.