Proton and AIM sign technological collaboration MoU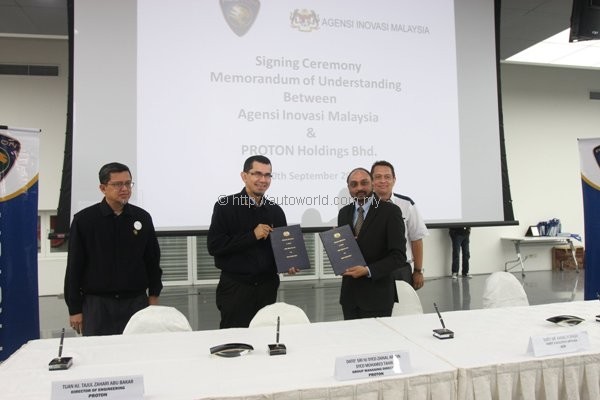 SUBANG JAYA, 30 SEPTEMBER 2011 – National car company, Proton Holdings Berhad and Agensi Inovasi Malaysia (AIM) today signed a memorandum of understanding (MoU) for cooperation and collaboration related to innovation activities in the automotive sector.
Proton and AIM will work together to strengthen, promote, co-operate and mutually assist each other in accelerating the development and commercialisation of innovative products and advanced technology in the automotive industry for the benefit of both the industry and public at large.
The MoU was signed today between Proton Group Managing Director Dato' Sri Haji Syed Zainal Abidin Syed Mohamed Tahir and AIM Chief Executive Officer Dato' Dr. Kamal Jit Singh. AIM is a statutory body set up by the Government under the Agensi Inovasi Malaysia Act 2010 to formulate the strategies towards enhancing the national innovation eco-system and creating new-wave wealth from innovation in the country.
The MoU specifies collaboration between both parties in the following areas:
• the promotion of innovation, in particular automotive advance technology ideas;
• the utilisation of facilities to accommodate their personnel throughout the duration of a project;
• the exchange of information, publication and materials which are related to their project; and
• joint-organisation of projects in relation to the promotion and development of innovation in particular the automotive sector.
Under the MoU, Proton and AIM will establish a joint working committee that will be responsible for the implementation of mutually-agreed projects that are to be undertaken.
"Innovation is a vital component of success and competitiveness across all economic sectors, even more so in the automotive industry which is advancing and evolving at a very rapid pace. Having successfully pioneered Malaysia's national car project, which has seen the company evolve from an assembler to a fully-fledged car manufacturer, Proton is indeed honoured to be able to lead and be in the position to make an even more significant contribution towards further developing the country's automotive industry," said Dato' Sri Syed Zainal Abidin.
In line with the company's aspirations of becoming a global car manufacturer, he said the collaboration would help to enhance and accelerate Proton's research and development activities not only for the introduction of new and exciting models, but in pioneering and commercializing advanced automotive technology that can be mutually beneficial in moving Malaysia's automotive industry up the value chain.
Dato' Kamal said that this collaboration is in line with AIM's objectives of facilitating wealth creation via innovation and nurturing a healthy innovative eco-system which would benefit society. "Innovation in Malaysia cannot happen without the full support from industry players such as Proton. We are positive our collaboration, as part of our Innovation Accelerator programme, will help drive innovation in the Malaysian automotive sector, hence benefiting the communities linked to the industry and the country as a whole."
Dato' Kamal continued, "For example, ProtonN's development of the Green Electric Vehicle will develop local expertise in this area. This fits well in one of the National Innovation Strategy's three thrusts, which is to strengthen the building blocks of innovation, by building future skills today."
The collaboration also underlines Proton's commitment in support of the national agenda in transforming Malaysia into a high income and knowledge-based nation, as outlined in the Government's Economic Transformation Programme (ETP) to elevate Malaysia to becoming a fully developed nation by 2020.
Pictures: Official Proton release.