Memorable weekend for Proton Motorsports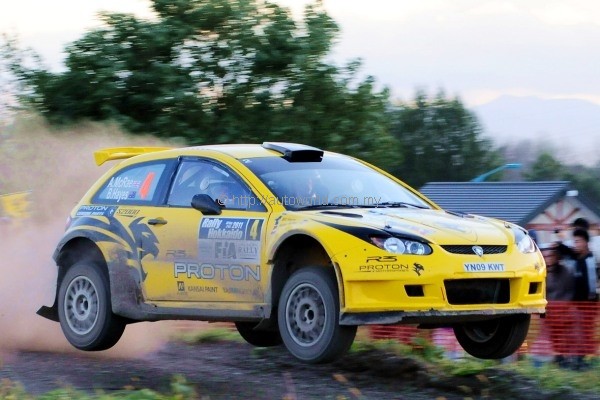 The last weekend has proved memorable for Proton, as its motorsports arm secured impressive results both in the rallying scene and on track. At Hokkaido, Alister McRae finished third in the penultimate leg of this year's Asia Pacific Rally Championship (APRC). Indian driver Gaurav Gill had won the rally, but was disqualified on the grounds of technical infringement, moving McRae up to second place.
Racing over 19 gravel stages, Rally Hokkaido covered a distance of 222.89km. Proton went into the race in a strong position, leading the APRC Manufacturer's title with 132 points followed by Mitsubishi at 119. Its drivers, Chris Atkinson and McRae were similarly leading the driver's championship as well, with 106 and 86 points respectively.
Atkinson, who would have sealed the title with a victory, led the rally until the ninth special stage when he was forced into retirement with a blown engine. Meanwhile, McRae was hampered by a puncture in the sixth sage, although he was able to recover his pace and clocked in at third place at the end of Day 1.
McRae started Day 2 31.4 seconds adrift of second-placed Taguchi. He drove hard and fast, narrowing the gap to 8.8 seconds, but ultimately had to settle for third place. The results in Japan would have set up a three-way battle for this year's APRC crown with Alister McRae now leading team mate Atkinson followed by Gaurav Gill. Gaurav's disqualification ultimately rules him out of the running, leaving the two Proton drivers to slug it out for the title. The next and final round of the APRC will be held in Longyou, China in November.
Other categories proved equally productive for Proton as well, with Karamjit Singh and Akira Bamba driving the Group N Satria Neos to a 1-2 finish in the APRC 1,600cc 2WD category. Also in the that category, but in Class A, Gunaseelan Rajoo clinched the class title also using a Proton Satria Neo.
Closer to home, at the Sepang International Circuit, Syafiq Ali and Faidzil Alang put in dominant performances, leading flag to flag to give the Proton R3 Racing Team a 1-2 finish in the Malaysian Touring Car championship, part of the Malaysian Super Series. Third-placed finisher of both Race 1 and Race 2 was another Proton, the Satria Neo R3 or Siah Wy Pyng.
Pictures: Official Proton release.