Autoworld launches all-new iPhone app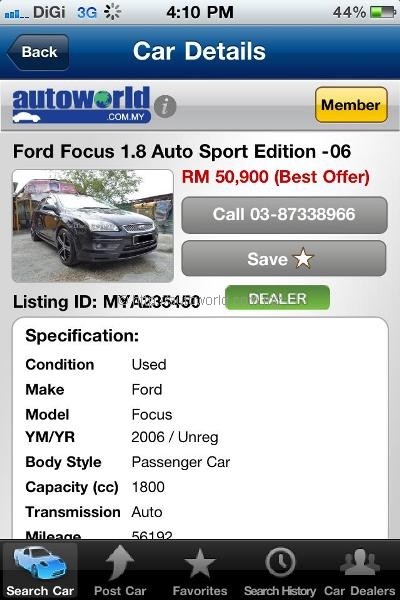 As Malaysia's first automotive portal, we at Autoworld.com.my are proud to introduce the all-new Autoworld iPhone app, designed to allow users to buy and sell cars using only their Apple iPhones. At the touch of a … screen, users have complete to Autoworld's comprehensive database of used cars and used car dealers via the Autoworld iPhone app.
Through the Autoworld iPhone app, users can view not only listing of cars, but also complete details of vehicles such as make, model, price, location, mileage, and basic specifications. It is just like browsing through Autoworld's website from your computer, only even more convenient.
Should any listed car trigger your interest, the app allows you to call the seller directly (if phone number is posted), tell a friend, short list it, and check its affordability by our loan calculator. Similarly, you can also browse through our listing of used car dealers complete with their respective profiles and call them directly via our app to arrange and appointment to view their stocks.
Autoworld members have the further option of putting up free postings of their used cars available for sale via the app as well. The app also allows for direct picture upload as well, which means you can use the iPhone's camera to snap a picture of your car and immediately load it up together with your posting. It is that simple and hassle free. Remember, membership registration for Autoworld is free and open to all.
The current iteration of the Autoworld iPhone app focuses on promoting our database of used car listings. Future improvements of the app are being planned, and they will allow users access to our database of new cars, the most comprehensive available in the Malaysian market, and also the latest news and reviews from our editorial team.
The Autoworld iPhone app is now available for free downloading from App Store. With the Autoworld iPhone app, you can buy and sell cars at anywhere, anytime. For more details on the Autoworld iPhone app please refer to our dedicated app microsite.