Skoda ranks highest in India for sales satisfaction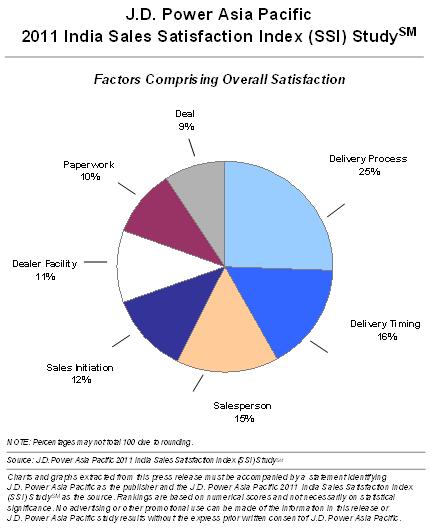 J.D. Power Asia Pacific has announced the results of its 2011 Sales Satisfaction Index (SSI) study for the Indian market, and topping the charts is Volkswagen's Czech subsidiary Skoda with a score of 839, comfortably above an industrial average of 822.
Fielded from March to July 2011, the 12th edition of the Indian study took into account feedback from 6,840 owners who bought their vehicles between September 2010 and April 2011. Seven factors were taken into account for the overall measurement of satisfaction based on the 1,000-point scale. In order of importance, the seven factors are delivery process, delivery timing, salesperson, sales initiation, dealer facility, paperwork and deal.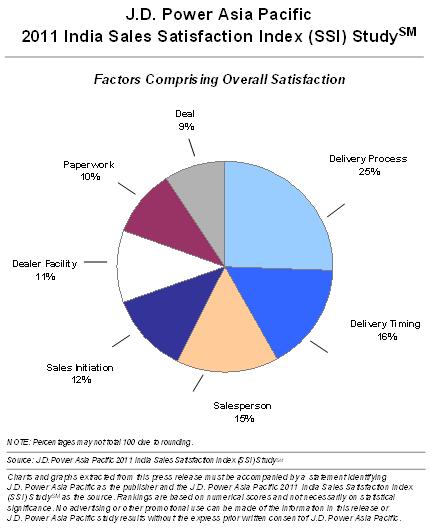 Skoda's chart-topping feat was accomplished thanks to its dealers excelling in six out of the seven factors, namely salesperson, paperwork, dealer facility, delivery process, delivery timing and sales initiation. Ironically, Skoda's parent brand, Volkswagen, sits second from bottom with a score of 797.
Rock bottom of the rankings are Tata Motors with 795 points, although to their credit, Jaguar and Land Rover's current owners also recorded the highest level of improvement than any other brand. Nevertheless, overall satisfaction levels in the Indian industry has increased by 19 points from 2010.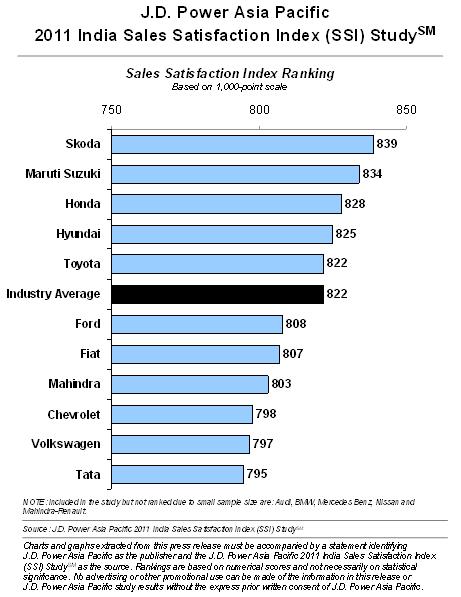 All seven measured factors registered improvements, with the satisfaction in delivery times being most improved, despite average delivery times in the industry increasing from five days in 2010 to eight days in 2011. The key to this perceived improvement is down to management of customer expectations.
According to Mohit Arora, executive director at J.D. Power Asia Pacific, Singapore, "Although delivery times have increased for several models in 2011, dealerships were able to more effectively manage customer expectations through more frequent customer contact and improved communication, which helped lead to an improvement in perceptions of delivery timing."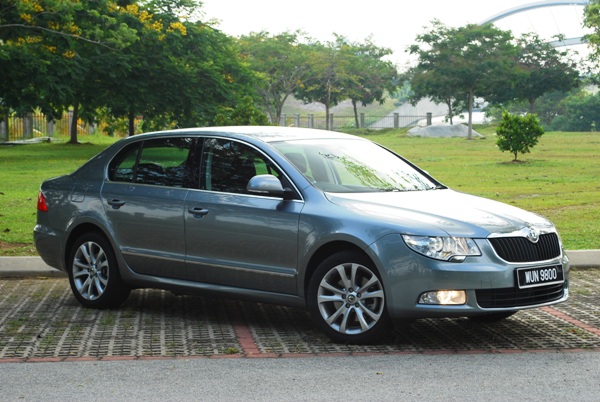 An important observation made by the study is that Indian buyers rarely head to showrooms on their own, preferring to be accompanied by friends and/or family most of the time. Many of these are first time buyers of new vehicles, and most of them will tend to bring along trusted advisors. This usually spells bad news for dealerships. For customers accompanied by family members, satisfaction averages at 823, and for those accompanied by friends, it averages at 807. In contrast, lone shoppers average 835.
As you would expect, increased levels of satisfaction brings about increased number of returning customers and recommended customers. The study finds that 88% of highly satisfied owners (sales satisfaction scores averaging above 886) 'definitely will' recommend their dealer to a friend or relative, compared 44% of highly dissatisfied owners (average below 764) who would do the same.
"Manufacturers and dealerships today realize the bottom-line impact of satisfying owners and are investing in driving service excellence in their dealerships," said Arora. "The improvements in the industry in 2011 demonstrate this impact, with eight nameplates achieving double-digit gains from 2010."
KON
Charts: Official J.D. Power release.
See also:
– J.D. Power Asia Pacific 2010 Malaysia Sales Satisfaction Index (SSI) Study released
– J.D. Power announces sales satisfaction study reports for Thailand & Taiwan
– Nissan tops J.D. Power Sales Satisfaction survey in the Philippines