Lexus tops J.D. Power service satisfaction study in Taiwan for 13th consecutive year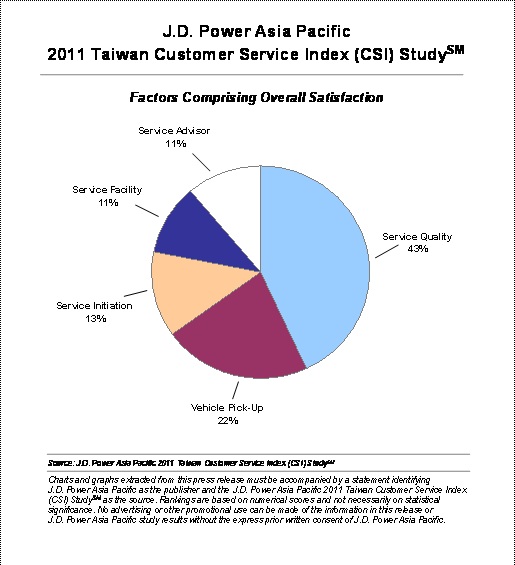 Results of the J.D. Power Customer Service Index (CSI) study, which measures satisfaction among vehicle owners who visited their authorized dealership service center for maintenance or repair work during the first 12 to 24 months of ownership, was just revealed for the 14th edition of the survey held in the Taiwan market.
The study was fielded between March and June 2011, with responses from 2,795 new vehicle owners (bought between March 2009 and June 2010) taken as the study sample. Overall satisfaction with the service experience is measured by examining five factors (listed in order of importance): service quality, vehicle pick-up, service initiation, service facility and service advisor. Based on a 1,000-point scale, the industry average of after-sales service satisfaction in Taiwan is at 857 points.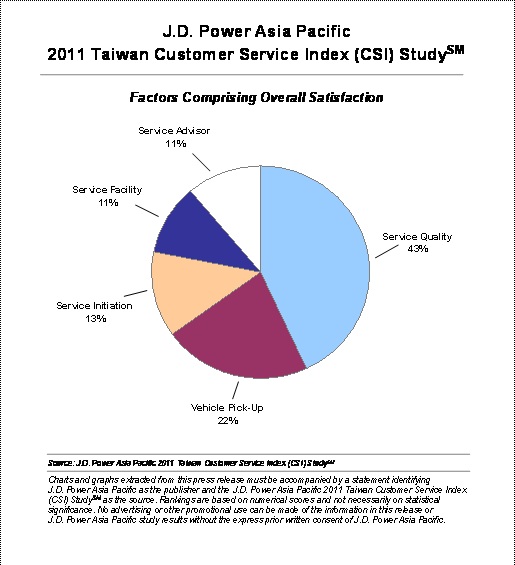 Among 15 brands included in the study, Lexus topped the charts for the 13th consecutive year, this time round raking in a score of 886 and performing particularly well in the area of of service quality. Following close behind was Mercedes-Benz, with a 17-point improvement from 2010 to score 884 points and take 2nd place in the process. Right behind Mercedes are BMW (876), Volkswagen (864), and local Taiwanese brand Luxgen (863).
The study finds an increasing proportion of customers (50% in 2010 to 56% in 2011) making prior appointments before bringing their vehicles in for servicing. According to findings of the study, overall satisfaction of customers who make appointments averages 12 points higher than among drop-by customers.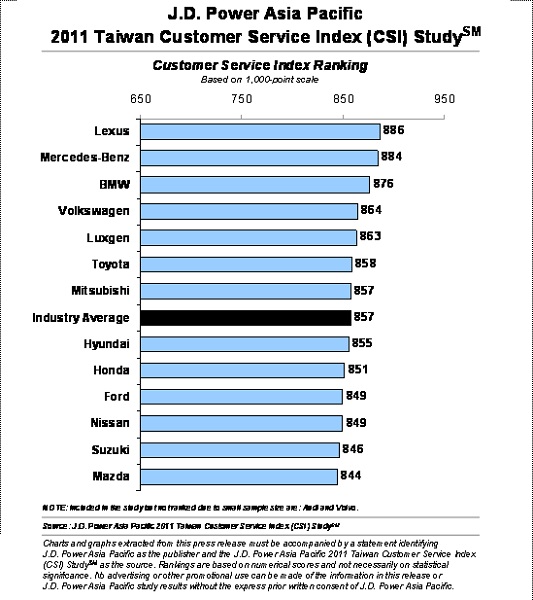 "Service appointments can help dealerships better plan and distribute their service loads, so that customers can receive prompt service when they arrive at the dealership," said Rajeev Nair, senior manager of J.D. Power Asia Pacific, Singapore.
Another service that dealership should really consider is the practice of making post-service calls to gauge customer satisfaction and feedback. J.D. Power says that customers who received calls from dealerships sometime after their service average 35 satisfaction points more than customers who don't. Time to put that office phone into good use.
"Post-service contact is a critical component of the entire service experience, and can help dealerships discover any issues or problems customers may still be experiencing with their vehicle. Following up, whether through a phone call, letter, or SMS text, is also an opportunity to collect customer feedback for improvement initiatives at dealerships," said Nair.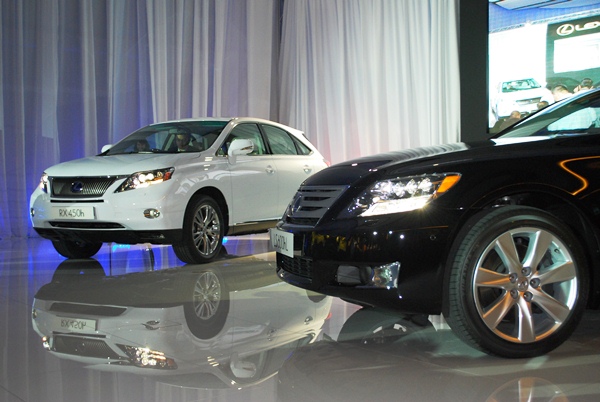 KON
Charts: Official J.D. Power release.
See also:
– J.D. Power Asia Pacific 2010 Malaysia Customer Service Index (CSI) Study results released
– J.D. Power announces after-sales survey results in Thailand and Indonesia