Proton takes points in Czech leg of IRC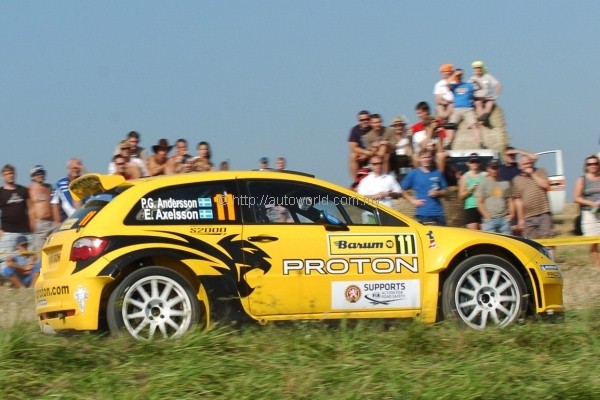 Proton's latest exploits in the Intercontinental Rally Challenge did not yield a win, but team continues to make notable strides with PG Andersson and Giandomenico Basso behind the wheel of their Satria Neo S2000 rally cars. Competition in the IRC is substantially tougher than the FIA Asia-Pacific Rally Championship, where the Neo S2000 has won three out of four rounds contested thus far.
Held at the south-eastern region of the Czech Republic, this leg of the IRC is noted for its popularity, with this season's iteration attracting the participation of 123 competitors and crowds watching the rally estimated at 300,000.
The rally's course stretches a distance of 248.48km, split over 15 special stages. Action started on Friday, 26 August, with a 9.36km super special stage that was run in the dark. Day two's action spans nine special stages covering 133.4km, with the remaining six stages and 115km taking place in the third and final day. The S2000 category which Proton competed in attracted 29 entries, 14 of them driving the Skoda Fabia S2000.
Before the rally, Andersson, who admits a preference to driving on gravel and making his debut at Zlin, said, "The roads on this rally can be quite bumpy with some broken tarmac, which is good for me – this kind of condition suits me quite well. I haven't competed in Zlin before, but I have heard a lot about the rally. I'm looking forward to getting out there and driving again to chase a good result."
Andersson put up a solid display on the first day, driving a mostly trouble-free race to finish 10th overnight. He did spin once on stage 6, and then went off road again on stage 8, but was able to recover his composure on both occasions to find his way home. Team mate Basso was less fortunate, as he had to deal with a punctured tyre on stage 7 after spinning and stalling on stage 5. Adjustments to his suspension during midday improved his car's setup, and Basso finished the first day in 18th place.
As the competitors retired for the night, heavy rain lashed on the grounds of the final special stages. That forced teams to tread with caution, but the two Proton drivers were able to improve their final standing as Andersson and Basso completed the rally placed 9th and 13th respectively. These results see Proton earning drivers' and manufacturers' points for the IRC through Andersson's exploits.
The Czech rally was dominated by Skoda finishing in the top three positions with local driver, Jan Kopecky taking the top honours. Out of 123 starters, 34 competitors failed to finish the gruelling rally which comprised of 248.48km of competitive stages. The next stage of the IRC will be the Canon Mecsek Rally (9-11 Sept) at Hungary.
Pictures: Official Proton Motorsports release.