Nissan tops J.D. Power Sales Satisfaction survey in the Philippines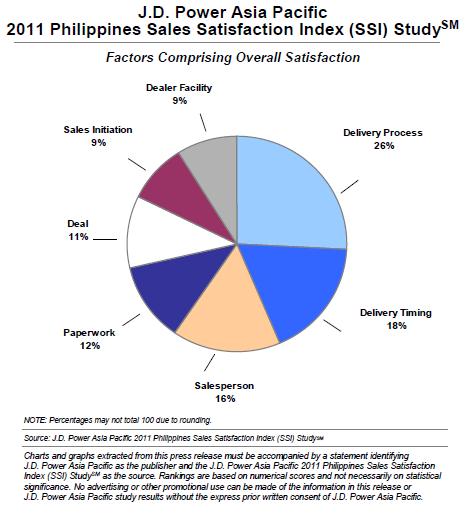 Results of the J.D. Power Asia Pacific 2011 Sales Satisfaction Index (SSI) Study are out for the Philippines and having witnessed two consecutive years of decline, it would seem that the distributors there are getting their act together as the study finally reported an increase in new vehicle sales satisfaction.
Now in its 11th year, the study measures new-vehicle owner satisfaction on a 1,000-point scale in seven key factors that contribute to overall satisfaction. In order of importance, they are: delivery process; delivery timing; salesperson; paperwork; deal; sales initiation; and dealer facility. All nine brands included in the study recorded improvements, leading to a 10-point increase in the industry average score to 829.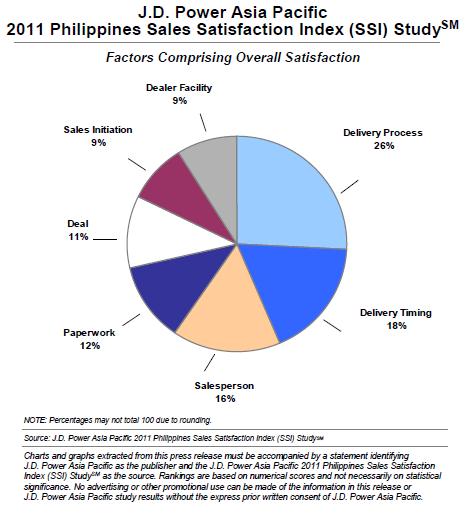 "The study finds a strong connection between sales standard implementation and overall satisfaction," said Mohit Arora, executive director at J.D. Power Asia Pacific, Singapore. "Overall improvement in the industry in 2011 is largely driven by more rigorous implementation of sales standards and processes across most manufacturers."
Highest ranked amongst the nine brands are Nissan with a score of 839 having particularly excelled in delivery process and salespersons, with Ford trailing close behind at 835. Up and rising Kia stays below industry average at 823, but they are the most improved brand with a 40-point jump from their previous haul in 2010.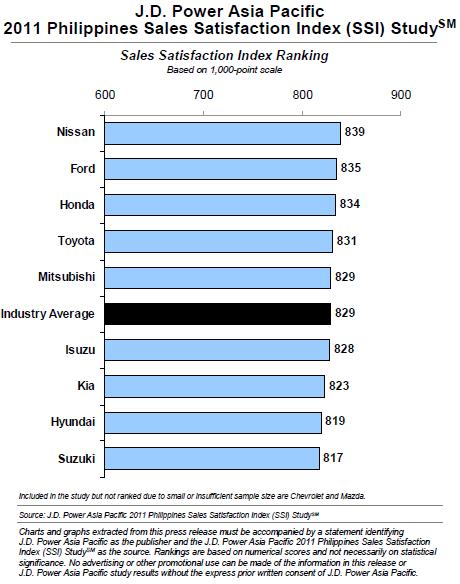 We have always encouraged consumers to test drive their cars of choice themselves before signing on the dotted line, and this seems to be a practice that is increasingly being adopted in the Philippines. There is a bigger percentage of customers being offered test drives by dealerships, and there is also a bigger proportion of customers accepting offers for a test drive.
"Getting an opportunity to test drive a vehicle prior to purchase is becoming an integral part of the decision-making process in the Philippines," said Arora. "It is critical for dealers to address this evolving need by positively and promptly responding to requests for test drives, as this could become a differentiator between dealerships and brands."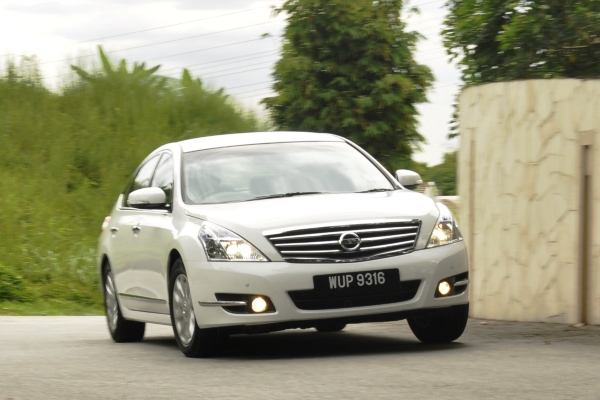 Another practice worth being adopted by dealers would be to have vehicles delivered to the home of customers because that is found to make a notable increase in customer satisfaction. Customers who have cars sent to them have satisfaction scores averaging at 830, whilst those who had to make their way to the dealership only averaged 823. This fact does not seem lost on the dealerships, as more than double the proportion of customers surveyed reported receiving their vehicle at home.
"The hefty growth rate of vehicle sales in the Philippines must not deter manufacturers from providing a delightful sales experience to their customers," said Arora. "In a market where a large majority of customers rely on traditional and non-digital sources of information in making a purchase decision—such as the reputation of the brand or recommendations from friends and family—providing a delightful sales experience helps to generate good word of mouth, which may translate into increased business."
The 2011 Philippines SSI Study is based on responses from more than 1,463 new-vehicle owners who purchased their vehicle between August 2010 and February 2011. The study was fielded from February to May 2011.
KON
Charts: Official J.D. Power release.
See also:
– J.D. Power Asia Pacific 2010 Malaysia Sales Satisfaction Index (SSI) Study released
– J.D. Power announces sales satisfaction study reports for Thailand & Taiwan