Free inspection for your Perodua just a tweet away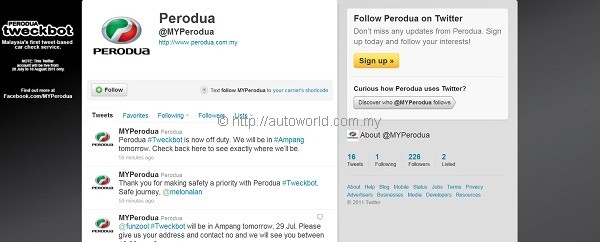 Over the next two weeks, Perodua owners in Klang Valley will be able to have a full fledged mobile team arrive at their doorsteps for a free 15-point safety check on their cars. All one needs to do, is to have a Twitter account and follow the @MYPerodua Twitter user handle to keep track of the Tweckbot mobile team's current location.
The name Tweckbot is a combination of Twitter, check, and robot. Behind it are five mobile teams mobilized to visit one location each day over the next 14 days. Users can make appointments with the Tweckbot team by simply sending them a message on Twitter.
Upon arrival at your doorstep, the Tweckbot team will run a 15-point inspection that covers engine, transmission, cooling system, brakes, power steering, clutch, tyres, suspension, and electrical systems. It is able to perform engine diagnosis on the spot.
"Vehicles that need proper servicing, maintenance and repair will then be channeled to our service centres of the customer's choice," said Datuk Aminar Rashid Salleh, Perodua Managing Director.
The Tweckbot teams were prowling the streets of Subang earlier today from 1:00pm till 3:00pm. Their schedules for the next 13 days are as follows:
– 29 Jul: Ampang
– 30 Jul: Sentul
– 31 Jul: Kg Baharu
– 1 Aug: Cheras
– 2 Aug: Serdang
– 3 Aug: Puchong
– 4 Aug: Wangsa Maju
– 5 Aug: Selayang
– 6 Aug: Shah Alam (Sect 1 – 14)
– 7 Aug: Shah Alam (Sect 15 – 24)
– 8 Aug: TTDI
– 9 Aug: Petaling Jaya
– 10 Aug: Bangsar