BMW plonks blown four-pot into F10 5 Series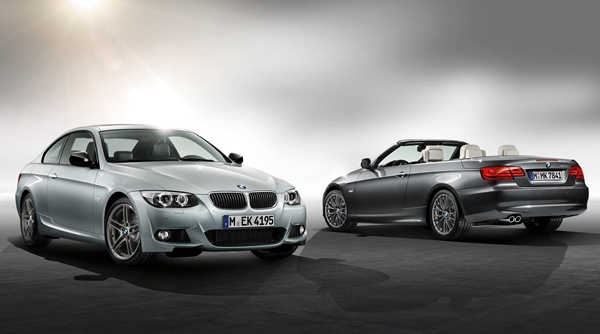 BMW has recently announced a comprehensive update of its international model line-up ready to hit the market by Autumn 2011. All of its passenger cars, save for the newly introduced F20 1 Series, are receiving tweaks in some form or another, with the F10 5 Series being the most comprehensively reworked model.
In what is sure to be a farewell move, the E92 3 Series Coupe and Convertibles will be available in a series of special edition guises complete with significant updates in equipment. These run-out edition models will feature various exclusive paint shades and interior trimmings to entice customers to help clear stocks ahead of the all-new F30 3 Series' impending arrival.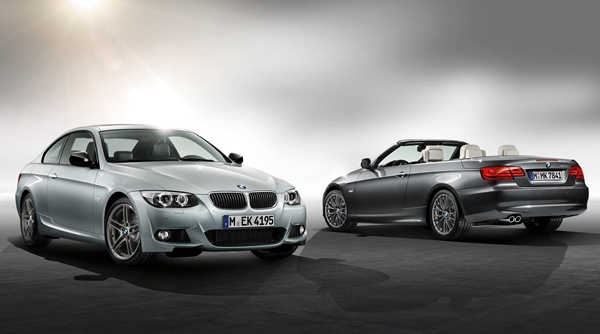 Making its market entry is the F12 6 Series Coupe, details of which were released in March. BMW's initial announcement mentioned only two turbocharged petrol powertrains – a 3.0-litre straight six in the 640i, and a 4.4 V8 in the 650i, which is now offered with xDrive as an option for both Coupe and Convertible. The two petrol variants are now joined by the 640d, available in both Coupe and Convertible format, boasting a 3.0-litre oil-burning straight-six force fed by variable twin sequential turbos.
The results are staggering – 630Nm of torque delivered between 1,500 and 2,500rpm, whilst 313hp waits to be unleashed at 4,400rpm. It is somewhat unusual, but the 640d is probably one of few cars in the world that can be quoted with similar figures for its century sprint time and fuel economy. For the 640d Coupe, BMW prints 5.5 seconds for 0-100kph, and 5.4 – 5.5 l/100km for fuel consumption. Similarly, the 640d Convertible does the century sprint in 5.6 seconds, and has a rated fuel consumption of 5.6 – 5.7 l/100km.
For this miraculous combination of figures, you can thank BMW's ever-zealous applications of EfficientDynamics, which in the 6 Series includes what is called an 'ECO PRO' mode, which is activated at the touch of a button and automatically adjusts accelerator and transmission mappings to give the best possible fuel economy. This 'ECO PRO' feature is also being offered on all four and six-cylinder variants of the F10 5 Series, which has received a shake-up of its lower model ranges.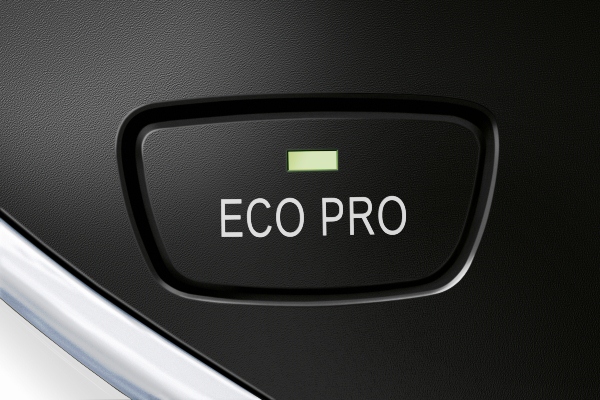 We have been suspecting in recent months that the days of BMW's naturally aspirated straight six engines are numbered, and latest developments in the 5 Series model range confirm our suspicions. The 523i, powered by the 3.0-litre direct-injected N53 motor in Europe, has received the chop, being replaced by the 520i, with a highly-advanced 2.0-litre four-cylinder motor bristling with twin-scroll turbocharging, direct injection, Valvetronic and Double VANOS in its artillery. With the E 200 CGI firmly in its sights, the 520i makes 184hp @ 5,000rpm and 270Nm @ 1,250 – 4,500rpm.

Meanwhile, a more powerful version of the 520i's N20 engine will be taking over in the engine room of the 528i, taking over from either the direct injected N53 (Europe) or the Double VANOS N52 (Malaysia, Australia, etc). It's not curtains for the legendary natural-breathing BMW inline-6 yet though. In Europe, at least, the N53 is now 'promoted' to sit in the newly-reintroduced 530i, with 272hp at its disposal, up from 258hp in the old 528i.
The new 528i, meanwhile, loses out in power output from its predecessor, making 245hp from 5,000 to 6,000rpm, but makes up for that with a thumping 350Nm of torque twisted out between 1,250 and 4,800rpm. Real world benefits come in the form of simultaneous improvement in performance and economy figures from the previous naturally aspirated 528i. While top speed is still capped at 250kph, its century sprint (in sedan bodystyle with automatic transmission) has been trimmed from 6.7 seconds to 6.3, with fuel consumption also reduced from 7.6 l/100km in the EU cycle to 6.8 – 7.2 depending on tyre size.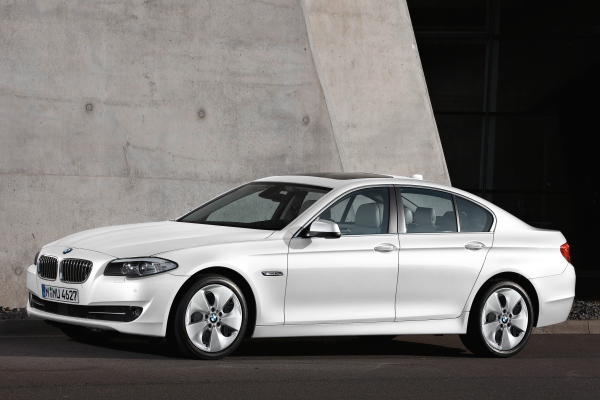 For the 5 Series diesel models, meanwhile, a new ultra-efficient 520d EfficientDynamics Edition joins the line-up and will sit alongside the regular 520d. Efficiency-enhancing measures such as Auto Start-Stop, Optimum Shift Indicator, Brake Energy Regeneration, reworked aerodynamics, and a longer final drive ratio help contribute to further improvements in fuel consumption (4.5 l/100km) whilst maintaining the same 184hp / 380Nm outputs of the regular 520d.
Moving up, the 525d also had two cylinders lopped off. Like the 528i, the 525d is also downsizing from a 3.0-litre straight six to a 2.0-litre four-banger. However, with twin-stage Variable Twin Turbos up its sleeves, BMW is able to dial in a 14hp increase from the previous 525d, with 218hp now made at 4,400rpm. Peak output of 450Nm is maintained, and is spread over a slightly wider window that stretches from 1,500 (1,750 previously) to 2,500rpm. In sedan bodystyle with manual transmission, the 525d dispatches the century sprint in seven seconds flat and sprints to a top speed of 239kph, whilst returning 5.0 – 5.3 l/100km on the EU test cycle.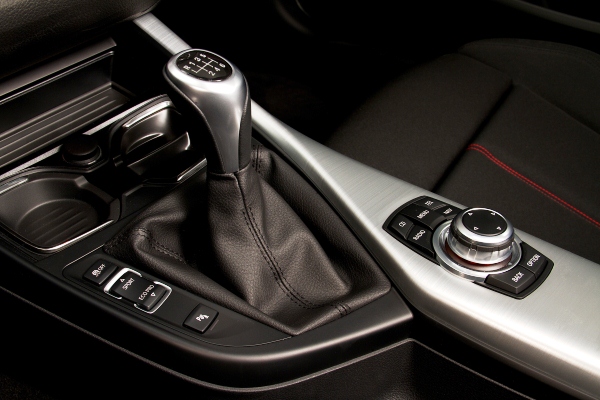 The 530d continues to use six-cylinder power, but it has received a power hike, now with 258hp at its disposal at 4,000rpm. The engine is now offered with two torque ratings – manual versions continue with 540Nm as before, whilst auto models get an extra 20Nm, with 560Nm unleashed between 1,500 and 3,000rpm. Also receiving a power hike, as if any was needed, is the 535d, now featuring a modified two-stage Variable Twin Turbo making 313hp @ 4,400rpm and 630Nm @ 1,500 – 2,500rpm. In the real world, that's 5.5 seconds for the century sprint. Sweet.
For the rest of the range, the controversial 5 Series Gran Turismo will be available with the M Sport package, as will the ActiveHybrid 7. Meanwhile, the Z4 now loses its naturally aspirated six-cylinder models – sDrive23i and sDrive30i – being replaced by the same 2.0-litre twin-scroll turbo N20 four pot introduced in the 5 Series. The new models, using the same states of tune as found in the 5, are the sDrive20i (184hp / 270Nm) and the sDrive28i (245hp / 350Nm). The six-cylinder turbocharged sDrive35i model continues.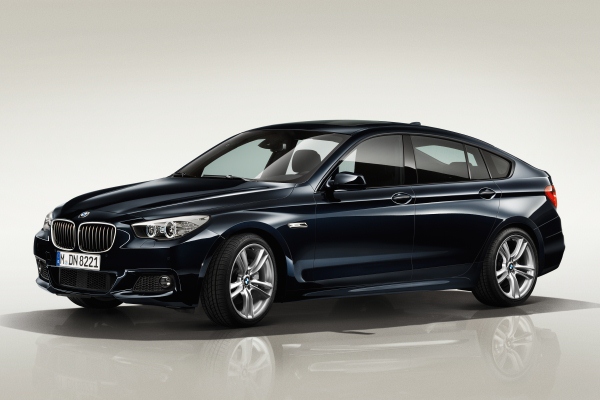 KON
Pictures: Official BMW release
See also:
– BMW 5 Series (F10) unveiled
– BMW 523i (F10) – Is it good enough?
– BMW rolls out F12 6 Series Coupe
– BMW to debut F10 M5 and 6 Series Coupe in Shanghai