Perodua Eco-Challenge 2011 – Uni students impress with stunning handiwork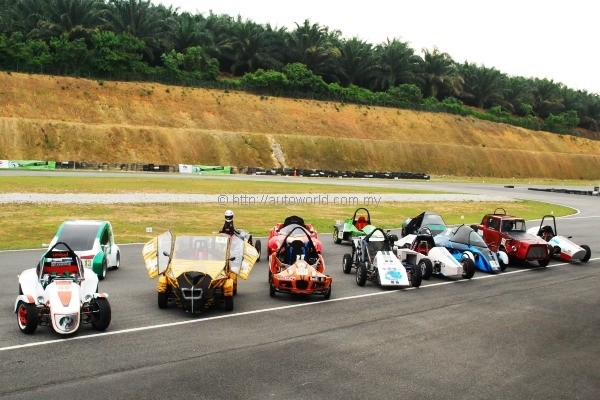 The Perodua Eco-Challenge 2011, the third edition of Perodua's praiseworthy university-based corporate social responsibility (CSR) effort, was held on Saturday, 25 June 2011. Rapidly gaining prominence, this year's Eco-Challenge sees the stakes raised for participating universities, as Perodua sought to raise the bar.
Indeed, it was a significant raise. From giving a whole car to tinker with in previous iterations, Perodua provided only an engine and transmission, albeit accompanied with a bigger development kitty of RM17,500 (up from RM10,000 given in 2010). The students are this time tasked with designing and building their car's chassis and moulding its bodywork, in a time frame of three months. Given an almost clean slate to work on their project, the students of this year's Eco-Challenge had room to let their imagination run wild.
The results were impressive. The enthusiasm of the students involved were obvious, as the cars were mostly finished to reasonably high standards of quality considering the time and resources at their disposal. We saw some pretty impressive designs, and the cars all seem sturdily built. Sophistication was also evident, as several cars seemed to have been built on race-inspired chassis designs, some sporting all-round double wishbone suspension.
When Perodua opened the Eco-Challenge 2011 for entries earlier this year, proposals came in from 23 institutions, out of which 12 were selected to compete. Malacca-based Universiti Teknikal Malaysia Melaka (UTeM) was invited to compete as a guest participant, being a 'host' team of sorts. Also competing as guest participants are Perodua's R&D engineers, who were given the same amount of resources as allocated to the universities to build their own entry. Both guest teams, however, were not in the running for prizes.
Eye-catching efforts included Universiti Malaysia Pahang's tiger-striped buggy, the 'Lotus Elise' Universiti Kebangsaan Malaysia (UKM), the 'Citroen 2CV' of Politeknik Sultan Azlan Shah, and UTeM's sinister-looking 'smart fortwo'. The Perodua R&D team's e-Motion car was equally unmissable.
Eyes were also cast on entries from Universiti Tenaga Nasional (UNITEN) and Universiti Sains Malaysia (USM), defending champions from last year in the manual and automatic transmission categories respectively. They were once again competitive, but were ultimately overcame by challenges from Politeknik Ungku Omar (PUO) and Universiti Industri Selangor (UNISEL).
Using only half a litre of Petronas Primax 95 Xtra fuel, PUO's car went the furthest distance of 24.07km, measured by an onboard GPS unit. Finishing almost 5km ahead of UNISEL, PUO's team took home RM20,000 for their efforts. Second-placed UNISEL, with 19.10km, pocketed RM10,000. USM, once again led by the energetic Professor Horizon Gitano-Briggs, clocked 17.42km to finish third. UNITEN, with 13.40km, narrowly edged out Universiti Kuala Lumpur – Malaysia Spanish Institute (UniKL-MSI) (13.05km) for fourth-place, though both won the same amount of RM1,000.
In addition to the race, teams were also competing for prizes in 'Engineering' and 'Design & Participation'. The RM15,000 first prize in 'Engineering' went to the entry from Universiti Teknologi Malaysia (UTM), though the unfortunate irony was that their car was plagued by technical problems at the start, and they were only able to get rolling after everyone else had completed 4-5 laps. However, they had one more reason to celebrate, as they were also third in 'Design & Participation'.
Professor Gitano-Briggs' USM, who once again used the cylinder deactivation trick that worked a treat last year, won second prize for 'Engineering' with RM10,000 being their reward. UniKL-MSI took the third 'Engineering' prize worth RM5,000. Meanwhile, the eye-catching entries from UMP and UKM won the first and second prizes respectively for 'Design & Participation'.
Now in its third year, Perodua's Eco-Challenge is one of the most interesting corporate social responsibility (CSR) activities that we have had the opportunity to cover in the auto industry. It is a wonderful platform for students and undergraduates to develop their engineering capabilities, which encompass technical know-how, team work, soft skills, targets, and tight deadlines. If you are a student or lecturer reading this, get your uni to participate in next year's edition.