BMW ConnectedDrive – A union of in-car functions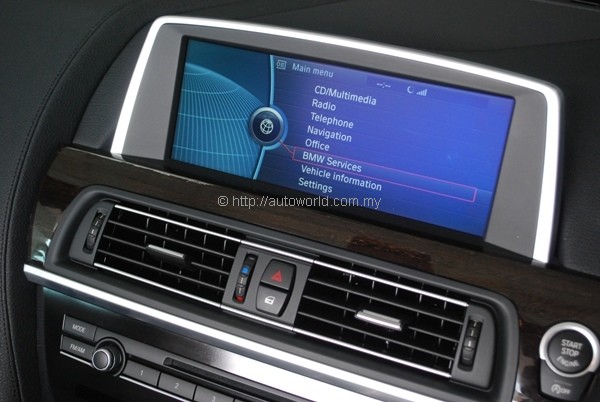 Members of the Malaysian motoring media pack were recently gathered together and asked a simple question – "What would you like your car to do for you besides getting from point A to point B?"
The answers that came back ranged from the usual, to the hilarious, and some a little disturbing, but one thing that was clear from that little exercise was that the days when cars were regarded merely as commuting tools were long over. Consumers today expect a lot from their cars, and the higher you move up the food chain, the more you're expected to deliver.
In the old days, things like EFI, DOHC, ABS and even 16 valves were headline stuff, say nothing about variable valve timing, traction control and what not. Fast forward to the 21st century, however, these things are the stuff of base models, and when you talk about cars like BMW, the list of technologies that are built in to your car make for very lengthy reading.
One fine day, someone upstairs in BMW Headquarters decided it was probably good idea to park all the gamut of features in today's BMWs under one all-encompassing umbrella; and the concept of BMW ConnectedDrive was born. The technology unites BMW's vast array of vehicle management functions, driver assistance systems and connectivity platforms into one system.
The various functions of BMW ConnectedDrive are organized into three different pillars, namely Convenience, Infotainment, and Safety. Interaction with the BMW ConnectedDrive system is via the latest generation iDrive software, which features the trademark rotary controller and dash-mounted LCD screen.
Most of BMW's line-up of cars in Malaysia now feature functions of ConnectedDrive to some extent or another depending on model and variant. The little exercise that we mentioned earlier was in fact held at a media briefing conducted recently by BMW Group Malaysia on the features and virtues of the ConnectedDrive system.
Convenience
Items under the Convenience umbrella include BMW Teleservices, Driver's Profile, BMW Telematics Platform Accessory (TPA), Comfort Access, Surround View, and Rear View Camera. The multitude of electronics onboard means that there are an infinite possible of setting combinations that can be selected by the users. In shared vehicles, this can sometimes be an issue, as two drivers may have different seating positions, favourite radio stations and other preferences. BMW Driver's Profile is a function that memorizes 160 different setting options unique to the driver.
Each new BMW is delivered with two keys, and each key houses a unique transponder, which allows the car to identify the approaching driver and automatically pre-adjust all on-board settings to his or her preference. The profiles can be exported using a thumbdrive to other BMWs of the same model series (i.e. the profile from your E90 3 Series will only be transferable to another E90, though the model variant does not matter). We found that for a 640i, the driver profile required only 10kb of storage.
BMW Teleservices is a constant monitor of your vehicle's maintenance requirements. Modern BMWs have sufficiently advanced on-board diagnostics that allow the car to self-monitor parameters such as fluid levels, tyre pressure, and mileage. Paired with your smart phone, the system is capable of communicating your vehicle's servicing requirements directly with your BMW Service Centre and make arrangements for your next service appointments, while constantly issuing reminders to you.
Infotainment
Infotainment features of BMW ConnectedDrive transforms your BMW into a mobile office or entertainment centre, depending on your requirements. Features under this umbrella include Bluetooth connectivity at various levels and On-Board Internet. BMW's own market research suggest that most of their customers are smart phone users, and thus the iDrive system is geared for seamless integration with most smart phones.
BMW claims that its system is able to transfer functions such as notes, tasks, contacts and email to be viewed and accessed via the car's iDrive. Our own experience with BMW test cars verifies this claim, as we were able to access our contact list directly from the iDrive system and dial out without fuss.
Safety
The Safety features under BMW ConnectedDrive can trace their roots to military technology. BMW Heads-Up Display projects critical driving information as an image on the windscreen, like what is done on jetfighters. Similarly militaristic in its origins is the BMW Night Vision system which uses thermal cameras to identify fallen trees, stalled vehicles, pedestrians or a sleeping cow in the middle of a dark road.
Optimizing night time illumination is the BMW High-Beam Assistant, which automatically alternates between high and low beams based on oncoming traffic conditions. A camera mounted next to the rear view mirror is able to detect light sources up to 1,000m away, recognize it as an oncoming vehicle, and to low beam automatically. The system automatically reverts to high-beam illumination once past the oncoming car.