Team Proton R3 dominates MSS Rd 2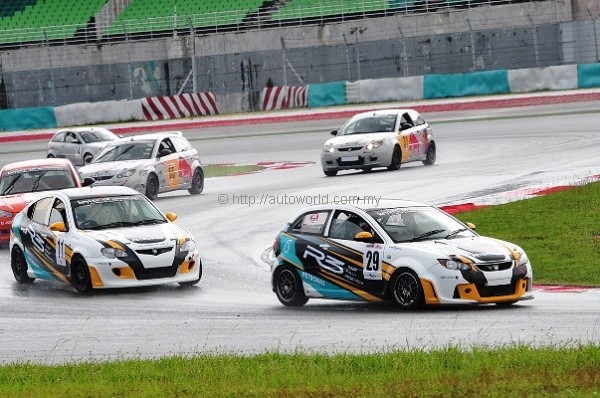 The Malaysian Super Series (MSS) Round 2 came to a conclusion over the recent weekend, having witnessed another dominant display from Team Proton R3, who hogged the top two spots in both the first and second races of the weekend. The drivers felt the full spectrum of Malaysia's tropical climate, with the searing heat that felt in Race 1 replaced by a downpour in Race 2.
Nevertheless, the challenging weather conditions failed to adversely affect R3's Faidzil Alang and Syafiq Ali, who won a race each in their R3-tuned Satria Neo and Gen.2 race cars respectively. Race 1 saw Faidzil start from pole and leading the pack all the way to the finish line, whilst Syafiq passed two cars to finish second after starting from fourth place.
Heavy rain delayed the start of Race 2 by almost an hour. Faidzil started from pole again, but mechanical problems in his Neo on Lap 3 allowed Syafiq to overtake him, and for the rest of the race, Faidzil was just trying to defend second place from eventual third-place finisher Siah W Pyng.
After the race, Faidzil commented on his performance, saying, "As always, it's great for the team to be back on the podium again for round 2. Race 2 was especially tough for me as a mechanical problem forced me to slow my pace. Overall, the car and tyres were working very well, but we believe that we can further improve on it for round 3."
Meanwhile, an ecstatic Syafiq said, "I'm thrilled to win my first race in the MSS especially when this is my debut outing with Team Proton R3 this year. The crew were fantastic, working well into the night to ensure I get a competitive car for today. The next round is in July and I am already looking forward to it."
Malaysian Super Series 2011 Round 2 Results:
Race 1:
1. Faidzil Alang 23:50.401
2. Syafiq Ali 23:51.875
3. Siah W Pyng 24:15.230
Race 2:
1. Syafiq Ali 24:02.202
2. Faidzil Alang 24:35.992
3. Siah W Pyng 25:02.685
Remaining rounds for Malaysian Super Series 2011:
Round 3: 2nd-3rd July
Round 4: 1st – 2nd October
Round 5: 26th-27th November
Pictures: Official Proton Motorsports release.