Malaysian Super Series Round 2 in SIC this weekend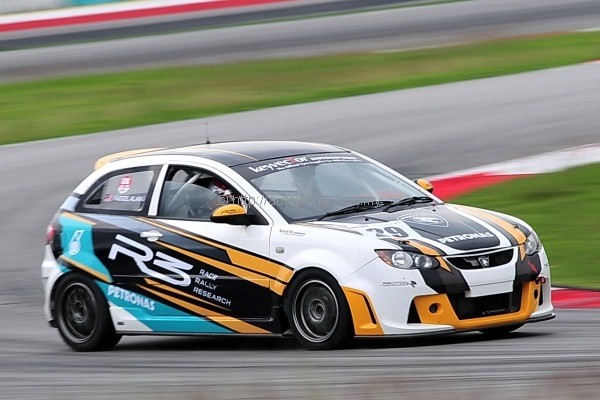 Things are getting real busy at the Sepang International Circuit in recent weeks, with Round 2 of the Malaysian Super Series 2011 (MSS) set to take place this weekend. The first round served as support race for the Malaysian F1 GP in April, and there will be a further three rounds to go after this weekend's action.
Last time out, Team Proton R3, led by Faidzil Alang in a Proton R3 Satria Neo, finished in second place for the first heat and then took top spot in the next. This time round, Faidzil will look to build on that promising start, and he will be joined on the grid by a second R3 car, a Proton R3 Gen.2 to be driven by youngster Syafiq Ali, whose CV includes victories in the 2008 Asian Touring Car Series Championship for the 1500Max class and Merdeka Millenium Endurance 2008 class B.
"In the short time Syafiq has been a racing driver, he has built up a reputation for being quick, disciplined and a team player. We are happy to have him aboard again as a driver for Team Proton R3" said Tengku Djan Ley, Head of Engineering, Proton Motorsports Division.
Besides cars, the MSS also has competition categories for motorcycles, in which BMW Group Malaysia has announced its entry in partnership with the Two Wheel Garage (TWG) Racing Team to form the BMW TWG Racing Team, to be represented on the track by Remon Azrem Abdul Karim in a BMW S1000RR Troy Corser replica complete with BMW Motorrad race accessories.
Announcing the partnership, Mr. Geoffrey Briscoe, the Managing Director of BMW Group Malaysia said, "Motorsports is the best platform for us to showcase the capabilities of our BMW Motorrad division and there is no better competition at the grassroots level here in Malaysia other than the Malaysian Super Series (MSS)."
Fazli Shukor, Motorrad Manager, BMW Group Malaysia said, "As the BMW Motorrad range of motorcycles continue to develop a significant amount of following amongst the local market, we hope that this initiative will help increase the presence of the BMW S1000RR brand name in the motorsports circle as the motorcycle really is superior."
According to Shukor, the S1000RR has become BMW Motorrad's most popular model in the country, with 65 bikes sold since its launch.
After this weekend's action, the next rounds of the MSS will take place on the following dates:
Round 3: 2 – 3 July
Round 4: 1 – 2 October
Round 5: 26 – 27 November
Pictures: Official Proton and BMW Group Malaysia release.