Last beam up for LATAR Expressway interchange at Templer's Park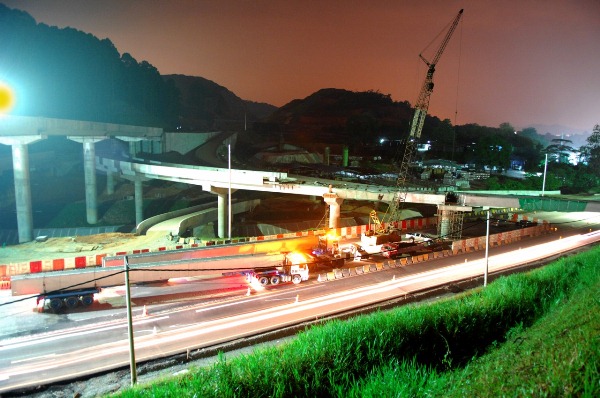 No, the title had nothing to do with Star Trek and its transporters. Rather, it was about how 100 men and three engineers successfully hoisted a 90-tonne U-beam measuring 37.9m in length to its place on the LATAR Expressway bridge near Templer's Park at 3:00am.
Traffic was stopped momentarily along Jalan KL-Rawang (Federal Road 1) to facilitate the highly-coordinated procedure, which took only minutes, despite being constrained in a tight space by the Hutan Kanching Forest reserve and surrounding rock formations, which did not allow the use of rock-blasting.
The Templer's Park Interchange comprises of three-tier directional ramps connecting the LATAR Experessway and the Jalan KL-Rawang trunk road. There four ramps altogether – LATAR Expressway to Kuala Lumpur (Ramp AA); Rawang into LATAR Expressway (Ramp BB); LATAR Expressway to Rawang (Ramp CC); and Kuala Lumpur into LATAR Expressway (Ramp DD).
Stretching 33km end-to-end, the LATAR Expressway will link Templer's Park with Ijok, Kuala Selangor, passing by Assam Jawa, Ijok, Batang Berjuntai, Kota Puteri, Puncak Alam, Shah Alam, Bukit Jelutong, Sungai Buloh, Kundang, Rawang and Selayang along the way. Construction began in October 2008, and the highway is now expected to complete construction by the end of May 2011.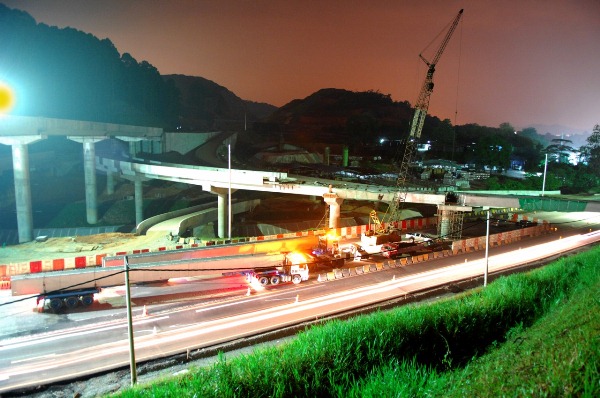 KON
Picture: Official LATAR release.

See also: Highway linking KL to Kuala Selangor nears completion
Talk about it: LATAR Highway