MIROS enters into cooperation with Chinese road safety institute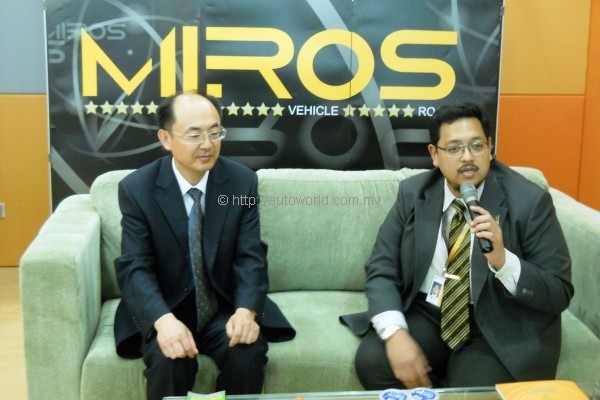 The Malaysia Institute of Road Safety Research (MIROS) and China's Research Institute of Highway today signed a Memorandum of Understanding (MoU) to facilitate collaboration between the two agencies in pursuing research and various other advancements in the area of road safety.
Signing the MoU on behalf of their respective organizations were MIROS Director-General Professor Dr Ahmad Farhan Mohd Sadullah and RIOH President Professor Dr Zhou Wei. The signing ceremony was held at MIROS' HQ in Kajang, after which Professor Farhan took his counterpart Professor Zhou on a brief tour of MIROS' modest facilities.
"The focus of this collaboration will be to identify and put forward recommendations and findings with the aim of introducing intervention programmes that will have the greatest impact on saving lives," said Professor Farhan.
Thus far, the two agencies have identified seven areas of research on which collaborations are possible – road traffic safety policies and standards, road user behaviour, vehicle safety, crash injuries and bio-mechanics, road traffic safety countermeasures and facilities, road traffic safety assessment and audit, and finally, road traffic safety management system.
"While many initiatives are already undertaken by the Government under the integrated Safe System Approach, road safety is a concern that constantly evolves and therefore requires ongoing measures, new strategies and policies to be put in place and implemented to achieve the desired outcomes," Farhan added.
Compared to MIROS, RIOH is a vastly more experienced organization, and Professor Farhan has expressed his delight at the opportunity to learn from RIOH's experience. RIOH currently operates its own crash test centre which facilitates on average 20 crash tests a month. MIROS is currently building its own provisional crash test facility in Malacca which is scheduled for launch in the month of June or July.
When asked about the standards on which MIROS' new crash testing facility is based on, Professor Farhan pointed out that MIROS has been receiving valuable input from established organizations such as Euro NCAP and Australia NCAP in setting up their equipment.