KLIMS '10 lucky draw winners pick up prizes – Toyota Prius & Proton Saga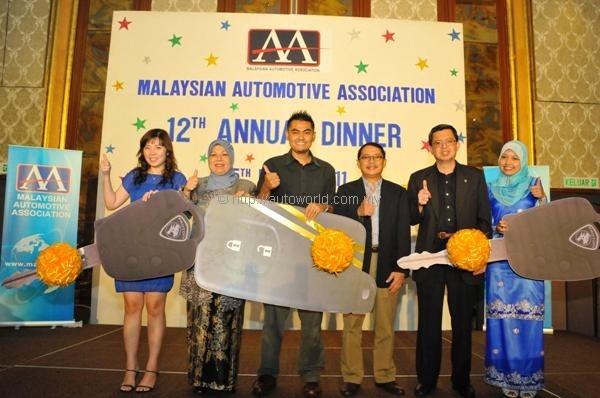 Mohd Nor Zainal Abidin, received the keys to his new Toyota Prius today after winning the Grand Lucky Draw Prize during the Kuala Lumpur International Motor Show 2010. The eco-friendly hybrid car was sponsored by UMW Toyota Motor Sdn Bhd.
Two other lucky visitors, Fadzlina Zubairi and So Mee Chen, also received the keys to their new Proton Saga. The prizes were presented by Datuk Aishah Ahmad, Chairman of the KLIMS'10 Organising Committee and President of the Malaysian Automotive Association (MAA) during the Malaysian Automotive Association's Annual Dinner held last Friday, 25 March 2011.
The Kuala Lumpur International Motor Show 2010 saw 321,958 visitors visiting Malaysia's biggest motoring event which was held from 3rd December until 12th December at the Putra World Trade Centre.
Datuk Aishah Ahmad congratulated the winners and thanked the sponsors of the prizes.
"KLIMS'10 registered a record of 321,958 visitors and a 30% surge in revenue from sales of tickets over the previous show. This is a testament to the success of the show as well as the interest generated by the industry. We hope to continue to bring the most prestigious motor show in this country to the masses. I would like to congratulate the winners and thank the sponsors, UMW Toyota Motor Sdn Bhd and Proton for the prizes," she said.
Mohd Nor Zainal Abidin, 50, could hardly contain his delight at winning the Grand Prize.
"KLIMS'10 is a great motor show. I am delightfully surprised to have won the Toyota Prius. Thank you KLIMS'10." he said.
Fadzlina Zubairi, 25, and So Mee Chen, 31, also echoed their sentiments.
The MAA Annual Dinner is held every year following the Annual General Meeting which saw Datuk Aishah Ahmad (Land Rover (M) Sdn Bhd) being re-elected as President for another term.
En Ismet Suki (UMW Toyota Motor Sdn. Bhd.) was elected as Vice President (Trade), Yang Berbahagia Dato' Dr. Ang Bon Beng (Tan Chong & Sons Motor Co. Sdn. Bhd.) was elected Vice President (Policy & Regulations) while Yang Berbahagia Datuk Azhar Abd Wahab (Honda Malaysia Sdn Bhd) was elected Vice President (Manufacturing). Ms Belinda Lim (Daihatsu Malaysia Sdn. Bhd.) was elected as Honorary Secretary/Treasurer.
The other council members are:
1. Mr. Dennis Ho (Hyumal Motor Sdn Bhd)
2. En Omar Haron (Mitsubishi Motors Malaysia Sdn Bhd)
3. Yang Berbahagia Datuk Syed Hafiz Syed Abu Bakar (Naza Kia Sdn Bhd)
4. Mr David Stenstrom (Swedish Motor Assemblies Sdn Bhd)
5. Mr. Wong King Yoon (Tan Chong Industrial Equipment Sdn Bhd)
6. Mr. M J LIM (alternate member) (Mercedes Benz Malaysia Sdn Bhd)
Pictures: Official MAA release.