Malaysia's own electric bike unveiled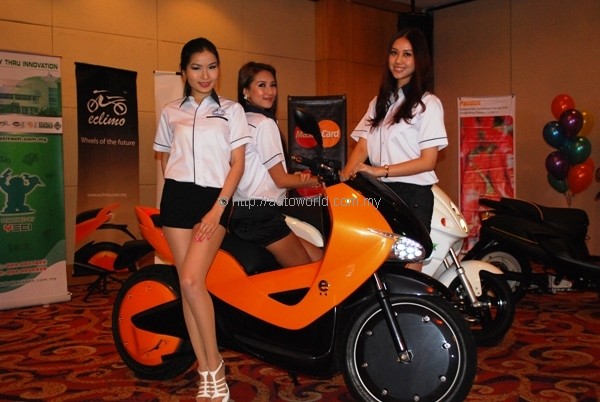 The rising costs of fuel and not to mention endless traffic jams in our urban areas make two-wheeled motoring an increasingly viable solution to meet our day-to-day transportation needs.
While cars, SUVs and MPVs will continue to hold relevance in the transporting of goods and the family, the idea of bypassing queues of cars stuck in jams with your scooter or moped remains a compelling one.
Pretty soon, Malaysians will have further options to consider in addition to the usual offerings from Modenas and Honda. Introducing Eclimo Sdn Bhd, a newly-setup company wholly-owned by Malaysians that is in the business of developing, making and selling fully electric-powered motorcycles fit for road use.
Earlier today, Eclimo unveiled a line-up of three electric-powered scooters and motorcycles ready to hit the road within the next couple of months pending type-approval from the Road Transport Department (JPJ). First to be launched will be the ES 11 scooter, then followed by the ES 10 and EB 25. A price of RM10,000 – RM12,000 is targeted for the ES 11.
When it comes to electric vehicles, the big question marks from consumers always go back to the batteries – relating to its range and replacement costs. Batteries powering Eclimo's bikes use Lithium-Ion technology, which are said to be cleaner and offer superior performance to lead-acid batteries.
In the ES 10 and ES 11, claimed to offer equivalent performance to 125cc petrol-powered scooters, each full charge of its 30kg battery pack, which takes 3.5 hours using a standard 240V socket, gives a range of 100km if driven at speeds below 50kph. The EB 25, which offers equivalent performance to a 200cc bike, has a longer 160km range, and also requires 3.5 hours for a full charge.
Eclimo will provide a five-year warranty for its vehicles, although warranty for the battery itself will only last for three years. Replacement costs for the battery is estimated to be in the region of RM3,000 per unit, but Eclimo expects that figure to drop significantly in the future thanks to increased availability of the technology.
Early recognition of Eclimo's achievements have been forthcoming, with SMI Association of Malaysia bestowing them with the SME Innovation Excellence Award 2010 and the Malaysian Green Technology Corporation certifying them as a Green Project company.