Mazda3 MPS and CKD to reach Malaysian shores soon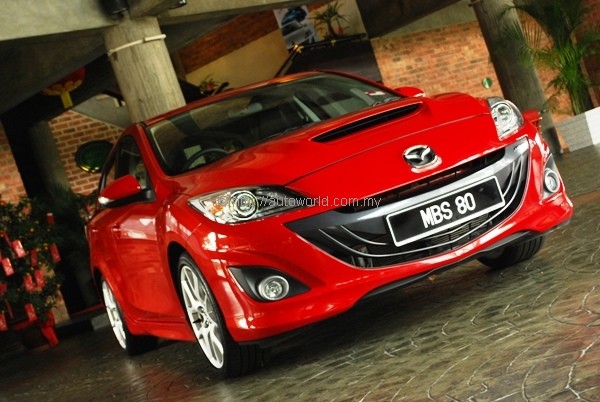 The recent staple of Mazda products has helped the brand rebuild what was a sinking image and firmly establish itself as an aspirational car brand. Even its cheapest car, the Mazda2, has a funky quality about it that instantly makes it likable to the masses and enthusiasts.
The whole 'Zoom-Zoom' business might have been cooked up by the company's marketing boffins, but products such as the Mazda3 and Mazda6, which marry stunning good looks and excellent driving dynamics put a good amount of substance behind those flowery words.
In the C-segment, which features entrants such as the Honda Civic, Toyota Corolla and Nissan Sylphy as the leading players, Mazda fields the Mazda3, which, along with the Mitsubishi Lancer, offer themselves as sportier alternatives to an otherwise bland palette of choices. There is little doubt of the Mazda3's pedigree. In our recent CIMB Autoworld Car Awards 2010, the 3 ran the Corolla very close for the Best Sub-Compact Passenger Car award.
But good as the Mazda3 may be, it is also eye-wateringly expensive. Prices start at RM114,344.50 with insurance, which is not too bad, but that gets you only the 1.6-litre sedan model. There are more than one manufacturers offering alternatives that displace 1.8 to 2.0 litres at that price. There is no 1.8-litre Mazda3, but you can have the 2.0-litre version which goes as high as RM139,744.90 if you opt for the hatch – that is almost D-segment pricing.
Still, the slightly higher prices did not seem to deter the brand's loyal fans, and the 3's volume in our market is sufficiently strong that distributor Bermaz Motor Sdn Bhd is able to build a business case to have the 3 assembled locally in Malaysia. Since January 2011, CKD units of the Mazda3 have been rolling out of Inokom's plant in Kulim, which also houses BMW's semi-knocked down (SKD) operations here.
It should be noted, however, Mazda's investment in the plant is vastly different to BMW's efforts. Whilst BMW vehicles assembled in Kulim come with fully-welded monocoque frames with pre-painted body panels, the Mazda3's body-in-white will be welded and painted locally. As such, there is a higher requirement for jigs and machinery for the Mazda. In addition, the CKD Mazda3 will feature locally purchased parts that add up to 30% of the vehicle's total component cost.
The Mazda3 CKD project was hinted to us as early as mid-2009, but it was only today that an official announcement was made. A total of four variants will be available – 1.6 sedan, 1.6 hatchback, 2.0 sedan, and 2.0 hatchback. At the press conference, Dato' Ben Yeoh, CEO of Bermaz, stated that the CKD units will attack the market with more competitive pricing and higher levels of equipment than before.
Another exciting piece of news is the impending arrival of the Mazda3 MPS, which features the 2.3-litre MZR blown four-pot direct injection engine sending 255hp and 380Nm to the front wheels via 6-speed manual transmission and a limited slip differential. A ball-park price of RM175,000 without insurance was mooted.
Bermaz will display the Mazda3 MPS along with its CKD cousins in public for the first time at the 'Mazda Motor Show' at ground floor of 1 Utama New Wing from 2 to 6 March 2011. Customers who put a booking for any Mazda model at the show stand to win cash vouchers worth between RM200 and RM9,000 which can be used for purchase of accessories or to offset the purchase price of their new vehicle. Additionally, each purchase at the show comes with a complementary three-year warranty, free maintenance, and free road tax package.