Ford Fiesta Sport 1.6 Powershift – Sophisticated fun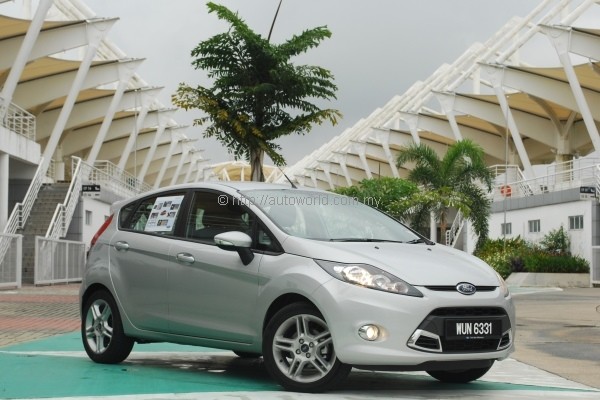 The Fiesta's importance to Ford's cause cannot be overstated. Whether you look at it from a global perspective, or just through the glasses of local distributors Sime Darby Auto Connexion (SDAC), the Fiesta is a key jigsaw in Ford's long term plans.
In the grand scheme of things, this sixth generation Fiesta is the first product of Ford's Global Product Development System which sees the Blue Oval attempt to streamline its production and development processes worldwide. Locally, the Fiesta is just as important for the folks at SDAC, who are looking to sell more than just Rangers in the Malaysian market.
Launched globally two years ago, the Fiesta sits on Ford's new global B-segment platform co-developed with Mazda. For our region, Ford assembles the Fiesta in the AutoAlliance Thailand (AAT) plant in Rayong, which also builds its platform twin, the Mazda2.
Since its global launch, Ford has sold a million Fiestas worldwide and the car itself has been garnering rave reviews from the press. Ford is also keen to iterate that its late start of the Fiesta's production for this region actually works to our advantage as key running changes and improvements can be incorporated to the cars right from the start.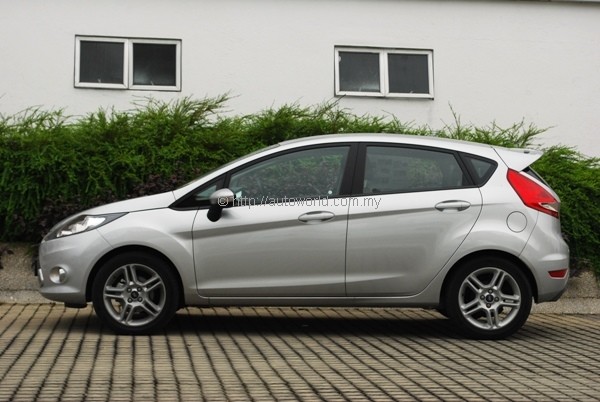 A cornerstone of Ford's planned revival.

For the Malaysian market
SDAC's marketing groundwork for the Fiesta started as early as March this year, gradually building up the hype with a series of road shows around the country. The anticipation was further drummed up in August when a contingent of Malaysian motoring journalists were flown to participate in a regional media test drive held in Phuket, Thailand.
Rave reviews followed, and eventually SDAC accumulated some 600 bookings before the car was finally launched in late October. Earlier this year, we also crowned the Fiesta the Best Sub-Compact Passenger Car in our inaugural CIMB Autoworld Car of the Year Awards 2010 – a verdict reached after tabulating the scores of 12 judges and votes from thousands of Autoworld members.
Prices for the Fiesta start at RM69,888 with insurance for the 1.4-litre hatchback with 5-speed manual transmission, but majority of buyers have placed their money on the top spec 1.6-litre hatchback with 6-speed PowerShift twin clutch transmission which we have tested recently. The test car you see in these pictures also happens to be the very same unit which we evaluated for our awards judging process. Featuring ESP and traction control as standard, the most expensive variant of the Fiesta goes for RM82,888, also with insurance.
The level of equipment on offer for the Fiesta 1.6 hatch makes it the pick of the range, although those who prefer driving manual might find the 1.4 an equally compelling case. The 1.6-litre sedan, which goes for RM78,888, could have been better specified by giving two airbags instead of one.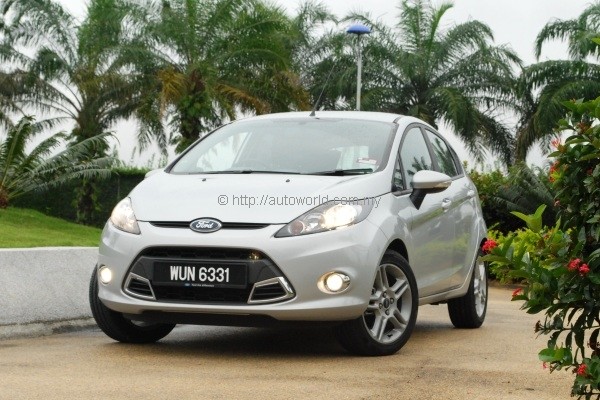 CIMB Autoworld Car of the Year Awards 2010 winner – Best Passenger Car: Sub-Compact

What's on Offer
First impressions of the Fiesta are likely to impress, and people who disagree with its aesthetics should be few and far between. That impression is further reinforced when you step inside to find what is probably the best looking cabin in its price range. The jury's still out on the cabin's actual user-friendliness, but we'll get back to that later.
It's not just all show and no go either. The Fiesta has an impressive specs sheet to back up its stunning good looks. We shall start with the powertrain. Propulsion is provided by a naturally aspirated twin-cam four-pot with 16 valves and Twin Independent Variable Cam Timing (Ti-VCT) which makes 118hp @ 6,000rpm and 152Nm @ 4,050rpm. That figure is on par with most 1.6-litre C-segment alternatives, but bear in mind that the Fiesta is lighter and does not have a torque converter to sap its engine power.
In place of the usual torque converter automatics, or in some cases CVTs, the Fiesta 1.6 completely trumps its rivals in the transmission department by offering a Getrag-developed 6-speed PowerShift dual clutch transmission. It should be made abundantly clear, however, that the Fiesta's PowerShift gearbox is different from the one offered in the Focus TDCi. The Fiesta's unit is a newer, lighter dry clutch box which is engineered to handle lower torque applications.
Kit count is not where the Fiesta is found lacking either. All-round power windows, electric side mirrors and MP3 audio are standard. There is even voice control for the audio system for the top spec model, but for some reason, that function was not working properly on our test car. At the spec level of our 1.6 Sport variant, the Fiesta is almost a proper Euro NCAP 5-Star vehicle, with most of the relevant safety gear thrown in – dual frontal airbags, ABS, EBD, ISOFIX mountings, traction control, and stability control. Side airbags have been omitted.
Getting Moving
Having tried the Focus TDCi and the Mondeo, I have grown to become a big fan of Ford's range of passenger cars. The Focus and Mondeo may not be much to look at, but they are very impressive to drive. The folks at Ford Europe have an excellent knack of tuning cars with a spot on ride and handling balance that very few in the auto industry can equal.
Unfortunately, if you once again look at the Focus and the Mondeo, you would notice that their interior designs are quite a few notches off the industry's best. The Fiesta rectifies this somewhat with a much better looking cabin than its bigger brothers, but its ergonomics remain suspect.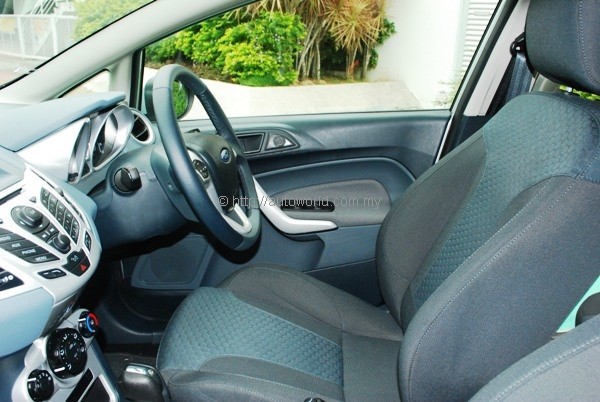 Power window switches for driver positioned too far back. Makes operation awkward.

A poorly positioned power window switch panel is not something forgivable even for a Proton, let alone the manufacturer who pioneered mass production for the automobile. Operation of the window switches was rather awkward because the panel was positioned way too close to the driver. That handphone keypad-inspired centre stack may also look absolutely brilliant, but it was most certainly not straight forward to operate and took some learning to master.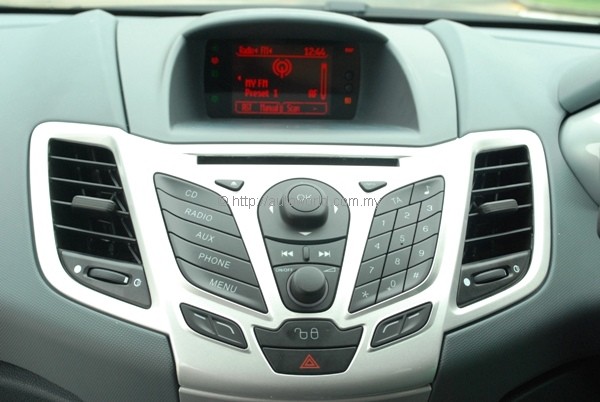 Can you think of a funkier looking dashboard?

But once on the move the little Ford has a few tricks up its sleeve to quickly work its way into your heart again. First, and this is discernible even to non-petrol heads, is that it is almost as quiet as cars of one or two classes above. It was not found wanting in performance either, there was plenty of get-up-and-go for the Fiesta to keep up its pace in cut-and-thrust traffic.
Supporting the Fiesta's decent levels of performance is a solidly engineered chassis that gives the driver a reassuring feel when gunning it around corners. Our test car did not feel as calm or as composed as we remembered from our trip to Thailand, but it still entertained us with plenty of fun along the B-roads. Its fully electric steering is not as chatty as the Focus' electro-hydraulic system, but there is still a decent flow of information going into your palms.
Having packed so many good things into the Fiesta, it is somewhat inconceivable that Ford shot itself in the foot in one crucial point – the omission of manual overriding for the PowerShift gearbox. As mentioned earlier, our test car happened to have a faulty voice command system, but that feature was missed nowhere near as much as a manual override function for the gearbox. This omission is all the more puzzling when you consider that this variant of the Fiesta is aimed at the sporty crowd. There are a few of the class-leading features offered by the Fiesta that I would happily swap for a transmission manual mode.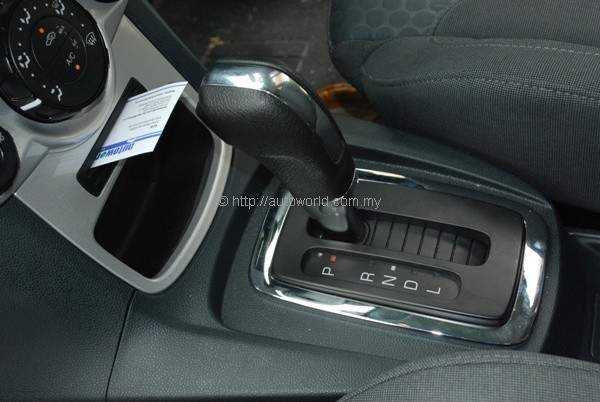 No manual override for the Powershift gearbox is a serious omission.

Conclusion
Perfect the Fiesta is not. There are a few minor niggling flaws in the car to keep the facelift team occupied, chief of them being the omission of a manual overriding facility for the PowerShift gearbox. Cabin ergonomics could use some improvement, although appearance-wise it is leagues above comparably-priced opposition.
Question marks remain on the issue of resale value and pricing of spare parts. Ultimately, it boils down to whether SDAC and Ford will be able to work out an arrangement to keep prices of parts affordable. The availability of affordable parts will go a long way to ensure the Fiesta becomes a viable long-term ownership preposition. This in turn helps lift resale values, a huge deciding factor in the Malaysian car-buying mindset.
Evaluating it purely as a product, however, the Fiesta ticks almost all the right boxes – competitive pricing, good looks, high kit count and engaging driving dynamics. It most certainly did not win our award for nothing.