Nationwide grading system for workshops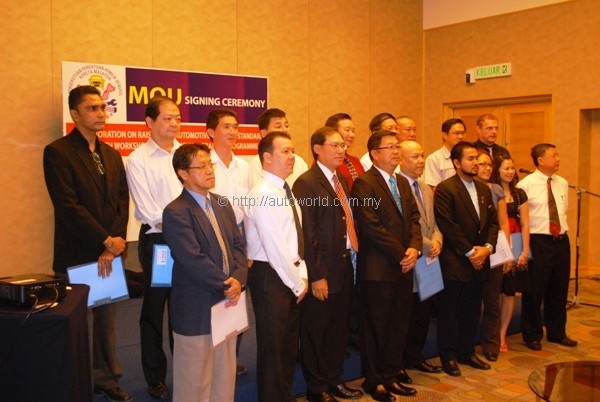 It is no secret that confidence of consumers on our workshops are not very high. Hence the wisdom that it is best to always go to a mechanic that you can trust most, and even that's no guarantee. Consumer perception is that many a workshop are not hesitant to hoodwink them with shoddy service and sub-standard parts.
The standards and reputations of workshops in Malaysia are in dire need of improvement, and the Federation of Automobile Workshop Owners Association of Malaysia (FAWOAM) has plans to put in place a self-regulatory mechanism for its workshops. Dubbed the National Automotive Worshop Administration of Malaysia (NAWAM), the system is a centralized online portal which will serve as a database for workshop grading nationwide.
Developed with the help of Netica Solutions Sdn Bhd, NAWAM enables customers to identify their preferred workshops based on price, service quality, equipment and manpower skill. FAWOAM has also enlisted the backing of Bank Negara, Ministry of Domestic Trade, Co-operatives and Consumerism (KPDNKK), and the General Insurance Association of Malaysia (PIAM).
Speaking at the portal's launch earlier today, Mr. Kong Wai Kwong, President of FAWOAM said, "This grading system is aimed at propelling the industry and creating an avenue for workshop owners to be seen as credible and being transparent in its dealings with the customers and claims managers from the general insurance companies.
"To further upgrade the standards, we will embark on an enrichment programme to empower the collision repairers with technical knowledge, skills and current techniques. For this purpose, we have established an advisory panel that will be instrumental in sharing their expertise and know-how through dedicated training programmes," said Mr. Kong.
A partnership agreement was formalised between FAWOAM and a team of 16 Advisory Support companies that will be instrumental in elevating the standard of the industry and making the collision repairers more competitive. The said training programmes will be conducted by the panel and to be facilitated by Netica Solutions.
The Advisory Support Group consists of Shell Malaysia Trading Sdn Bhd; 3M Malaysia Sdn Bhd; Motordata Research Consortium Sdn Bhd (MRC); Automotive Aftersales Industries Sdn Bhd; Sime Kansai Paints Sdn Bhd; STAHWILLE Sdn Bhd; MSCL Holdings Sdn Bhd; Spanesi Malaysia Sdn Bhd; Unipac Engineering (M) Sdn Bhd; PAC Auto Marketing Sdn Bhd; Top Results Sdn Bhd; Newera Equipment Supply Sdn Bhd; PPG Coatings Sdn Bhd, Wilayah Products Sdn Bhd; Links Equipment & Suplies Sdn Bhd and C & N Advantech Marketing Services.
Workshops to be reviewed by NAWAM will be assessed based on the 4M concept, which covers Man, Machinery, Materials, and Method. Results of the evaluation will see the workshops ranked into three tiers – Silver, Gold, and Platinum – each with specific grading requirements to comply.
"With NAWAM in place, customers will be able to review equipment and skills of any collision repairers, capabilities, compare prices and locate the nearest collision repairers. They will be well informed when having to deal with collision repairers and tow truck agents," concluded Mr. Kong.