Results are out: CIMB Autoworld Car of the Year Awards 2010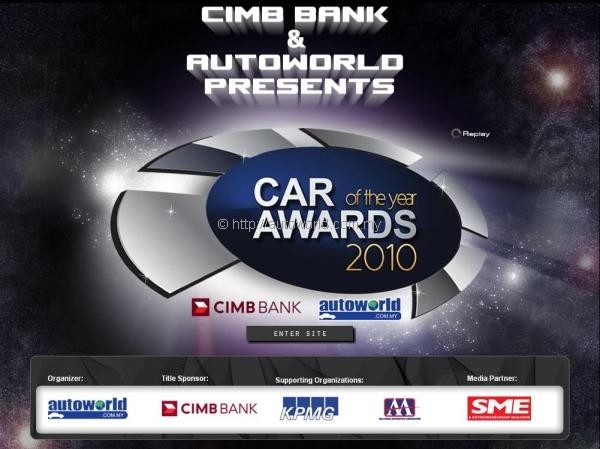 Greetings from Holiday Inn Kuala Lumpur, Glenmarie. The award and prize presentation dinner of the inaugural CIMB Autoworld Car of the Year Awards 2010 has just concluded with 14 awards given out to a pool of 28 competing cars.
Gracing our award dinner were Datuk Aishah Ahmad, President of MAA (Malaysia Automotive Association), En. Abdul Karim Md Lassim, Head of Auto Finance in the Retail Banking Division, CIMB Bank, and Datuk Ali bin Abdul Kadir, Chairman of Jobstreet Corporation Bhd, parent company of Autoworld.com.my.
Also present were senior management representatives of Jobstreet.com, along with that of our award partners, namely SME Magazine, KPMG, Goodyear Malaysia, and Gophers GPS.
Such is the nature of awards and competitions that there can't all be winners, and it turned out that some manufacturers emerged as bigger winners than others. Perodua put on a strong show, with the Myvi and Alza winning their respective categories. In fact, the Myvi continues to show that it remains a firm favourite with the people by bagging the coveted Autoworld Members Choice Award – an award category decided solely by voting of Autoworld members.
UMW Toyota Motor also had reasons to be proud of themselves. Three of their nominated cars – Toyota Corolla Altis, Toyota Hilux and Lexus LS 460 Sport – all took home the top prize of their respective categories. Meanwhile, Hyundai continues to demonstrate why Korean cars is now a force to be reckoned with, as the Tucson and Grand Starex Royale secured them a haul of two awards.
Although Mazda only has one award to show for with the Mazda6 winning the Best Mid-Sized Passenger Car award, it should be noted that the brand's other nominees, such as the Mazda2, Mazda3, CX-7, CX-9, and Mazda8, were all strong performers in their respective categories and were denied only by minute margins.
Here is the complete list of winners:
1. Best Passenger Car : Super Compact – Perodua Myvi
2. Best Passenger Car : Sub-Compact – Ford Fiesta
3. Best Passenger Car : Compact – Toyota Corolla Altis
4. Best Passenger Car : Mid-Sized – Mazda6
5. Best Passenger Car : Large Premium – Lexus LS460 Sport
6. Best MPV : Compact / Mid-Sized – Perodua Alza
7. Best MPV : Large – Hyundai Grand Starex Royale
8. Best MPV : Overall Value for Money – Proton Exora
9. Best SUV : Mid-Sized – Hyundai Tucson
10. Best SUV : Large Premium – Porsche Cayenne
11. Best Pick-up Truck – Toyota Hilux
12. Best Sports & Convertibles – Renault Megane RS
13. Judges' Choice Award – Renault Megane RS
14. Autoworld Members' Choice Award – Perodua Myvi