Proton Inspira 1.8E (M/T) – One step back, two steps forward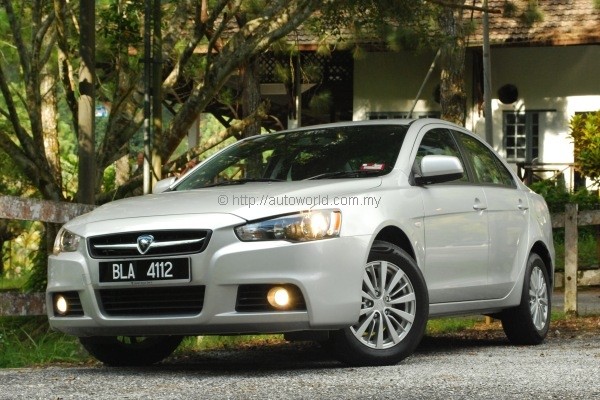 When it was launched in 2000, the Waja was meant to herald a new era for Proton. Although its powertrain was still sourced from Mitsubishi, and its platform was also based on a Mitsubishi design, it represented Proton's first attempt at designing and making at car on its own. The message then was that there is more to come.
However, the irony is that the very model that was meant to announce Proton's arrival as a full-fledged manufacturer has now made way for a new one that brings Proton back to its roots – rebadging a Mitsubishi, and a Lancer too, no less. The only difference this time is that Mitsubishi is not giving Proton the Lancer of one or two generations back, but the latest one.
Proton is keen to stress that the Inspira is not a direct replacement for the Waja, but rather a place-holder model to fill in for the now-discontinued model. In any case, the Waja's presence in the market was already rendered redundant when Proton introduced the Persona, so the replacement model would naturally had to move up in the food chain anyway.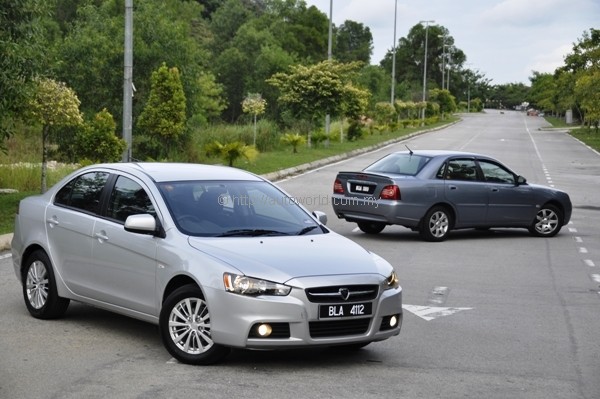 Proton is keen to point out that the Inspira is NOT a direct replacement of the Waja.

The Test Car – 1.8E M/T
Our test car for this review is the entry-level 1.8E model with manual transmission. On-the-road with insurance, this variant goes for RM78,999 in Peninsula Malaysia. While we are aware that majority of bookings went to the 2.0-litre model, we can't help but jump at the opportunity to go for the 1.8 manual instead. Manual test cars don't come by often these days, you understand. We plan to schedule reviews of the CVT models at later dates.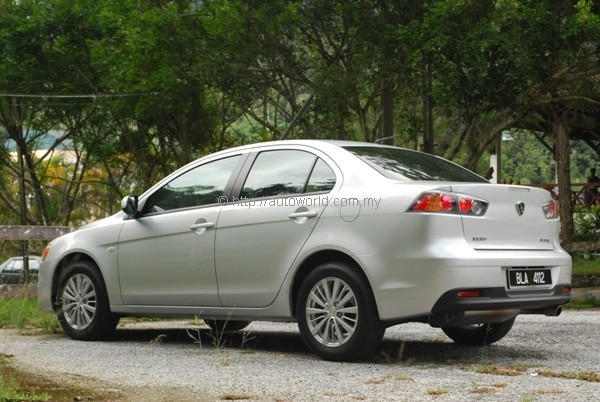 Rear end could do with a spoiler, even a subtle one.

It is highly refreshing that in the Inspira, Proton has provided us with a manual transmission car that comes with a decent amount of kit for a change. Buyers will be pleased to know that as far as safety gear is concerned, all three variants of the Inspira are identically equipped – dual airbags, ABS, EBD, immobilizer, ISOFIX, seat belt reminders and front seat belt pre-tensioners are standard offerings. Some brownie points are lost, however, with the use of a two-point lap belt instead of a full three-point belt for the rear middle passenger.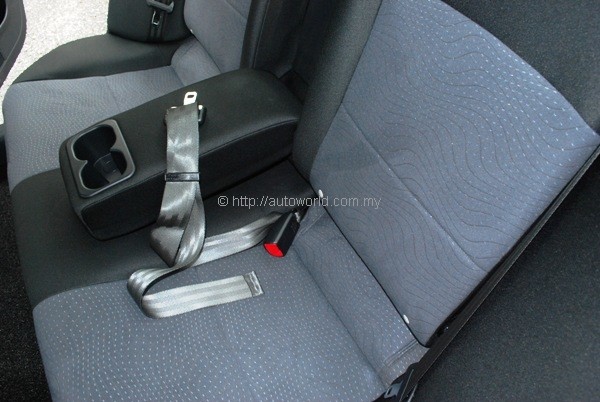 ISOFIX mounts a plus point, but two-point lap belts?

Convenience items packed in include all-round power windows, electric side mirrors, steering mounted controls, and welcome home lights. Our 1.8E test car has to make do without auto cruise, auto climate control, auto wipers and auto lights which are offered on the 2.0P. But honestly, if I am happy to change gears myself, I most certainly can operate the lights and wipers on my own too.
The other car you see in our pictures is a 2007 model Waja Campro, also with manual transmission, which we brought along not so much as a comparison but merely to serve as a reference. Direct comparisons between the two are not quite possible when you consider that the prices, when new, of our test cars are approximately RM20k apart. Indeed, that price difference becomes quite obvious when you jump from one cabin to another…
Sitting Inside
Cabin design has always been an Achilles heel for Proton, and we are not just talking about build quality. The way things are laid out and placed very often betrays Proton's lack of experience in making well thought-out cabins, and this was especially apparent in their first own effort, the Waja.
Mitsubishi may not boast the best interiors amongst its fellow Japanese makers, but the Lancer's cabin, which is carried over virtually unchanged in the Inspira, is pleasantly free of mistakes in ergonomics such as awkwardly positioned power window switches, reflecting instrument panel covers, and air-con vents that don't direct air the way they should. In fact, the signal stalk is now back on the right side, which is where it should be in a right-hand drive vehicle.
On the Go
To recap, our Inspira 1.8E is powered by Mitsubishi's 1,798cc 4B10 engine with 16 valves, twin camshafts and MIVEC. Compared to the 2.0-litre 4B11's square combustion chamber, the 4B10 has a short stroke layout, suggesting a greater inclination towards high revs. Proton made no changes to the engine settings provided by Mitsubishi, and quotes figures of 138hp @ 6,000rpm and 177Nm @ 4,250rpm.
Paired to the 5-speed manual transmission of our test car, the all-alloy engine has just about enough grunt to move the Inspira along briskly. The engine has no qualms revving all the way to its limiter, but at the top end, engine note becomes a little less than pleasant, sounding like a metallic shrill.
Those who dread the hernia-weight of the clutch pedal should feel assured that the Inspira's clutch is almost feather-light and painless to operate. Whenever I returned to the Waja from the Inspira, it always took me a few minutes to re-adjust back to the older car's weightier clutch, even if this car has been my daily driver for four years.
Our test car had a gear knob that was mis-aligned by a full 90 degrees, a very unfortunate sight, but thankfully the actual cog-swapping action was a lot more precise. Each slot is well defined, but there is also a slightly wooden feel to it. The best way to describe it is like rowing a wooden stick through properly defined slots.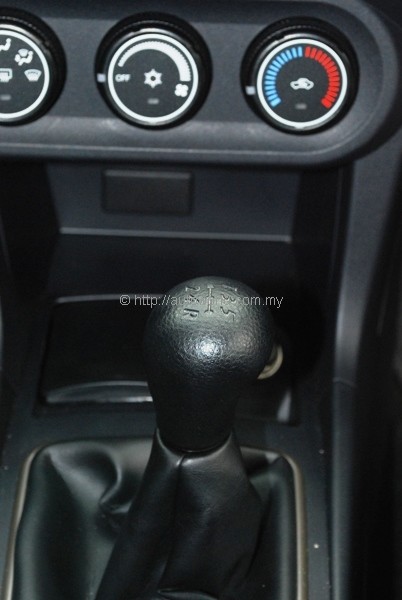 Err… what happened, Proton?

In this aspect, changing gears remains a more satisfying exercise in the Waja, even if sometimes it takes a real yanking to engage 2nd gear (double-clutching sometimes needed). The solid thud that greets each gear shift is confidence-inspiring and satisfying enough that each gear change is a reward in its own.
The bulk of Proton's work on the Inspira went into its ride and handling department, and only the suspension at that. The tyre size of 205/60 R16 was pre-determined by Mitsubishi, but Proton had the freedom of selecting its own tyre supplier, in this case Continental's recently launched CC5 tyres. Our Waja test car here wears the same rubber, but in 195/55 R15 size as per its original specs.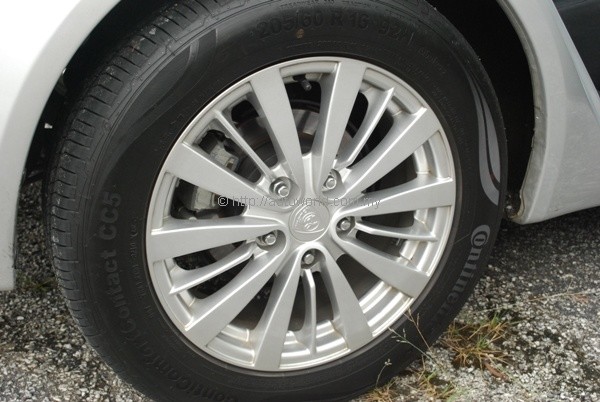 205/60 R16 tyres same size as Lancer EX, but Proton utilizing Continental's CC5.

In our private chats with Proton's ride & handling engineers, they were frank to point out that the Inspira is configured with a comfort-biased setup with a tinge of sportiness tuned in. The objective was to make the car less aggressive and twitchy than the Lancer, and yet at the same time be able to deliver doses of fun when the driver decides to push it. In fact, they even admitted that on the handling front, the Inspira is actually less sporty than the Waja.
However, don't let that statement fool you into thinking that the Inspira is in anyway soft. If we were to stack the Inspira up against its C-segment competitors, it would probably come off second best only against the Ford Focus, which, believe us, is no small compliment. With the Inspira, Proton demonstrated impressive finesse in delivering a finely tuned balance of handling prowess and ride comfort, helped no doubt by having an all-round independent suspension architecture to work upon.
The hallmark of a truly good chassis is not just on how much outright grip it has, but also how it copes when that grip is slipping away. In all frankness, the Inspira is not blessed with copious amounts of grip, but the level of composure demonstrated by its chassis, even when the tyres were crying for dear life, is nothing short of impressive. Understeer sets in so gradually, you have all the time in the world to lift off and correct.
It is also impressive how the Waja continues to stand up to comparison if we were to evaluate it purely on the grounds of its driving dynamics. I might be biased towards my own ride, but my opinion is that feedback and driver interaction on the Waja feels richer and more rewarding than the Inspira, which confirms the assertions of Proton's engineers that the Waja has a sportier setup.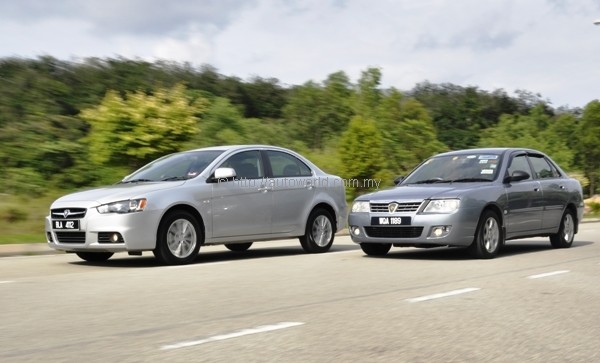 Waja may be old, but its driving dynamics still stand up to comparison.

Conclusion
While the decision of rebadging the Lancer to make the Inspira will continue to stir debate, and even provoke the irk of some, the bottom line is that the Inspira is helping to advance Proton's game by a good few notches. In terms of specifications and technologies, even the base model 1.8E is years ahead of Proton's current products.
Build quality is improved by a few notches too. The Waja may still handle better, but fact is that the Inspira makes a lot less unpleasant noises on the move. Indeed, noise is something that the Waja has an abundance of. Suffice to say, the concept of pin-drop silence becomes unfamiliar when the Waja is on the move. That aspect has been hugely improved with the Inspira. The usual rattlings that we associate with Protons are pleasantly absent as well.
As a car, the Inspira is a good one. Whether or not you accept Proton's claims that they have managed to improve on the Mitsubishi Lancer, the fact is that for the money that Proton is asking for, few other cars offer just as much.


Pictures: KON & Trius Blades.