Get on the rock! with Honda City winners announced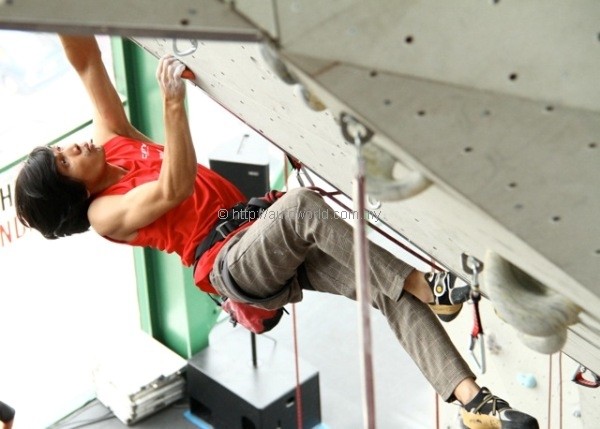 The Get on the rock! with Honda City rock climbing competition, held in conjunction with the introduction of Taffeta White into the Honda City's colour palette, has come to its conclusion last Saturday. A total of 56 finalists were part of the action at Camp 5, One Utama, with Hafzanizam Bokhari triumphing in the Pro Climber category. Team Gang Gang Gruu, meanwhile, held off challenges from 24 other teams to win in the Open Category.
For his troubles in scaling the tallest indoor climbing wall in Malaysia, Hafzanizam, 28, is rewarded with RM2,000 in cash and an all-expense paid trip with RM13,000 to Austria where he will be trained by the professional rock-climbing team Tivoli led by Reini Scherer.
"I have always trained in Malaysia and have not been abroad. So, I trained really hard for this competition and hoped to train with the Tivoli team guided by Reini Scherer in Austria. I am really happy that my effort is paid off," Hafzanizam said of his triumph, certainly a notable highlight of his 12-year association with the sport.
In the Open Category, 25 teams were vying for the prize of an outdoor adventure rock climbing trip in Krabi, Thailand worth RM3,500 along with a 1-year Camp 5 membership. The big prize eventually went to Malindo Herman Putra, 30, and Mohd Redha Rozlan, 22, who made up team Gang Gang Gruu and climbed a total of 860 meters in two hours.
When interviewed, the ecstatic Malindo said, "We are really happy that we won and we can't wait for the greater adventure in Krabi."
Speaking at the prize giving ceremony was Mr. Takeshi Hirano, Head of Sales and Marketing of Honda Malaysia, "We are really happy that Get on the rock! with Honda City has been well received among the people. It is indeed an honour for the Company to have a product such as Honda City that is capable of delivering such emotional fulfillment to its customers. Although the competition has come to an end, we hope that the notions to advance in life will continue to thrive in all that we do."
Pictures: Official Honda Malaysia release.