Volkswagen's TSI & DSG Triple Drive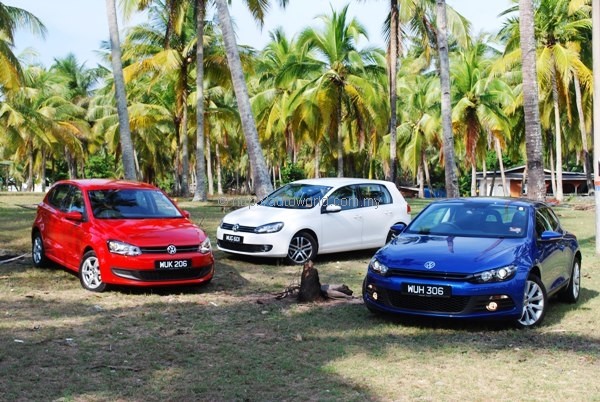 The latest data that we have managed to gather tell us that the Volkswagen Group is now the third largest automotive manufacturer in the world. In the passenger car market alone, VW owns Audi, Seat, Skoda, Lamborghini, Bentley and Bugatti; and that is before we explore its intimate connections with Porsche. Suffice it to say, VW's fingers are all over the place in the industry.
In Malaysia, however, VW and its umbrella of brands are not making the same inroads as they are so successfully doing elsewhere. Audi, for example, has still yet to replicate its global success in our market. Volkswagen's problems in Malaysia started a decade ago, when grey importers outrageously charged RM250,000 for reconditioned units of the New Beetle.
That immediately created the mindset amongst the masses that Volkswagen is an expensive brand that always sits north of the RM200k mark. As you know, when Malaysians plonk that kind of money on a car, they expect a badge from Munich or Stuttgart. So, as a result, VW hasn't been selling too many cars apart from the Golf GTI, and in our humble market, the third largest car manufacturer of the world suddenly became a niche player.
No longer content with miserly sales numbers, Volkswagen Group Malaysia is seeking to up its ante and storm into the sub-RM200k party. The trio of products tasked for this mission, the Polo 1.2 TSI, the Golf 1.4 TSI and Scirocco 1.4 TSI, are still sold at a premium against comparatively-sized Japanese products, but VW adds a significant sweetener in the deal by offering these cars with highly advanced powertrains.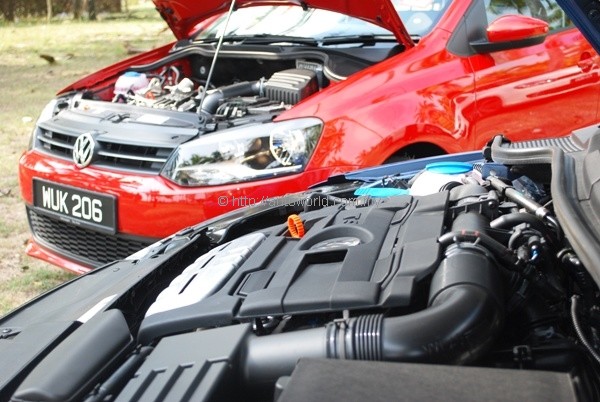 EA 111 engine in 1.2-litre and 1.4-litre displacements.

The TSI & DSG promise
A crucial breakthrough was made in 1996 when Mitsubishi successfully introduced Gasoline Direct Injection technology. The company went on to sell one million GDI engines by 2001, but when they first attempted to export the engine to Europe, the promises of improved economy could not be delivered there because European fuel at that point in time had, ironically, high sulphur content.
Since then, however, the European Union has moved to tighten emission regulations. As a result, sulphur content of European fuel began to drop, and manufacturers began to embrace the use of direct injection technology. Along the way, turbocharging was added to the picture, and modern European engines are able to marry sprightly performance with miserly economy.
Unlike fuel guzzling turbos of yesterday, modern Euro turbos have excellent consumption and plenty of low to mid-range grunt. In fact, it won't be long before we have a generation of motoring enthusiasts who will become completely unfamiliar with the concept of turbo lag.
Volkswagen began dabbling its fingers into direct injection technology in 2000 and has not looked back since. We have already seen quite a few applications of this technology in our market through the Golf GTI and various Audi models, but for the first time it is priced within touching distance of the middle-class folk.
The EA111 family of engines possess a heritage stretching all the way back to the 1970s, being one of the VW Group's earlier attempts at making water-cooled engines. Constant updating and tinkering of the engine's mechanics has allowed it to stay at the forefront of VW's engine line-up, and in Malaysia we will be seeing this engine in two guises – 1.2 TSI and 1.4 TSI.
The 1.2-litre engine is not only the smaller unit of the two, but also the mechanically simpler version. Displacing 1,197cc, it has only a single overhead camshaft at its disposal to operate eight valves. It does have a turbo and direct injection system to call upon, so output is a not too shabby 104hp @ 5,000rpm, and peak torque of 175Nm is spread far and wide from 1,550 to 4,100rpm.
Meanwhile, the 1.4 TSI operates significantly more complicated running gear. Direct injection, twin camshafts and 16 valves are only the start, as there is also a supercharger working in sync with its turbo ramming air into the engine's 1,390cc worth of combustion volume. The impressive power output of 158hp @ 5,800rpm speaks half the story; the engine also twists out 240Nm of torque from 1,500 all the way to 4,500rpm.
Final piece of the puzzle is the new DQ200 dry-clutch 7-speed Direct Shift Gearbox. This is a newer and lighter transmission compared the older wet-clutch 6-speed DSG used in the Golf GTI and Scirocco 2.0. Compared to the 6-speeder, the new gearbox cannot handle higher torque applications, but it is almost maintenance free due to its dry clutch architecture.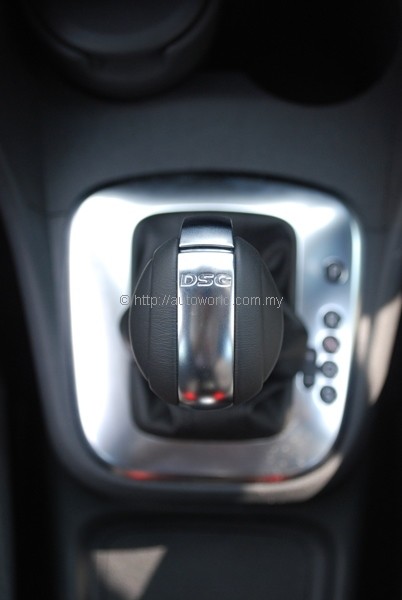 All three cars come with the new 7-speed dry clutch DSG

Test Route
We put the three cars to the test in a test route that took us Klang Valley to Tanjung Jara in Terengganu in a mixture of trunk roads and highways. The 400km route was plotted to include a good mixture of highway and trunk road mileage for us to experience the car's characteristics over a wider range of conditions.
There were fifteen test cars in total, each of the three models contributing five units to be shared amongst the 45 invited journalists and bloggers. Driver and car changes were placed at regular intervals, ensuring all present had the opportunity to drive all three cars by the time we reached our destination. There was no return drive as we were flown back the next day.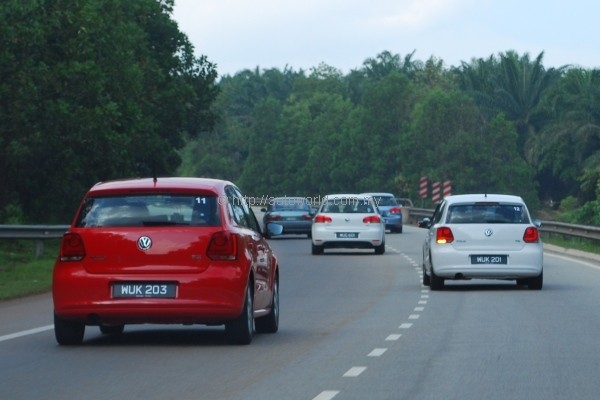 Imagine 15 VWs blasting from Klang Valley to Tg Jara at breakneck speed.

Polo 1.2 TSI
The new range starts with the Polo 1.2 TSI, which was also the first car I got myself into during the media drive. Its nett selling price of RM108,888 was designed to attract the attention of Japanese buyers to the showrooms. Insurance will ultimately push its final price to somewhere around RM114k, which is about the price of a Nissan Sylphy.
This makes the Polo the cheapest German car available for your money, and since VW is still very much amongst our market's chasing pack in the moment, cheapest in their line-up did not translate to cheapo; well, not all of it anyway. You'll have to do without front fog lamps, and your alloy rims are no bigger than that of a Waja. Especially in a bright-coloured units, exposed metalwork along the pillars are glaringly obvious. A row of seven buttons line-up neatly below the central air-con vents, but five of them are blank.
However, safety was not compromised. The Polo received a 5-star rating from Euro NCAP, and our checks with the official Euro NCAP website shows our Polo's specs are almost identical, being equipped with dual frontal and side airbags, seat belt reminders, seat belt pre-tensioners, and ISOFIX anchorage. Electronic stability control, optional in Europe, is not offered here.
My time behind the Polo's wheel was mostly through the winding KL-Bentong road, where handling prowess takes priority over outright pace. Here, the Polo had just about enough in its little motor to provide brisk progress. On paper, a peak torque of 175Nm does not sound like much, but spread it over a wide range of revs, it makes the Polo feel sprightly and responsive.
Despite visible signs of cost-cutting, the Polo does not feel or sound like a base-level model on the move. Refinement levels were good, as we weren't disturbed by too many unpleasant noises even under hard driving. No surprises await at the edge either, as VW has set the Polo's handling to remain safe and predictable, if a little un-engaging.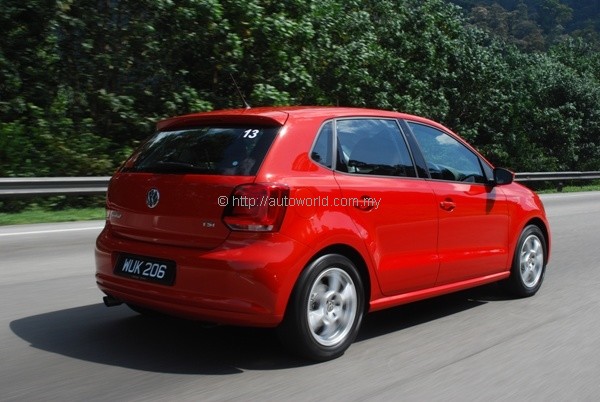 The Polo is your cheapest means of German motoring…

Golf 1.4 TSI
While the Polo is the most attractively priced, the one that Volkswagen is putting all its chips on is the Golf 1.4 TSI. Spread over a seven year loan at say 4.0% interest, the Golf would cost its buyer an additional RM500 per month in installments over the Polo 1.2 TSI. A good sales rep will have no problems persuading a few customers to part with that extra cash.
Before insurance, the Golf 1.4 TSI is priced at RM149,608, but opting for the Light & Sound package, which adds bi-xenon headlights, cornering lights, front fogs, and USB connectivity bumps the sticker price up to RM156,608. Insurance will then set you back anywhere from RM4,000 to RM4,200.
We found very little qualms with this brilliant all-rounder when evaluating a test car early last month. This drive merely served to re-confirm our initial assessments. It is also worth noting that, even in the presence of the Scirocco, many of the motoring media and bloggers who attended the drive pointed at the Golf as their preferred car amongst the three tested, and it is not difficult to imagine why.
It may look like the GTI's boring twin, but it still packs plenty of pace, which is accessible without any effort. On clear roads, the double ton can be reached without even needing full throttle application. Good thing then that the Golf is promised with low fuel consumption, because those savings might be useful to settle your pile of speeding tickets.
Being made of the same building blocks as the GTI ensures that the Golf has pretty sturdy handling, but this vanilla version has a good dosage of comfort dialed in, so it is also very easy to live with. Its balanced ride & handling characteristics will suit a wide variety of audiences, and I can certainly see myself being very happy living with this car on a day-to-day basis.
A point to note about the Golf is that the official VW test cars were shod with different tyres – Dunlop SP Sport FastResponse or Bridgestone Turanza GR-80. The test car we brought back last month, and the unit I tested during this media drive were both shod with the Dunlop tyres, though I was told that majority of units shipped here are using the Bridgestone sets.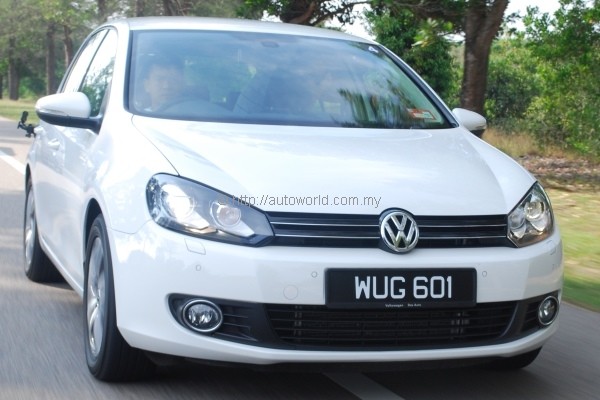 Golf is a superb all-rounder

Scirocco 1.4 TSI
Finally, we have the Scirocco 1.4 TSI, which is powered by the same engine as the Golf we tested above. It also sits in the same PQ35 platform inherited from the previous generation Golf. The above ingredients are then packaged into a very sexy and stylish-looking 3-door hatchback bodyshape.
The premium for moving from the Golf to the Scirocco is over RM30,000, coming to RM189,608 on-the-road without insurance, which we estimate to be an additional RM5,000. On a practical level, that is a slightly more difficult purchase to recommend, especially if you're considering between it and the Golf.
The same 'small increase in installment' argument used earlier to persuade you to leap from the Polo to the Golf does not work too well this time, because if you need to pay for your car in installments, you ought to get something a lot more sensible than the Scirocco.
Having said that, if you can afford the premium, the Scirocco does look RM30k more expensive than the Golf, so you won't be laughed at for spending silly money. It is also a lot more interactive to drive compared to the Golf. Lowered ride, fatter tyres, and stiffer suspension contribute to an edgier ride, but it ensured more detailed information of the terrain is transmitted to you. You feel more connected to the road as a result.
The Scirocco's looks suggests that the car is all flash and little else, but close examination of its interior show a few small touches of practicality. In their own language, VW says the Scirocco's rear is 'mother-in-law friendly', and while I would still hesitate in asking my mother-in-law to sit at the back, those of you who have no qualms doing so should rest assured that you would not be accused of abuse. The old lady would sit pretty comfortable in there, and leg room is particularly impressive; not something I would imagine considering its shape.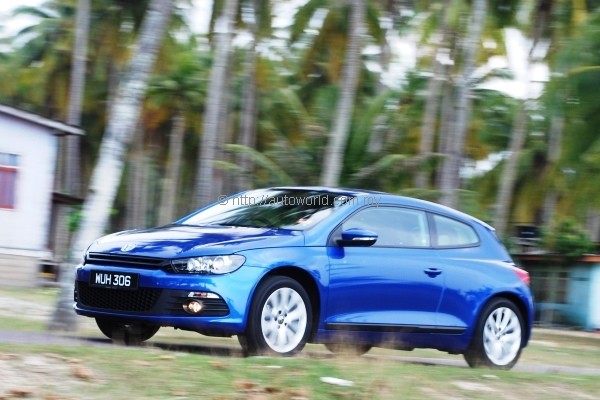 Scirocco is the looker of the bunch

Maintenance??
Car makers are rarely keen to discuss maintenance costs of their products with customers and journalists. When grilled on this topic over press conferences, all we get are usually blank assurances that 'every effort has been made to ensure that prices of parts and service are kept affordable to the consumer'. Usually, their definition of what's affordable have an unfortunate habit of being a lot pricier than what the consumer expects.
In an effort to show that their new cars will not cost a bomb to maintain, VW officials showed us just before the media drive charts of projected maintenance costs for both the 1.2 TSI and 1.4 TSI engines. The recommended service intervals are 15,000km for both engines, with transmission fluid, timing chain and engine coolant being maintenance-free items.
For both models, Volkswagen optimistically projects total maintenance costs of these cars to be under RM7,000 for the first eight years of ownership. Bear in mind, however, the reduced frequency of service would inevitably raise the cost per service. There will be at least three occasions in the first 120,000km that service costs exceed RM1,000 but there are only eight prescribed services during the period.
Conclusion
After going through way too many false dawns, Volkswagen's renewed assault on our shores should finally be taken seriously. Although not cheap by any means, the engineering that went into these cars has never been seen before at this price range, and very much worth considering for those shopping in the sub-RM200k bracket.
At RM110k, the Polo should be causing plenty of concerns for the Japanese, who now have to seriously worry about the welfare of their C-segment entries. Even if it is not the highest-specced Polo available in VW's pool, it remains generously equipped and certainly betters many offerings from the land of the rising sun.
The Scirocco is a little flash, but remains good value for its money. It was the most fun to drive of the three cars tested, and it has an appeal that transcends class. Whether you're an up-and-coming manager, or a CEO, you will not look out of place driving a Scirocco.
Revisiting the Golf was hardly a chore, and at RM150k (or RM160k if you opt for the Light & Sound package), it is the best buy of the entire VW range in Malaysia. Its superb all-round competence makes it extremely difficult to fault. A sprightly yet thrifty engine makes it fun and economical to drive at the same time. Between the three, the Golf remains as my pick.