Special Promotions from G'Zox Malaysia
G'ZOX Malaysia, provider of a premium car care experience, is having a series of special offers called Special Promotions 2010, to allow users with a budget to experience premium levels of car care.
A) G'ZOX Mild Polish – RM400
G'ZOX Mild Polishing will remove blemishes, light scratches, dirt and oxidation from your paintwork, restoring the gleaming luster and colour of your car.
B) G'ZOX Headlight Restoration & Coating – RM400
Have your old headlights turned cloudy and hazy? This is dangerous as the clouded headlight lens would dim your overall light discharge, reducing visibility at night, becoming a hazard.
On poorly lit roads, a pair of bright headlights is a must. G'ZOX Headlight Coating's cleans your headlight lens to ensure the full brightness of your headlight bulbs are available to light up the road.
G'ZOX Headlight Coating treatment is able to restore headlight lenses that have underwent oxidization or minor stone chips to up to 90% of their original clarity.
Its effects are guaranteed to last a minimum of one year. If your headlights turn yellow within that period, G'ZOX will re-do the job at no extra charge.
C) G'ZOX Windscreen Hyper View Glass Coating (All windscreens) – RM400
G'ZOX Windscreen Hyper View Coating is a super hydrophobic windscreen glass coating that enables significantly clearer vision while driving in the rain.
The treatment process starts by deep cleaning the glass to remove all watermark etchings, oils, and old coatings to give you a super clean and clear glasswork.
Next, comes the application of Hyper View. Hyper View achieves superior bonding and evenness, resulting in the best durability a windscreen coating can get.
Based on lab testing data from G'ZOX's principal, Soft99 Corp. Japan, Hyper View is able to withstand up to 400,000 wiper sweeps.
To , put that figure into perspective, let's quote an example of a car owner who uses his wipers at least 100 sweeps a day. In one year, the said owner's car wipers would have made 36,500 sweep; and in ten years, it would have made 365,000.
Ten years down the road, probably longer Hyper View will still perform within it's optimal operating period.
Driver's react to what they can see, Hyper View coating is the perfect solution for a clear vision while driving in the rain. This is especially suitable for a tropical climate country such as Malaysia.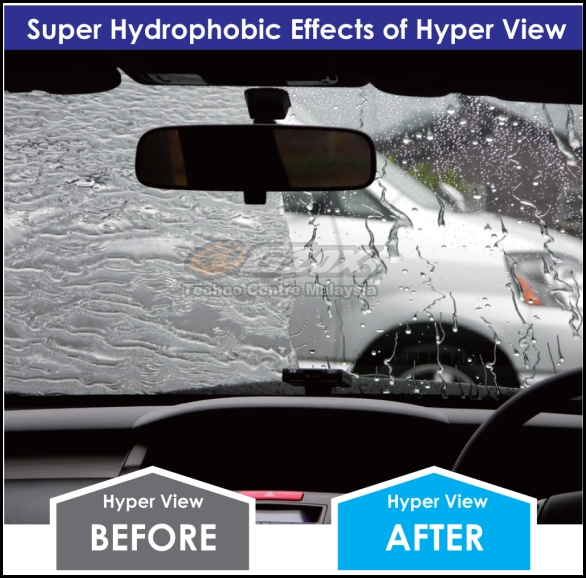 Option A,B,C costs RM400.
After doing any of the options above, you are entitled to purchase a 24 times Premium Car Wash package at only RM100(worth RM600), adding up to RM500 worth of savings.

For more information, visit: Special Promotion 2010 << G'Zox Malaysia