Nissan X-Trail – Second generation finally arrives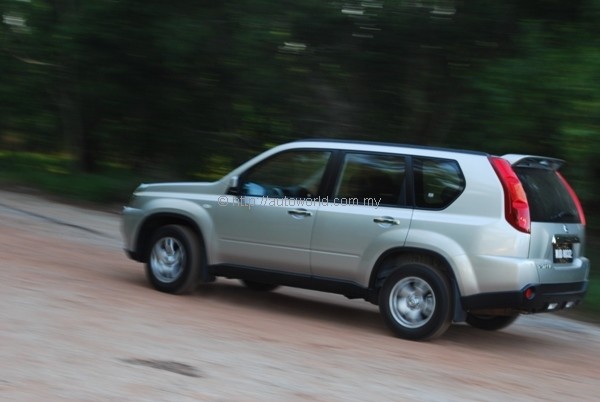 As a company, Edaran Tan Chong Motor Sdn Bhd (ETCM) is known to be a closely-knit and conservatively run operation. Since the company's humble beginnings in the 1950s as a small motor vehicle distributor, it has been a loyal partner to the Nissan brand (or Datsun in the times of our fathers) for the past 50 years.
Late last year, Tan Chong was ranked by Nissan Motor Co among it's seven best distributors worldwide out of 67. The company is known not to rush into decisions but instead makes composed and considered decisions in their ventures, a far cry from the more aggressive policies adopted by most of its rivals.
However, as a result of Tan Chong's measured approach, Nissan cars tend to have a habit of taking their own sweet time to arrive in Malaysia. A case in point is the Nissan X-Trail. The first generation X-Trail debuted worldwide in 2001, but it wasn't until 2003 that the model finally reached our shores.
That X-Trail was phased out and replaced by an all-new model in 2007. It was only recently, three years after its global debut, and also after a facelift for the Japanese market, that the second generation X-Trail finally arrived in Malaysia. Last week, ETCM gathered a number of media representatives on a short drive from the Klang Valley to Port Dickson to put the all-new X-Trail through its paces.
Styling – same ol' same ol'?
At a glance, and this applies from any angle, you might not notice too many differences between the new and the existing X-Trail. In fact, you might even be forgiven for thinking that this is just a facelift rather than an all-new model redesigned from ground-up.
It might take you some time to notice this, but according to Nissan, 'every body panel is new'. So, why does it look so similar to its predecessor? Well, we were told that the resemblance is deliberate, as Nissan wants to retain the original X-Trail's rugged styling, which proved highly popular with its supporters.
Prices and Variants
Although Tan Chong manufactured the first-generation X-Trail locally in Segambut, they have opted to source the second-generation model from Nissan's plant in Indonesia instead. Order-taking will officially commence on 7 August 2010, just in time for the traditional Hari Raya buyers.
For the second-generation X-Trail, code-named T31 in Nissan-speak, ETCM has opted not to bring in the 2.5-litre variant of the new X-Trail, offering only a 2.0-litre variant instead. Also dropped is the All Mode 4×4 system which was a heavily touted feature with the previous X-Trail.
This omission is made painfully clear by an odd coin-sized cubby hole accompanied by a pair of blank buttons. This iteration of the X-Trail, as far as Malaysia is concerned, spins only the front wheels, and that task is handed to the 1,997cc MR20DE all-aluminium engine plucked from the Sylphy along with Nissan's renowned X-Tronic Continuously Variable Transmission. The transmission's ratios vary infinitely between 2.349 and 0.394, with six virtual ratios available for manual selection.
Because it needs to lug an additional 300kg of kerb weight in the X-Trail compared to the Sylphy, Nissan has accordingly bumped up the engine's output. Compared to the Sylphy's 131hp @ 5,200rpm and 191Nm @ 4,400rpm, the X-Trail produces 137hp and 198Nm at the same revs. However, these outputs are actually lower than the 148hp and 200Nm produced by the previous X-Trail 2.0.
As you would expect, the car primarily occupying the thoughts of Nissan's product planners is, in fact, the CR-V – with good reason. The CR-V is not only the No.1-selling soft-roader SUV, it is also price-wise, very close to the Nissan. Inclusive of registration, road tax, and insurance, the new X-Trail goes for RM149,500 in Peninsula Malaysia, a mere RM480 lower than the CR-V.
Kit Count
Not being able to out-equip the CR-V without significantly increasing its price, ETCM resolved to outflank Honda on the specs sheet. Although the X-Trail does not get VSA, side airbags, cruise control, and steering mounted buttons like the CR-V, it counters with auto-leveling bi-xenon headlamps with washers, keyless start, rear air-con vents, electric adjusting seats and a very cleverly designed luggage area.
According to Nissan, the removable and washable luggage board introduced in the first-gen X-Trail was a highly popular feature with the owners, and was thus carried over. In the new X-Trail, Nissan added a little luggage drawer which slots under the luggage board when deployed. Luggage space therefore varies from 479 litres in double floor mode to 603 litres in single floor mode and even more with the 60:40 split folding rear seats down.
Indeed, the X-Trail as a whole felt especially spacious, though we suspect that many a rear passenger would appreciate a bit more legroom. Sliding rear seats would be useful, or Nissan would also be forgiven for shifting the seats slightly rear wards. Certainly many a family would rather fore-go luggage space to fit bigger thighs at the rear?
Driving Experience
We know from our experience with the Sylphy, that the MR20DE and X-CVT make for a highly refined if slightly unspectacular partnership. That continues to hold true in the X-Trail, but with an additional 300kg to lug around, it feels very very strained, even with its horsepower and torque outputs boosted.
It is fine for Sunday drives, but if you're looking to go anywhere in a hurry, getting the X-Trail up to speed would require some patience. With the transmission left in 'D', there is a severe lack of urgency on the part of the speedometer to make progress. Putting some work on the transmission's manual override alleviates things somewhat, but even with your foot buried into the throttle, you will still find yourself struggling to keep pace with faster traffic.
The saving grace for the X-Trail is that because it does not have a lot of power at its disposal, you are never in danger of feeling that the engine is about to overwhelm its chassis. Along the back roads leading from Malacca to PD, the X-Trail took our aggressive style of driving well within its stride. Considering its size, height, and its front-wheel drive setup, the X-Trail handled itself with impressive agility and precision.
The steering is particularly deserving of praise. Despite using electric power assist, steering weight, feel and feedback felt almost hydraulic, and I certainly would have been fooled without a glance at the specs sheet.
All the above driving impressions were gleaned during the first day of our media drive, which was held at a brisk pace to keep within schedule. Our return journey the next day was conducted at a much more sedate pace and in this setting, the X-Trail felt impressively smooth and highly refined.
Conclusion
Although the new X-Trail largely resembles the old one, it is a very different kettle of fish altogether. Whilst the previous one prides itself for being sturdier and more practical than its soft-roader competition; the new one moves its game deeper into urban territory, sacrificing its off-road talents for fuel economy and refinement.
This shift in the X-Trail's breadth of talents will undoubtedly open it up to a new legion of fans, but the danger of course is that it also risks losing owners of the previous X-Trail looking for an upgrade. ETCM is confident that the 2.0-litre model will do the job nicely for most customers, but with the X-Trail now being a CBU import, adding a new model variant into the line-up is very much an easier task compared to doing that for a CKD operation.
We can't say that the X-Trail has become a better car than its predecessor, but neither can we say it has become worse. It has simply become different. Its priorities have changed. It is now a fully urbanized SUV.