All-new Porsche Cayenne arrives in Malaysia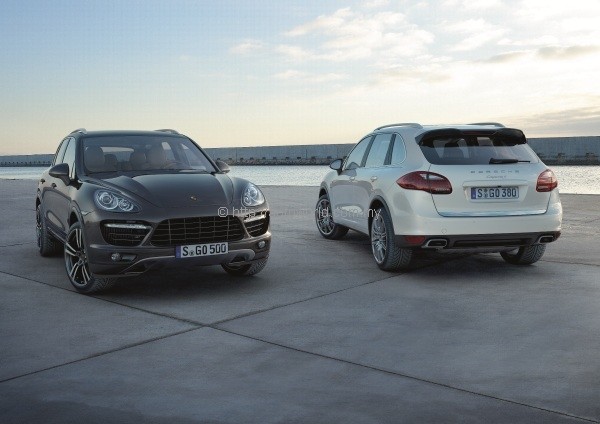 Shortly after assuming control of the Porsche franchise, Sime Darby Auto Performance Sdn Bhd (SDAP) announced its arrival into the scene with the launch of the second generation Porsche Cayenne SUV in a grand ceremony at the Kuala Lumpur Golf & Country Club yesterday. Also unveiled alongside the all-new Cayenne were the V6 models of the Porsche Panamera.
"Since we opened bookings for the new Cayenne models in June, we received an overwhelming number of bookings from customers without seeing the real car or even knowing the new price. This response reiterates the trust in quality and performance that is associated with Porsche cars, and we expect this demand for the new Cayenne series to continue. The Panamera V6 models have been received very well and the initial demand is very promising. After the successful launch of the Panamera V8 models 10 months ago, the Panamera 4 and Panamera 4 will tap into a much bigger market segment and appeal to a broader customer base," said Arnt Bayer, the newly appointed CEO of SDAP.
This is the second-generation model of the Cayenne, replacing its controversial predecessor which was launched in 2002. The original Cayenne was met with huge skepticism during launch, but went on to become a commercial success, selling 275,000 units worldwide during its eight-year presence on the market.
In Malaysia, we have grown accustomed to receiving a reduced model range from manufacturers, and that usually only the lower end offerings ever make their way here. In that sense, we were rather surprised to learn that Porsche is offering almost the entire Cayenne range in Malaysia, including the Diesel and Hybrid versions. All versions come with a new 8-speed Tiptronic auto gearbox and auto start/stop as standard. We were even more surprised with the pricing…
The five-model range starts with the 3.6-litre V6, which retails for RM550,000, though that's before you factor in registration, road tax, and insurance. Naturally aspirated and displacing 3,598cc, the engine features the use of direct injection technology, and delivers 300hp @ 6,300rpm and 400Nm @ 3,000rpm. Porsche claims a century sprint time of 7.8 seconds en route to a 230kph top speed, with fuel consumption rated at 9.9 l/100km.
Next comes the RM560,000 Cayenne Diesel, which has a 3.0-litre V6 diesel engine under its hood. A maximum output of 240hp @ 4,000 – 4,400rpm is not likely to cause too many tremors, but 550Nm of torque available at 2,000 – 2,250rpm should prove useful. By diesel standards, the engine has a rather peaky looking torque curve, but graphs provided by Porsche show a minimum of 250Nm available across the rev range at any given time. Standstill to 100kph is reached in 7.8 seconds, and the car maxes out at 218kph, but as you would expect from a diesel, consumption is a paltry 7.4 l/100km.
Folks who like the shove of strong mid-range torque might want to look at the RM680,000 Cayenne S instead, which twists out 500Nm @ 3,500 – 5,300rpm from its naturally aspirated light alloy block 4.8-litre V8 engine. Maximum power of 400hp is produced at 6,500rpm. Not surprisingly, this model is nowhere near as 'frugal' as the V6 versions, requiring 10.5 l/100km, though performance is notably superior – 0-100kph in 5.9 seconds, and top speed 258kph.
The same engine is strapped with two turbochargers to produce 500hp @ 6,000rpm and a mouthwatering 700Nm @ 2,250 – 4,500rpm for the Cayenne Turbo. These monstrous outputs allow the top-of-the-range Cayenne to demolish the century spring in 4.7 seconds and reach a top speed of 278kph. Before road tax, registration, insurance, and possibly options, the Cayenne Turbo is priced at RM940,000. Yes, we were expecting a seven-figure price tag.
The technological tour-de-force of the range is the Cayenne S Hybrid, which pairs a 3.0-litre supercharged V6 with a 47hp electric motor in a parallel full hybrid system. This model pays tribute to Dr Ferdinand Porsche, who had actually developed a fully functional hybrid vehicle back in 1900, when the grandfathers of the Toyota Prius' engineers were still in diapers.
Of course the Cayenne S Hybrid is quite a bit more advanced than Dr Porsche's Lohner-Porsche Semper Vivus. The newer car develops 333hp and 230Nm from its combustion engine alone, which is supplemented by the electric motor's 47hp and 300Nm @ 1,150rpm. The combined efforts of these two motors yield 380hp @ 5,500rpm and 580Nm @ 1,000rpm. Up until 5,200rpm, the driver still has access to some 500Nm of torque, it only dips below 420Nm at 6,200rpm.
Joining the existing V8 versions of the Panamera are two new variants powered by a 3.6-litre direct-injected V6 producing 300hp and 400Nm. Offered in rear wheel drive (Panamera) or all-wheel drive (Panamera 4), the V6-powered Panameras come standard with Porsche's PDK dual-clutch transmission. Retail prices of the Panamera V6 are at RM730k and RM760k for the Panamera and Panamera 4 respectively.


Pictures: Official Porsche release