Toyota Vios 1.5J (M/T) – Back to Basics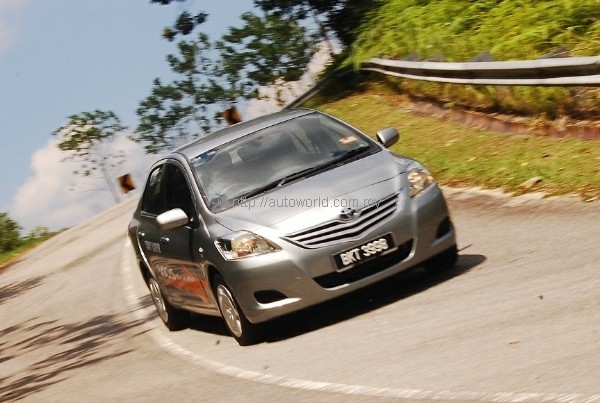 It was seven years ago that the Toyota Vios debuted in the Malaysian market. Together with the Honda City, the Vios brought Japanese motoring back into mass market consideration after the Government's protectionist policies had priced them out of the picture for the common folk.
Upon their introduction, these two models were picking up the bookings faster than their respective factories could churn out the cars. Although demand eventually stabilized, it gave Honda and Toyota a precious foothold in the RM75-95k B-Segment price range.
The two models responsible for opening up the market segment have since retired and both have been replaced by all-new models. Honda introduced the new City in late 2008, while the second generation Vios has been around long enough that a facelift has already been launched.
What's new for the facelift?
Typical with any facelifts, the refreshed Vios spots mainly revised cosmetics inside out. Externally, obvious changes include a new chrome-plated front grille, re-designed tail-lights, and re-profiled bumpers.
Meanwhile, visible changes inside are a new flat-bottomed steering wheel design, new choice of materials and colour scheme for the dashboard and seats. While the higher-spec variants carry mainly cosmetic updates, the two lower spec models feature some properly useful improvement.
The 1.5J now gets a driver airbag and side mirrors with power adjusting and folding. An amusing omission of intermittent wipers from the pre-facelift J-spec Vios has also been addressed. Meanwhile, the 1.5E gets an additional airbag for its front passenger.
No changes have been made under the skin, so the 1,497cc 1NZ-FE engine carried over from the first gen Vios soldiers on. Equipped with Toyota's VVT-i system, the inline-4 16-valve twin cam engine is rated to produce 107hp @ 6,000rpm and 141Nm @ 4,200rpm.
As before, UMW Toyota Motor (UMWT) continues to offer the Vios in four different trim levels – TRD Sportivo, 1.5G, 1.5E, and 1.5J. The entry-level J variant is offered with the choice of a 5-speed manual or 4-speed auto transmission, while the rest have the auto gearbox as standard.
The Test Car
For our review of the Vios facelift, UMWT has supplied us with a test unit of the 1.5J variant with manual transmission. Compared to the pre-facelift variant, its asking price inclusive of insurance went up from RM69,825.00 to RM71,990.00, an increase of RM2,165.00.
You would probably notice in our photos that the test car has been decked with some serious livery. Well, it isn't because UMWT has suddenly gotten into the habit of pimping its test cars, but simply because this car was pulled out of showroom duty to double up as a media test car. When we picked it up from UMWT's HQ, the car had clocked just over 1,900km on its odometer.
The moment you lay eyes on our test car, it's role as the base model of the range is immediately obvious, being indicated by the 14″ capped steel wheels. Inside, acres upon acres of dark gray plastic further reinforce the view. In this light, the hard nature of its plastics become bearable, acceptable even.
When we talk about bare spec vehicles, the first things typically sacrificed after the various luxuries are soundproofing material, and Toyota made no attempts to hide what it skimmed on. The bonnet and boot lids have zero insulation lining, which means they generate quite a boom in the cabin when closed.
Driving Impressions
It may surprise you to hear this, but the Vios has a fine degree of driving competence up its sleeve. When cornered hard, the Vios still manages to gamely resist understeer and stick to its line, despite wearing skinny high-profile 175/65 Goodyear Eagle NCT5 rubber all-round.
Discovering this competence, however, may take time. Getting it moving is a tricky exercise in its own. The clutch seems to have a weak bite. Killing the engine was all too easy if a generous dosage of throttle was not supplied before releasing the left pedal. Hill starts can be a very nervous exercise for beginners in this car.
The gear change itself was a relatively painless process. Compared to previous manual test cars assigned to me, the Vios' stick slots into gear with good precision. There's a hint of that dreaded rubbery feel, but I have tested worse. (ed: Shows the sad state of affairs for manual lovers here.)
The brake pedal also didn't feel very right either. Feedback was almost non-existent, and after an initial dead-zone, the brakes just suddenly bite with heavy force. Although modulation is still possible with an average degree of finesse, it makes smooth heel-toeing on downshifts very difficult, as you'll probably end up over-pressing the brakes.
Completing a trio of poorly-judged pedals is the accelerator, which has a slightly lagged response when blipped. This makes smooth downshifts doubly difficult, and occasionally hampers progress on winding roads, which is a waste, because the Vios has some pretty good handling characteristics.
Although lacking in feedback, the electric power steering actually steers the Vios according to your chosen path. Body roll is present, but not to a degree which would unsettle the committed driver. Suspension is firmer than what I would expect from a Toyota, though it hardly amounts to discomfort.
When driving this car on the highway, it is important for you to keep in mind that you have 107hp pushing along a mere 1,020kg kerb weight resting on four 175mm-wide contact patches. This translates to a respectable 105hp/tonne power-to-weight ratio, of which only a small amount is lost to the 5-speed manual transmission.
The excellent power-to-weight ratio, plus the engine's willingness to climb through its rev range leads to a tendency for the Vios to build up speed way too easily for its own good. You don't need full throttle applications to send the speedometer deep into license-losing territory.
To say that the Vios can really fly is correct in at least two senses of the word. You can get it to go really fast – getting the speedometer to touch the maximum 200kph on our private test track certainly did not take a lot effort – and when you do, it doesn't exactly sit on the ground. Effects of highway crosswinds can be felt as you dial up the speeds.
Verdict
In the current world of feature-packed and electronic-laden vehicles, bare-bones motoring such as the Vios J can often come as a refreshing change as they offer a purer motoring experience that is getting rarer with each successive new model.
The Vios J is a car that goes about its business with an honest and unpretentious air about it. It offers simple and fuss-free motoring, getting its user from point A to point B with minimum fuss. Steady depreciation, UMWT's vast service network, and straight forward mechanicals should also ensure years of painless ownership.
However, its RM72k price tag is rather steep for what is essentially a bare-bones vehicle. Those opting for automatic transmission at this trim level pay just over RM76k. That sum lands you the base-spec Forte, which is far more comprehensively equipped, and a lot more enjoyable to drive. The Vios is essentially a 'you can't go wrong purchase', but there are other options out there offering better value for your money.