Shell 1 Litre Challenge completes Sarawak leg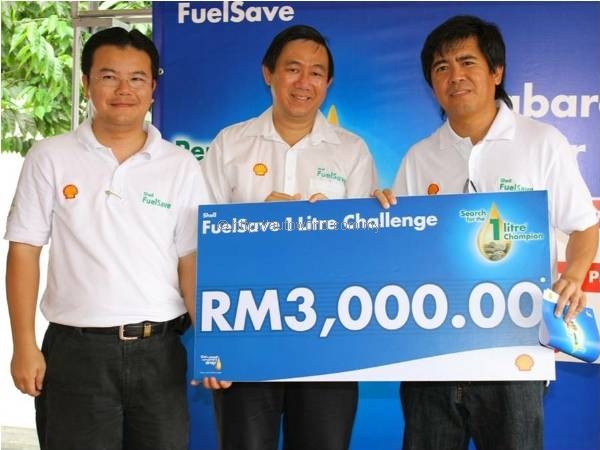 The Sarawak leg of Shell 1 Litre Challenge East Malaysia came to a conclusion last weekend, with George A.W. Chapman being named state champion after beating eight other finalists.
The eight drivers had earlier survived an elimination round after passing an interview on the first day of the challenge. They then return on the following day, each given a unit of the Perodua Myvi 1.3(A) and were instructed to drive along a pre-determined route, and have their fuel consumption measured at the end.
For his troubles, Chapman have pocketed a handsome cash prize of RM3,000 after clocking a mileage of 25.3 km/l. Behind him, Chen Kee Keong and Ong Chung Siang clocked 24.1 km/l and 22.56 km/l respectively. They pick up a cash prize of RM500 each.
Each of the trio stands a chance to lock horns with three other finalists from the upcoming Sabah leg in the national level finals for a chance to take home a hefty RM45,000 cash prize, on top of RM5,000 worth of free petrol.
The winner of the East Malaysia final will also represent Malaysia alongside Peninsula winner Jason Lai at the 'Asia's Smartest Driver' challenge to be held at the Shell Eco Marathon.
"Shell has over 100 years of experience in developing the technology and services that make us a leading provider of innovative and new fuels today. We believe that not all fuels are the same and as issues of fuel costs and the environmental impact of motoring begin to increasingly affect our lifestyle, it is important for our customers to be well informed and to make smart fuel choices. Since we first introduced Shell FuelSave here in March this year, the support from our friends from Sarawak has indeed been encouraging. It signifies how many people are interested in becoming a more fuel efficient driver," said Mr Leslie Ng, National Retail Sales Manager, Shell Malaysia Trading Sdn Bhd.
"Passionate about helping the world's motorists get the most out of every drop, we want to use the expertise inside Shell to help drivers become expert fuel-savers themselves. The 1 Litre Challenge reflects this and demonstrates our ongoing commitment to educate motoring communities to be more fuel efficient and savvy."
Sarawak's 1 Litre Challenge State Winner George A W Chapman was thrilled to have clocked the most kilometres at the challenge, "This experience has been an enriching one. Not only have I truly experienced the effectiveness of adopting FuelSave tips as well as using the right fuel. I also now know how far 1 litre of fuel can take me."
The Sabah leg of the Shell challenge is set to take place on 23 May at the Kotobu Shell Station, Jalan Putatan, Kota Kinabalu.