Home
Motorsports
Formula Drift Singapore 2010: Business as usual – Djan wins
Formula Drift Singapore 2010: Business as usual – Djan wins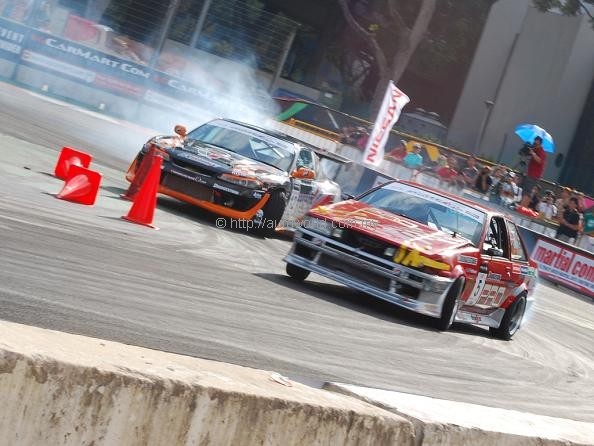 Tengku Djan Ley, top drifter of the region, started the 2010 season of Formula Drift picking up where he left off last season – with a win. The Malaysian, who drives under Team FX Formula Bridgestone's flag in his Nissan Silvia S15, comfortably saw off a determined challenge from Tan Tat Wei in the final to add another crown to his burgeoning trophy cabinet.
While teams were already setting up shop in Singapore's Marina Bay F1 Pit Building since Friday, the action only got underway on Saturday, where after a couple of practice runs each, the drivers had to go through a qualifying round of two runs each. The top 32 drivers then move into the knockout stage. That was the plan, at least.
Most drivers were unable to adapt quickly to the conditions of the challenging track, with many spinning out at the first corner. High-profile casualties of the qualifying round included Goodyear Malaysia's husband & wife team of Ariff Johanis and Jane Cheah. Even the eventual champion Djan only scored points in his second run.
Qualifying concluded with only 29 drivers picking up points, and after some deliberation, it was decided that the top three qualifiers – Ryuji Miki (Goodyear Singapore), Atsushi Murata (Redbull), and Djan – were to be given byes into the last 16, while the remaining 26 battled it out in the first knock out rounds.
Kick-starting the day's action were Wattanaporn Phungpern, or Joe, which we prefer, of team PTT squaring off against Rhenadi Arinton of team GT Radial. The tie was settled decisively in Rhenadi's favour after Joe spun off course when following Rhenadi in the second run.
Eventual finalist Tat Wei, of Team Bridgestone Federation D, and team mate Ivan Lau advanced past their last 32 opponents with some ease. Tat Wei, in his Rotary engine-powered Corolla AE86, completely outclassed Rocker Low of Bootszone Tyrepac, while Ivan Lau profited from Michael Gan's broken LSD to advance. Tat Wei and Ivan subsequently squared off against each other in the last 16, with the latter overcooking a turn in the second run.
For Miki and Murata, byes into the last 16 did not translate into an easier path in the final, as both immediately found themselves on the wrong end of upsets. Miki failed to build upon his position as the top qualifier, bowing out to Rhenadi in the first tie of the last 16.
Shortly afterwards, Murata followed him out, courtesy of a masterful display by the unassuming yet unflappable Hanizam Hamzah of Goodyear Malaysia. In their first run, a trailing Hanizam pressured Murata well, forcing the Japanese into a mistake by clipping the barrier. When Hanizam led in the second run, he cleverly lured Murata into colliding with his slightly underpowered Nissan Cefiro A31, and that saw Murata out.
A similarly impressive display earlier in the last 32 also helped Hanizam see off Wong Kee Thong of Bootszone Tyrepac. In their first run, the leading Hanizam had Wong chasing shadows, before the former pressurized the latter off the line when chasing. The resultant collision saw Wong's Toyota Corolla AE86 emerge worse of the two, with defeat rubbing further salt into Wong's wounds.
After seeing fellow countryman Rhenadi claiming the scalp of Ryuji Miki, rookie Emmanuel Adwitya Amandio, or Dio for short, of team Achilles Radial probably fancied his chances of a similar upset against the fourth top qualifier Nitipat Lamaikul of Goodyear Thailand as the two clashed in the last 16.
Indeed, the Indonesian went about his task with some gusto. Probably too much gusto. In their first run, Dio knocked into the leading Nitipat but led well enough in the second run to earn a 'One More Time' (OMT) call from the judges.
In the rematch, Dio attacked Nitipat's Nissan Cefiro A31 relentlessly, while dropping the rear wing of his Nissan Silvia S15 in the process. The Indonesian also spun late on in the run, and completely blew his chances in the second run when he knocked into a plastic barrier.
The tie of the last 16 certainly belonged to Lim Kim Wan (ISC Toyo) and David Feliciano (Goodyear Philippines). In their first run, an over-enthusiastic Kim Wan overcooked the first corner when leading the tandem, giving Feliciano a clear sight of victory. To his credit, however, Kim Wan refused to give up and went on the offensive in the second run, forcing Feliciano into a mistake right at the end of the course, and earning himself a well deserved OMT.
With the tie's momentum now firmly in his favour, Kim Wan left Feliciano chasing shadows in the first run of the rematch, while sticking almost door-to-door with him in the second. That impressive performance sealed an improbable win for Kim Wan, who was rewarded with a plum tie against Djan in the quarterfinals.
However Kim Wan let his good work against Feliciano go to waste against the formidable Djan, as he once again spun in the first corner when trailing Djan. Unfortunately for Kim Wan, Djan was not the kind of driver who throws such decisive advantages away, and Djan did just enough in the second run to ease himself into the semifinal.
The quarterfinal also saw the fairy tale runs of Rhenadi and Hanizam ended by Tan Tat Wei and Daniel 'Fanga Dan' Woolhouse (Goodyear Singapore) respectively. While Rhenadi can have no complaints for his exit after spinning against Tat Wei in both runs, many in the press room felt slightly aggrieved for Hanizam, who had appeared to be the better driver against Fanga Dan.
From our vantage point at the photographer's corner, Hanizam stuck his A31 close to Fanga Dan's Holden Commodore in the first run, and also left the New Zealander chasing shadows in the second. It was therefore to much surprise that Dan was announced the winner, though in private chats with Goodyear Malaysia personnel, it was revealed that Hanizam himself admitted to having some minor glitches in his run, and actually had no complaints of the result.
The remaining quarterfinal tie, saw a battle between two Thai drivers as Nitipat was pitted against PTT teammate Davide Dorigo. The two stayed close in the first run, but when his turn came to lead, Davide opened a bigger gap against Nitipat, by a margin just enough to settle the tie in his favour.
The semifinal round kicked-off with Davide leading Tan Tat Wei. Going into the second corner, Davide's Silvia S13 suddenly lost all power and came to a complete stop mid-corner. The trailing Tat Wei could do nothing as his Corolla slammed into Davide's rear, with the former coming out worse off. Down but not out, Tat Wei returned for the second run with a vengeance, and easily dispatched Davide to book his place in the final.
The other semifinal pitted Fanga Dan against Djan, and while Dan drove a faultless drive, Djan was able to recover from a slight bobble in his second run to secure a comfortable victory to earn a showdown against Tat Wei for the win.
Before that, however, Fanga Dan and Davide had to face each other off in the 3rd/4th placing tie. Both drivers were closely matched over the two runs, requiring the judges to call for OMT before eventually settling the tie in favour of Dan and his Commodore.
In the final, Tan Tat Wei, who has been excellent in his Rotary-powered Corolla all-day found Djan too much of a match for him. Despite driving a faultless drive, Tat Wei could do little as he watched Djan open up a decisive gap between them when leading, and stick close by when trailing. It was by no means an embarrassing defeat for Tat Wei, as he was still good value for his well-deserved second place finish.
Like last year, the organizers of Formula Drift are set to follow up on this race with subsequent editions in Thailand and Malaysia later this year. There are strong rumours that an additional leg is set to take place in Indonesia, but no official confirmation has been made by any party.
Update (27/4/2010): A press statement issued by Goodyear Malaysia after the publishing of this article has confirmed that the next leg of Formula Drift will be held at Indonesia, with dates to be announced later.