New marketing push for Shell Helix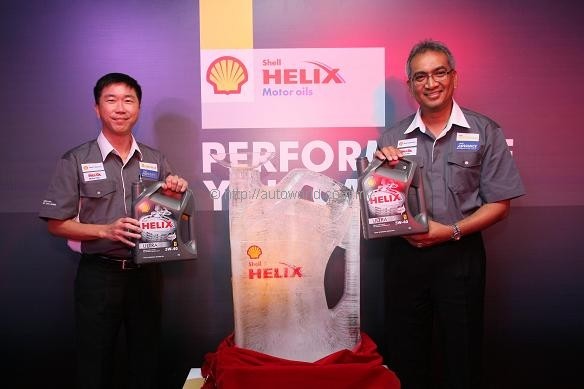 Shell Lubricants yesterday launched a new advertising campaign to promote its line of motor oil products. The new campaign is focused on showing motorists how Shell Helix motor oils keep their engines "clean on the inside".
The new campaign was launched by En Azman Ismail, Managing Director of Shell Malaysia Trading Sdn Bhd with Mr Tan Min Yih, General Manager of Shell Lubricants, South East Asia-South Cluster at Club Quattro, Kuala Lumpur.
Spearheading the campaign is a TV commercial dubbed the 'Crystal Car', in which a transparent replica of a Nissan 370Z was built to illustrate the cleansing power of Shell Helix. Award-winning director Ivan Bird was engaged to produce the advertisement.
According to Shell's official press release, the transparent 370Z was 'built with painstaking accuracy' to become an 'exact working replica of a motor vehicle'. In the advertisement, the car's ignition is started and in a split second, the viewer sees the lubricant actually circulating in the engine.
"The Shell Helix communication platform remains focused on the outstanding cleansing power of Shell Helix. Shell Helix with Active Cleansing Technology cleans and protects engines. Shell Helix Ultra is five times more effective than a regular mineral oil at removing sludge from dirty engines, at the same time offering three times better protection and twice the engine wear performance." said Encik Azman Ismail.
In addition to the advertising campaign, Shell Lubricants will also be holding the Shell Helix Ferrari Adventure Challenge beginning May 2010. Phase 1 takes place from May to July 2010, and each purchase of any of the Shell Helix Ultra, Shell Helix HX7 or Shell Helix HX7 Diesel 4L packs entitles the customer to one entry form in which a simple question needs to be answered.
Selected winners will pick up cash prizes and stand to participate in Phase 2, where they can potentially become one of four Malaysians to be taken on an all-expenses paid trip to visit Ferrari's famed Maranello test track where they will get to meet with the Ferrari Formula One Team drivers and be driven by them.
They will also get experience (though we don't know if 'experience' here includes any actual driving) the Shell Helix Ultra-lubricated Ferrari road cars, explore the Ferrari road car factory and Formula One workshops, just to name a few.
Pictures: Official Shell release