Federal Auto opens Volkswagen 3S in PJ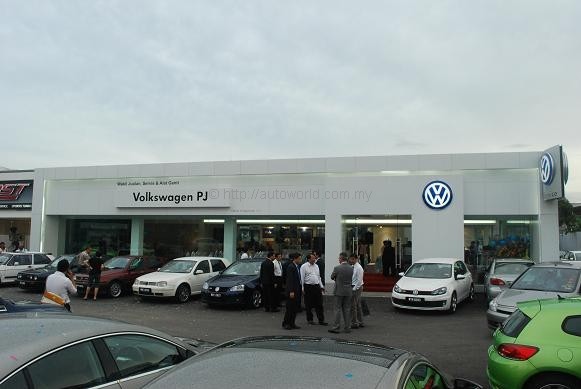 FA Wagen Sdn Bhd, a member of Federal Auto Holdings Bhd, has opened a new Volkswagen 3S (Sales, Service & Spare Parts) centre at Jalan 222, Petaling Jaya. Built at a cost of RM 1.2 million, it is the first and only VW 3S centre in PJ, and also said to be the first outlet in Malaysia with total compliance of the brand's current corporate identity.
The sales showroom has 4,600 square feet of floor space, capable of displaying up to seven cars at any one time, while the service centre is complete with eight working bays and is sufficiently equipped to service even the latest Volkswagen models.
It also has a dedicated body & paint repair facility, and is equipped with a paint baking oven. FA Wagen has managed to assemble a team with over 30 years' worth of experience in body and paint repair tasks.
Speaking at the outlet's launch, Mr Andreas Prinz, Managing Director of Volkswagen Group Malaysia (VGM) said, "Federal Auto, having been in the industry for many years and considered premium due to their experience in dealing with, understanding and appreciating first-rate auto brands, is an example of an enthusiastic entrepreneur with a high standard of professionalism, sharp business sense and a commitment to customer service. These are qualities I believe that are essential in any business partners, in ensuring that our customers are always assured of a positive brand experience."
He added, "It is timely that we have strong dealers such as the Federal Auto group on board this year when introduce to our Malaysian customers exciting Volkswagen models with Volkswagen's award-winning TSI technology and DSG."
Federal Auto Holdings managing director Cheng Seng Fook said that the significant investment in new VW branches reflects the company's confidence in the marque's value and potential in the Malaysian market.
"Being completely-built-up (CBU) units and endowed with some of the most advanced technology, Volkswagen products are now very competitively priced and offer excellent value in the segments that we are competing in. The recently announced five-year warranty programme with unlimited mileage should make the brand even more appealing," Cheng said.
Pointing out that Federal Auto would be celebrating its 50th anniversary this year, Cheng further added that, "We intend to leverage on our experience, expertise and financial strength to partner Volkswagen to the brand to a new level here in Malaysia. Volkswagen is already steadily winning over fans with stunning new products such as the new Passat CC and Scirocco. On our part, we are totally committed to help make Volkswagen ownership a rewarding experience with the best possible retail and aftersales service."
At the launch, FA Wagen also disclosed future expansion plans of their VW dealership. A 6-storey flagship 3S centre in Glenmarie, Shah Alam, is set to commence operation in September this year, followed by a 3S branch in Johor Bahru slated for opening in 2011.