Will he be Singapore's first F1 driver?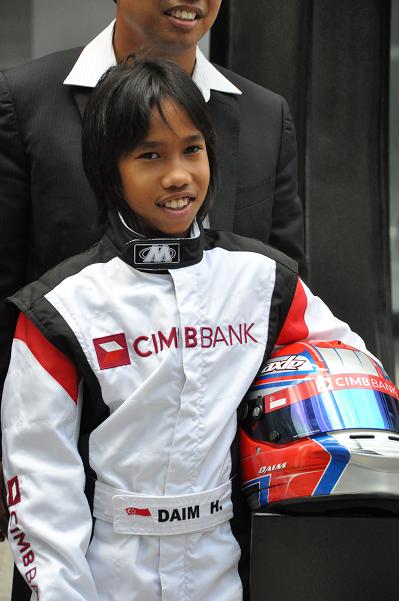 At the age of 11, my life was about beating the high score on my computer games, keeping my Tamagotchi alive, making sure I don't miss an episode of Teletubbies and getting my hands on the latest Enid Blyton book.
My biggest worry was the year-end final examinations at school which I had to get 85 per cent and above or else.
Other day-to-day worries included rushing to complete the assessment exercises that my father gave and wondering how to hide my tidbit stash from my mother.
Daim Hishammudin however, is not quite the average 11-year-old.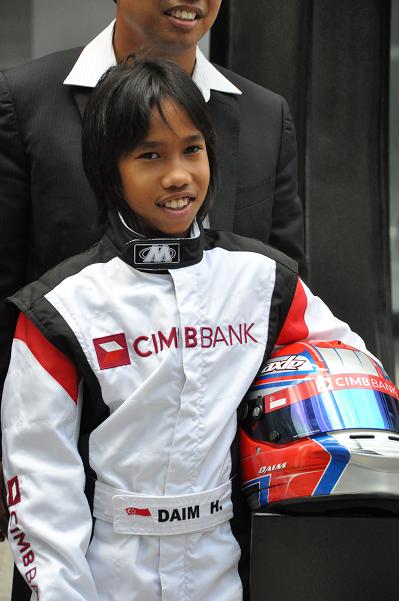 Daim Hishammudin
Like all kids, the Singaporean-born Malaysian-based boy has a playful streak and is very active in sports and games.
He can't sit still for more than five minutes and his eyes light up at the sight of candies, chocolates and all other sweet treats.
But there's one more side of Daim that not all boys will typically have.
Daim is into his third year of competitive kart racing and hence has another type of results to worry about other than school examination results.

Daim looking stressed…
Coming from a background of non-racing family history, Daim took to karting immediately when he first tried it at eight years old at a track at Shah Alam, Malaysia.
He was already living in Malaysia then, a result of his father being posted overseas by the company.
Daim developed his weekly sessions into a motor racing passion and started to take part in Malaysian kart racing series.
In his debut year, he won the 2008 Yamaha SL Cup (cadet category) and the next year, he won the 2009 Rotax Max Challenge Asia championship (Micromax category).

2009 Rotax Max Challeng Asia, Micromax Champion
This year, he will be racing in the Yamaha SL Cup for the second time as well as making his foray into the Asian Karting Open Championship (AKOC). He might also return to Singapore for one round of the Singapore National Karting Championship.
Sometime in June, Daim will also be heading to Europe for a training stint as well as to gain exposure by participating in one of the European races there.
Enjoying the sport and having a passion for it is one thing, but progressing to higher levels where the intensity of competition increases is a whole other matter altogether.
Daim's days of heading to the track on weekends for some karting pleasure has suddenly taken on a more serious note as three major milestones were marked out in Daim's racing career this year.
Since the beginning of this year, Daim has had a change of team management, signed a contract for a very significant sponsorship from CIMB Bank and selected as a potential candidate for the driver development programme at Lotus F1 Racing team.
That's a lot to absorb in two months.
Change of Team Management
Daim is now with Axle BHPetrol Racing – the kart racing team under Axle Motorsport – moving over from BHPetrol.Iru1 Racing Team, a professional kart racing team in Malaysia headed by former A1 Team Malaysia test driver and Formula BMW Scholar Nik Iruwan Dato' Nik Izani.
Axle Motorsport is a Malaysian-based motorsport company founded by Malaysia's first and former Formula 1 driver Alex Yoong.

Daim getting advice from former F1 driver Alex Yoong
At Axle, Daim is under the tutelage of Rodney Francis Magness – a former Malaysian kart racing champion and a qualified mechanic – who will coach him in driving and also teach him about the technicalities of the sport.
Rodney was working in Europe with a kart manufacturer before returning to Malaysia to join Axle Motorsport. Previously, he was also working with A1 Team Malaysia, the Malaysian A1GP team.
"Besides correcting his racing techniques and working on his kart set-up, I am also teaching him the necessary technical know-how. A good driver needs to be able to understand his machine so as to drive better. It can get quite dry and a bit overwhelming for an 11-year-old to absorb all this technical and mechanical knowledge, but Daim has shown maturity for his age and is very keen in his sport," said Rodney.
Sponsorship funding
Regional universal banking group CIMB will be funding Daim's development – that includes everything like race gear, karting equipment, competitions, building and maintaining of the kart, and training.
Declining to reveal the exact monetary value of the deal, Effendy Shahul Hamid, Head of Group Corporate Communications for CIMB Group said, "The deal will be enough to fund the necessary driver development that Daim requires. We are working in tandem with Axle Racing – the new team that is managing Daim – to see what he needs."
Potential Route to Formula One
Similar to other young driver development programmes from other racing teams like McLaren, Ferrari, Red Bull and Renault, the Lotus F1 Racing driver development programme will be grooming young talents with the option of a future F1 seat if the driver shows promise.
As this is Lotus F1 Racing's first year into Formula One, the priority is of course on getting the car ready for racing. Details of the Lotus F1 Racing driver development programme will be announced at a later date.
"The focus for Daim now is to refine his racing craft and improve on his driving techniques. For example, he needs to put on three more kilos to qualify for the Juniors category (the next step after Cadet). He is still a kid and it will get mentally tougher on him as training intensifies, but we are happy to have professionals taking care of Daim's progress," said Hishammudin Hasan, 40, father of Daim.
Inevitably, as more sponsors pump in money and more experts are seeked, the pressure starts to build.
For someone so young, Daim will be undergoing a comprehensive training and development programme which covers not just the racing aspects, but also the mental, physical, nutritional and even media aspects.

Daim meets his hero Lewis Hamilton
But when asked how he will cope with the pressure, 1.43-metre 33-kilo Alice Smith International School student replied coolly, "I'm very excited about the prospects of this sponsorship. It is big and I will work very hard to make my way to F1. My dream is to race for the McLaren team in F1 one day."