GM officially signs Naza as Chevrolet distributor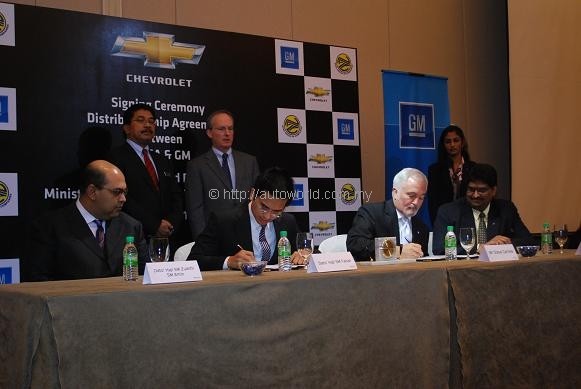 The Naza Group of Companies has signed a Distributor Sales and Service Agreement with General Motors today, making the Group now the official distributor of the Chevrolet brand in Malaysia. It was a deal long in the making, being strongly speculated by industry insiders ever since Chevrolet parted ways with the DRB-Hicom group last year.
Signing the agreement were Dato Haji SM Faisal Tan Sri SM Nasimuddin, Joint Executive Chairman and CEO of the Naza Group of Companies, and Steve Carlisle, President of General Motors South East Asia Operations. Witnessing the signing were Tan Sri Abdul Rahman Mamat, Secretary General of the Ministry of International Trade & Industry, Robert Rapson, Deputy Chief of Mission of the US Embassy, and Mr Sanjeev Garg, Country Director of GM Thailand.
Under the terms of the agreement, the Naza Group will establish and maintain a network of dealers to promote, sell and service Chevrolet vehicles, including the sale of parts and accessories. It was also confirmed during the post-signing press conference that customers of the brand from the HICOM-Chevrolet era will continue to enjoy warranty protection as per terms stated during purchase of their vehicle.
Currently, there are a total of 8 Chevrolet dealerships nationwide, with Naza planning to grow that number to 18, all of them 3S, by year's end. The existing portfolio of vehicles shall continue for the moment, though plans are currently afoot to have the 1.8-litre Chevrolet Cruze to arrive by the second quarter of this year. Another model currently being considered for the Malaysian market will be the Chevrolet Colorado pick-up that is being manufactured in Thailand.
SM Faisal described the landmark signing as a way forward for the Naza Group to offer a wider choice of vehicles to Malaysians, besides bringing in the best technology has to offer, and from a reputable and established brand name like Chevrolet.
"The signing with General Motors displays Naza's commitment in the motor business. We are pleased to be associated with the world's established car company like GM and I hope this partnership will bear fruit, benefitting both parties into the future.
"We will explore all possibilities of not only ensuring profitability, but also to turn it into a very successful business proposition," he said.
Revealing more of what's in store for the future, it was also stated that discussions are ongoing between both companies to utilize Naza's plant in Gurun to commence manufacturing of CKD Chevrolet vehicles by 2011.
Meanwhile, GM South East Asia Operations President Steve Carlisle noted, "With Naza's position in the Malaysian automotive industry, as well as its capability, track record and forward-looking corporate philosophy, I am confident we have found the right partner with whom we can focus on working towards our mutual goals of growth and expansion in the Malaysian market."
He added, "We aim to provide only the best to Malaysian consumers through access to new world-class products and powertrains that are leaders in technology, fuel economy and quality, and top-class after-sales service and customer support."