Audi Mileage Challenge 2009: Consistency Is Key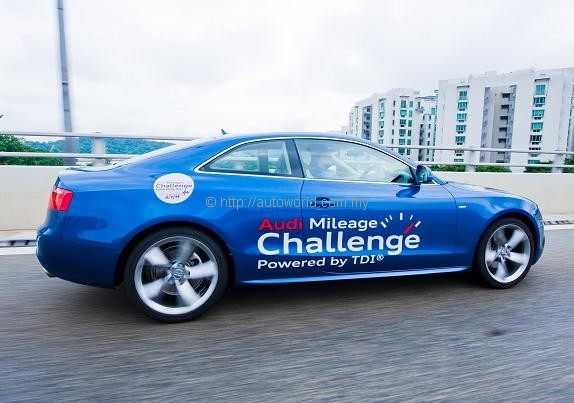 Motoring journalists in Singapore were treated to a three-and-a-half-day session with the Audi A5 turbodiesel each. But before you start to feel envious, we had to clock the best fuel efficiency scores with it – which means no flooring of accelerators but only gentle pedal pushing.
Winner of the challenge is the journalist who achieved the lowest ratio of fuel used against distance traveled (all calculations and results are audited by an external party). Reward for winning this challenge is an all-expense trip to the 2010 Le Mans 24 Hours race in France. As a bonus, Audi pledged $1 to the Singapore Environment Council for every kilometre driven in this challenge.
Such challenges like fuel efficiency competitions aren't exactly my forte, so when I collected the Audi A5 3.0 TDI (Turbocharged Direct Injection) for my turn at the Audi Mileage Challenge, I didn't think of giving a shot at it. I didn't think I had a chance of doing well so I did no planning nor preparation in advance. I then went on to clock my first 100km with city driving and I even fetched my grandfather home from work. (KON: You should have passed the car to me lah.)
Upon receiving the car, I was told that Leow Ju-Len of CarBuyer was leading with a score of 16+km/litre. Prior to the drive I didn't make an effort to check the interactive website for this challenge, hence wasn't sure of the leading scores. Only after the first night of driving did I check it and realised it was 18+km/litre that I had to beat and not 16+km/litre!
For some reason, I suddenly gained inspiration to try and win that Le Mans trip after checking out the website. So for the rest of the weekend, I crawled round the island like I never did before. I figured if I maxed out the mileage of the fuel tank, it might even out the 100km of city driving that I so foolishly executed earlier.
I went to pump the tyres, turned off the air-conditioning, kept the windows down only a little and found the optimal fuel-efficient speed of 72km/h. I kept on cruise control as much as I could and I even planned which expressways to use – the ones with as few ups and downs as possible.
Through the dead of the night into the break of dawn for two nights consecutively, I concluded the challenge with a total mileage of 1,020 kilometres and a total of 18 hours of driving. I emptied the fuel tank completely and was in reserve fuel, with that blinking refuel icon in my face.
My final score was 16.67km/litre – placing me in fourth position at that time. Damn.
I hate that feeling of regret and having "I should have this, I should have that" thoughts running through my mind. The first 100km of city driving was what killed me; emptying the tank in the hope of clocking more mileage to even out the 'damage' done earlier.
Looking at the field of competitors, I did have one slight advantage over all them men – I'm probably the lightest of them all (*steals a look at Derryn Wong of TODAY). So instead of stripping down to the pot belly and the leg hairs like a certain someone (KON: What???), my Barbie Doll-pink bikini would have sufficed. Too bad I was so quick to decide my fate and didn't think of trying to win this.
Nonetheless, I had a good learning experience – optimum fuel efficiency has to be attained consistently. There's no such thing as eating a big meal for breakfast and then starving for the next three days.
Eventually it was Tony Watts of The Edge who won the challenge. He's definitely not the lightest of the group and he did not remove the spare tyre. Neither did he turn off the air-conditioning. So how did he do it? It ultimately boils down to the driver.
And it's true. There are fuel-saving tips like travel with less weight, turn off air-conditioning and not leaving the engine idle for too long, but eventually the most influencing factor lies in the driver and his/her driving behaviour. Being alert and keeping a lookout for what lies ahead can help to anticipate situations better and hence you can react accordingly, like slowing down early so you don't have to brake too hard.
I finished in sixth place and I still can't believe I clocked a total of 1,020 kilometres WITHIN the boundaries of tiny Singapore alone for most of it and without air-con! Oh well, I thought if I couldn't achieve the best fuel efficiency score, then I'll just achieve the greatest contribution to the Singapore Environment Council. Audi will donate $1 for every kilometre driven and that means S$1,020 from my drive alone. Don't I deserve a subsidiary award for most effort then? (KON: You do. Drinks on me the next time you visit KL.)

The Leaderboard (Top 8)
Pictures: Audi Singapore
*This story was first published in FASTLANE #12 magazine (Dec '09–Jan '10).