Perodua gives cars to 12 institutions for Eco-Challenge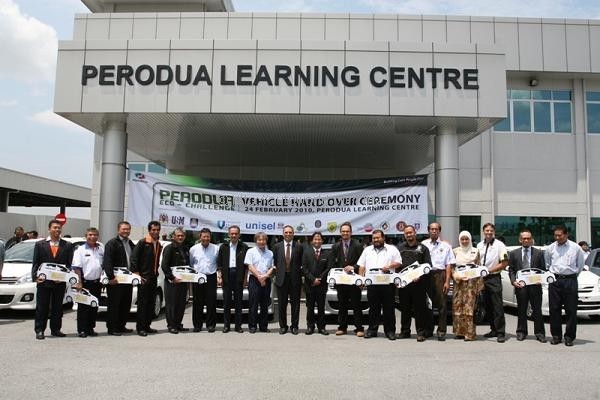 Come 6 June 2010, the Perodua Eco-Challenge is set to pit the engineering skills of 12 institutions of higher learning to race each other in a Perodua Viva at the Malacca International Motorsport Circuit.
Yesterday, the 12 participating institutions received a sizable contribution from Perodua, who handed the institutions a Perodua Viva 1.0 each to prep for the race.
Deputy Director-General of Higher Education Professor Dr Rujhan Mustafa, on behalf of the Ministry of Higher Education Dato' Seri Mohamed Khalid bin Nordin, presented the car keys to the representatives of the institutions at Perodua Learning Centre in Rawang today in the company of Perodua MD En Aminar Rashid Salleh.
The cars worth a combined RM470,000 were allocated to the institutions by means of a ballot conducted in the presence of representatives from each institution. In addition to the car, Perodua also gave each institution RM10,000 as a development fund to be invested into suitable modifications for the car.
A total of 27 institutions of higher learning, public and private, were invited to participate in the challenge, though only 12 were shortlisted based on their proposals.
En Aminar in his speech said the objective of the Perodua Eco-Challenge was to test the students' engineering capabilities.
Last year's winners Universiti Sains Malaysia (USM) and Ungku Omar Polytechnic (PUO) were among the teams taking part.
The newcomers included Universiti Kuala Lumpur-Malaysia France Institute (UniKL-MFI), Politeknik Sultan Azlan Shah and Universiti Malaysia Sarawak (Unimas)
Also making it to this year's list were Universiti Tenaga Nasional (Uniten), Universiti Tekonologi Malaysia, Universiti Teknologi Petronas, Universiti Teknologi Mara, Universiti Malaysia Pahang (UMP), Universiti Industri Selangor (Unisel) and Universiti Tun Hussein Onn Malaysia (UTHM).
En Aminar said that competition among the 12 institutions was very intense last year and many of the institutions expressed their keenness to take part again in 2010.
"Instead of the Myvi, we are giving away the Viva which is proven to be a very fuel efficient car," he added.
"The manual transmission ViVA 660cc clocked 1,461 km using 52.12 litres or an average of 28 km/litre while the manual transmission 1,000cc ViVa travelled 1,471 km with 53.68 litres of fuel or an average of 27.4km/litre," Aminar pointed out.
Winners of the Perodua Eco-Challenge will be decided by the distance their "re-engineered" car will travel using 1 litre of Petronas Primax95.
Points will also be given to teams based on their creativity in the modification of the cars, decorations as well as support from their fellow students, En Aminar said.
The top prize winner in the automatic and manual categories will receive RM20,000 each, the runners up RM10,000 each while third place winners get RM5,000 each. In the engineering, design and participation category, the winner will walk away with RM10,000 while the second place winner will receive RM5,000 and third place winner will be awarded RM3,000.
Pictures: Perodua press release.