Mercedes-Benz W221 S-Class Facelift Launched in Malaysia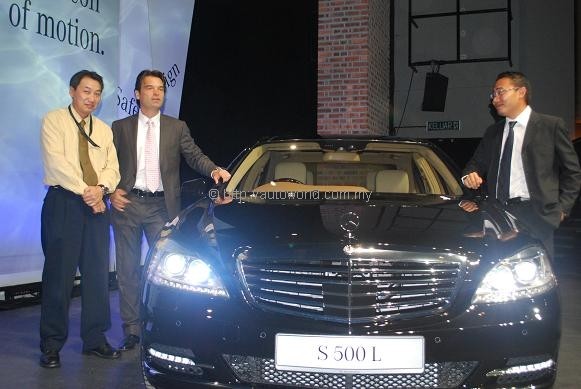 Mercedes-Benz Malaysia (MBM) has introduced the facelifted version of its flagship model, the S-Class, which has been in our market for four years already. Out of eight petrol and diesel engines available worldwide with the S-Class, the only three that have made it here thus far are soldiering on, giving us the S 300 L, S 350 L, and S 500 L.
Speaking at the model's launch, Florian Mueller, Vice President of the Passenger Cars Sales and Marketing division of MBM, said "Just as it has been for generations, outstanding comfort, innovative technology, and comprehensive safety have been characteristic traits of the luxury saloon ever since. And they all began life in the S-Class. Like its forebears, the latest S-Class leaves no doubt: when it comes to mobility, it is the one true icon – a role model and a showcase car for the entire automotive industry."
While some may debate on the validity of calling the S-Class a 'one true icon of motoring', it certainly cannot be denied that a great number of features that we currently take for granted in our Malaysian, Japanese or Korean budget hatches made their first appearance in one of Stuttgart's past flagships years ago. Examples include seat-belt pre-tensioners, stability control, and side-mirror mounted signal lights.
True to that tradition, the W221 facelift continues to move the game forward with more features to awe customers and competitors alike. A notable feature is the DISTRONIC PLUS proximity cruise control (S 350 L and S 500 L only), which works in tandem with the Brake Assist PLUS system. When activated, this radar-based cruise control system automatically reduces vehicle speed when approaching slower traffic, before speeding up again when the coast is clear.
Also lumped into this electronic package is PRE-SAFE braking, which has the capacity of applying partial, then full braking force in the event that an imminent collision has been detected. When triggered, the PRE-SAFE software also immediately pre-tensions the seatbelts and re-adjusts all seats to the optimal position for protection against injury. Even if it does not avert a collision, Mercedes claims that the system significantly reduces the impact's severity, functioning as what it calls the "electronic crumple zone".
Further safety features include ATTENTION ASSIST drowsiness detection, which suggests to the driver that a break is needed when the continuously-analysed input of 70 parameters suggest driver fatigue is at a high level. Helping to keep a wider eye on the road is Blind Spot Assist (S 350 L and S 500 L only), which flashes a warning light in the side-mirror when another object occupies the blind spot area flanking the car.
Visibility in the dark is helped by the Adaptive Highbeam Assist, which automatically operates the headlight dippers, deactivating high beam when sensors detect oncoming traffic. The S 350 L and S 500 L comes further equipped with the infrared-based Night View Assist Plus with pedestrian detection.
Outwardly, minimal enhancements have been made give the aging shape a much-welcomed update. The bumper-mounted fog-lights are gone – replaced by a row of LED daytime running lights. Function of the fog-light has been absorbed into the main headlight assembly, featuring bi-xenons. The most notable cosmetic upgrade comes at the back, where 52 LEDs are arranged to form a distinctive double-C formation on each side.
Interior upgrades start with the dash-mounted SPLITVIEW LCD screen, which simultaneously presents different displays to the driver and passenger. Back seat passengers continue to get pampered with the Rear Seat Entertainment package featuring two 8″ LCD displays mounted at the back of each front seat.
As before, the S-Class for our market continues with an all-petrol line-up spawning three variants. Entry into the world of S-Class ownership starts with two versions of the modest M272 24-valve V6 engines, and the bigger M273 32-valve V8 as top dog.
The smaller version of the V6 sees action in the entry-level S 300 L. It displaces 2,996cc, outputting 231hp @ 6,000rpm and 300Nm @ 2,500 – 5,000rpm. Meanwhile, the bigger V6, with a 3,498cc displacement, endows the mid-range S 350 L with 272hp @ 6,000rpm and 350Nm @ 2,400 – 5,000rpm. Finally, the M273 V8, displacing 5,461cc, producing 388hp @ 6,000rpm and 530Nm @ 2,800 – 4,800rpm, powers the top of the line S 500 L. All three variants feature the 7G-TRONIC torque converter automatic transmission as standard.
Bookings for all three variants of the new facelifted Mercedes-Benz S-Class are accepted effective immediately. MBM has reported that even before its official launch yesterday, dealerships nationwide have amassed a total of 60 pre-bookings confirmed with payment. Units, provided that customers are not overtly fussy with options, are immediately available as MBM commenced early production to build up a healthy stock level before launching.
All variants of the S-Class are sold as CKD units, though requests CBU vehicles will be entertained should the customer be willing to bear with additional costs and time. In CKD form, the S 300 L, S 350 L & S 500 L retail at RM649,888.00, RM835,888.00 & RM1,000,000 respectively