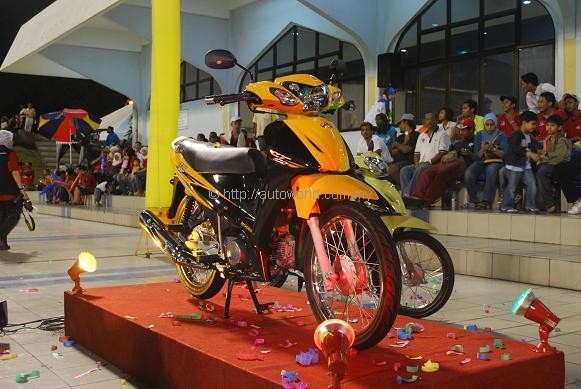 Syarikat Motosikal Dan Enjin Nasional Sdn Bhd (Modenas) today launched a new variant of the CT series moped, the Modenas CT 100, a follow-up entry-level variant of the CT 110 launched in October 2009 to replace the aging Kriss.
Built on the same chassis as the CT 110, the CT 100 is powered by a smaller 100cc single-cylinder four-stroke engine producing 6.7hp @ 7,500rpm and 6.7Nm @ 5,500rpm, and mated to a 4-speed rotary gear transmission.
Equipped with the option of electric or kick starting, the engine is fed using a SPACO AV18-P carburetor, which is said to provide a good starting response. It also carries over the CT 110's biggest-in-class 5.3-litre fuel tank, which Modenas claims is good enough for a range of 250km.
What it did not carry over, is the front disc brake of the CT 110, as the CT 100 utilizes drums front and rear. Suspension up front is a telescopic fork, whilst the rear utilizes a swing-arm design, both features standard offerings in the range.
En Bastamam Hamzah, Modenas CEO noted, "With the introduction of yet another variant of the CT, the Modenas CT 100, we are confident that Modenas will improve its market share to 15% with the continuous support of our dealers."
With the CT 100 joining a model range that currently includes the CT 110 and GT128, Modenas targets a monthly sales figure of 5,000 units.
Targeted at users between the ages of 18 and 25, the CT 100 is available in four colours – Prime Blue, Omega Maroon, Citra Yellow and Metro Green. The CT 100, with electric starter, retails for RM3,398.