No re-grooved tyres, pledge Goodyear dealers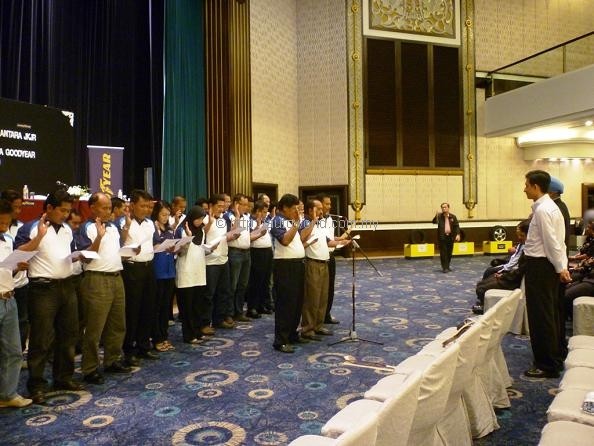 As the long standing cliche goes, tyres form the only contact between the car the road. The weight of you and your car, all two tonnes of it give or take, rests squarely on this limited contact patch area of rubber.
The amount of forces and stresses experienced by the tyres, especially during hard driving, are tremendous, and on the face of this you certainly would do well to ensure that your car is running on tyres of good condition. Bald and re-grooved tyres are certainly not tyres of good condition.
Which is why the Road Safety Department (Jabatan Keselamatan Jalan Raya, JKJR) and the Ministry of Transport have, to their good senses, have recently implemented a ban on the sale of bald and re-grooved tyres. Pledging their support of this ban are Goodyear dealers nationwide.
According to JKJR Director General Datuk Suret Singh, re-grooved tyres – produced by carving new treads into a worn tyre to create more tread depth – together with bald tires account for some 15 percent of road accidents nationwide.
"Today, these dedicated Goodyear dealers pledge to support JKJR in ensuring that such tyres are not sold, stocked or displayed in their premises. In addition, posters, banners and brochures will be placed in their outlets to further educate consumers and increase awareness about how detrimental, to road safety, using these tyres could be," he said.
"The Goodyear dealers are proud to be part of this strategic partnership with JKJR. Together we take Malaysia another step forward towards resolving an ongoing issue that jeopardises the lives of drivers, passengers, and everyone else on the road," said Maziun bin Hamid, owner of Goodyear dealer KBE Enterprise.
Datuk Suret Singh reminded motorists that using such tyres could cause cars to skid or lose control. "It is extremely dangerous to use these types of tyres," he cautioned. "Take two minutes to check the condition of your tyres before embarking on your journey."
Indeed, the danger of using re-grooved tyres is not an amusing matter. Bearing in mind that to produce a re-grooved tyre, one needs to 'cut-in' to the tyre's rubber, which severely compromises the tyre's integrity, and can very well lead to tyre failure. You certainly don't want that to happen when say, hammering a corner on the way up to Bukit Tinggi, or barreling down the PLUS Highway at 110kph.
A simple way of checking your tyres, recommended by Goodyear, is to place a 20-sen coin into the tyre's groove, and see if the 'sen' word is clearly visible or not. If it is, your tyre is considered bald, and needs to be changed immediately. In this case, the advice from Goodyear, of course, is to head to any of their Autocare or Servitekar outlet for a free 10-point inspection of your car from head to toe.
"Such safety precautions will be especially important during festive seasons, such as the upcoming Chinese New Year," said Maziun.
The Goodyear dealers have spoken, and said no to re-grooved tyres. For the sake of your safety, so should you.
Pictures: Goodyear Malaysia